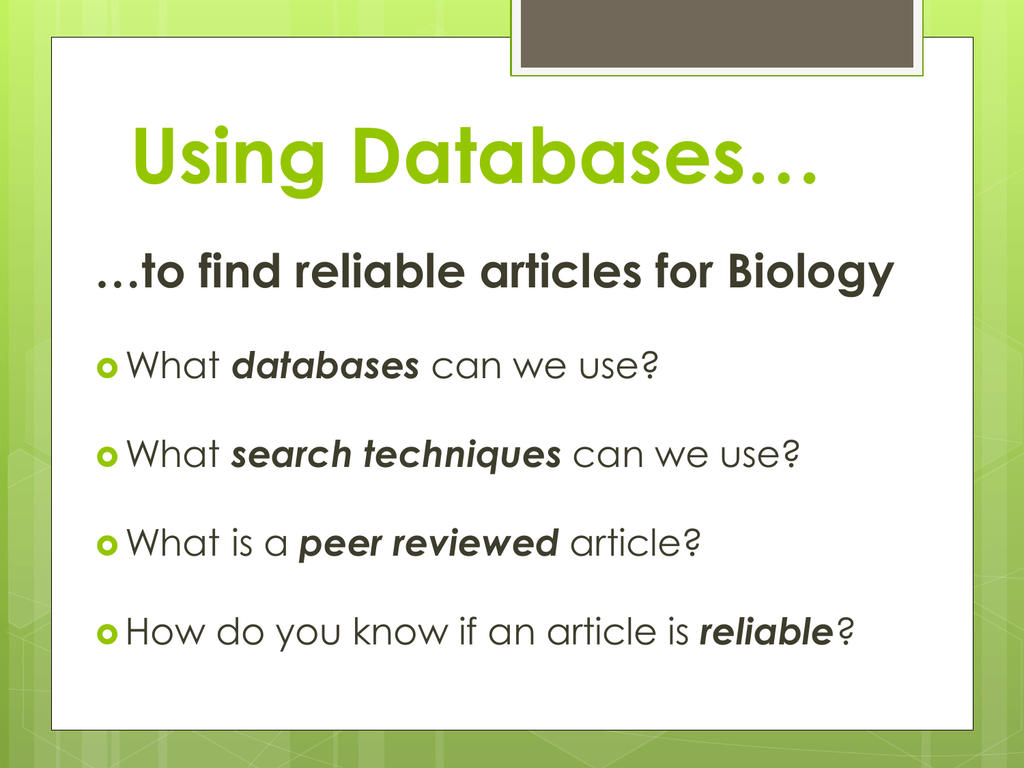 Using Databases…
…to find reliable articles for Biology
 What
databases can we use?
 What
search techniques can we use?
 What
is a peer reviewed article?
 How
do you know if an article is reliable?
DATABASES:
•
A collection of
magazines, newspapers,
academic journals, and
other resources available
online with a subscription
•
Easy to find reliable
scientific research
•
Contains more free
ACADEMIC SOURCES
than the general Internet
What's an "academic" source?
 Published
by experts: researchers, universities,
academic societies, professional organizations
 Often
peer-reviewed ("refereed")
"…highly valued… because they contain articles that
have been screened by an author's peers (people
who work in the same field as the author)."
ProQuest
Irvington's
own database!
Please do NOT share password
with non-IHS students
Username: ihsproquest
Password: irvingt0n
Choose e-library or SIRS
Sort by Source Type
Sort by source type on left
Peer Reviewed Articles:
 In
 In
E-Library, look for purple bar:
SIRS, look under magazines; may need to
Google title of publication (Ex: Journal of
American Pediatrics. Not the article title)
Alameda County Library
Sign up for an e-cardsee link at
irvington.org/library
• This form does
have some technical
issues. If you have
trouble, see Ms.
McAuley in the library
•
After you have a card
number…
 Go
to www.aclibrary.org
 Under the "Research" drop-down menu,
 Choose "A-Z Resources"
 Don't
search for your topic in this main screen! This is
just a list of databases. You have to choose one
database to search.
How Do I Search in a database?
 Use
strings of KEYWORDS, NOT whole
sentences.
What effects will global warming have on
people and our environment?
Global warming
Climate change
Effects
Etc.
Narrow or Broaden Results
•
Limit to FULL TEXT
•
Narrow by TYPE
•
Boolean operators: try connecting keywords
using AND, OR, NOT
•
Scan (quickly look through) results for sources
that seem useful.
•
Click on the title or "Full Text"
and read!
The next few slides give some examples of
useful databases for science…
EBSCOHost: A good general
database
Advanced Search:
World Wide Science
 On
the Internet (no card needed)
 Some articles unavailable in full text
Click "Full Text Available" under Topics
GreenFile
Greenfile
Student Research Center
JSTOR (short for Journal
Storage): A great
database!
http://www.jstor.org/
Click
Advanced Search
Check box: "Only Content I
Can Access"
Search using keywords
IPL (Internet Public Library)
www.ipl.org
Websites
reviewed by
librarians
Citing Journal Articles from a
Database
Dolby, Nadine. "Research in Youth Culture." Social
Work and Society 50.1 (2008): 173-96. ProQuest.
Web. 5 Oct. 2014. <www.urlgoeshere.com>.
-Name of the database is included.
-If required to include URL, put at end:
<www.example.com>.
-If no pages given: n. pag.
-This is for academic journals only. Other databases
resources like encyclopedia articles should be cited as
whatever they are. The database labels each type of
source.