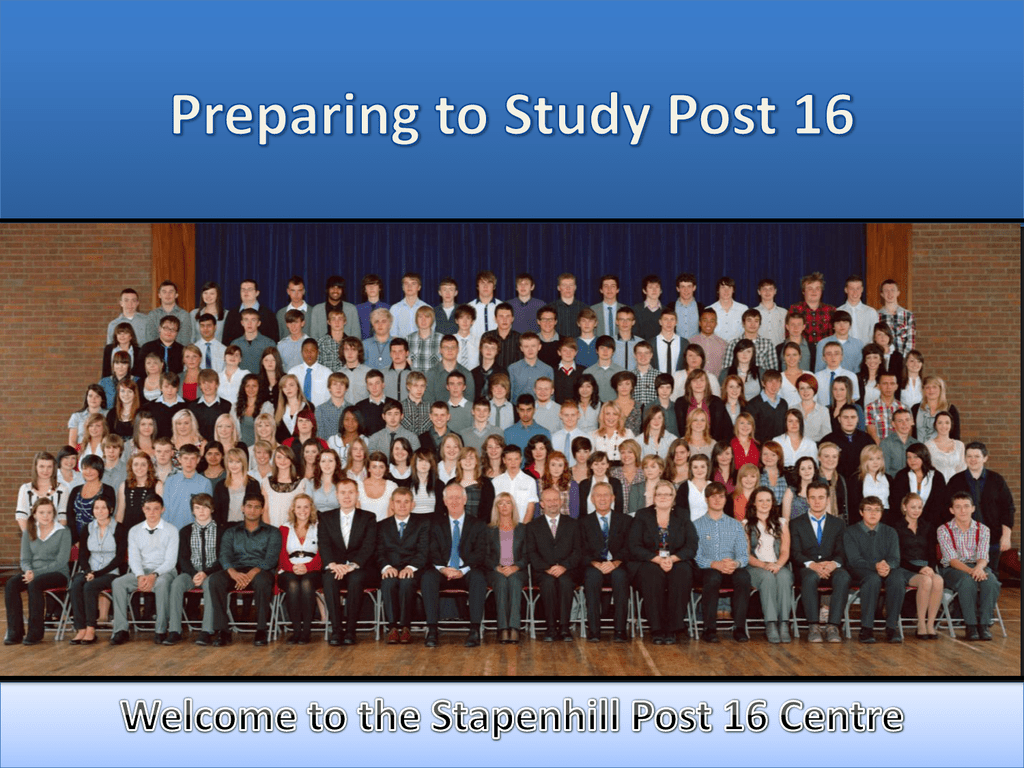 Differences between GCSE and Post 16 Education
A brief introduction to the structure of Post 16 education
What we expect from our students
What you can expect from the Centre
To explore ways to support achievement
What are the differences between GCSEs and Post 16
qualifications?
What do our Year 12 students say about Post 16 education?
'The jump from GCSE
to A Levels is big, so
be prepared to work
hard'
'Choose subject
areas you are
strongest in and
enjoy the most, this
is key to success'
'Make sure you do
more work than you
did at GCSE and that
you are committed to
your subjects'
Level 2 courses are a
really good way to
boost your GCSE
grades, without doing
'more of the same'
exams
So what are the differences?
•
•
•
•
•
•
•
Greater independence
A smaller range of subjects being studied
Study periods
Greater amount of out of school work
More focus on independent enquiry
Different assessment criteria and grades
Not compulsory – students have chosen to
study Post 16
The structure of Post 16 Education
Level 2
•
•
•
•
•
•
1 year courses
4 GCSEs
Work experience
Apprenticeships
Employment
Level 3 study
Level 3 – A Levels
Level 3 - BTECs
• 2 year courses
• AS leads to A2
• Advanced
apprenticeships
• Employment
• Higher Education
• 2 year courses
• Can be combined
with A Levels
• Advanced
apprenticeships
• Employment
• Higher Education
The structure of Post 16 Education
Level 2 Pathway – 4 Ds at GCSE
Health and Social Care
Engineering
Business Studies
Level 3 – Vocational BTEC Pathway – 5Cs or above at GCSE
Sport (single)
ICT (single and or double)
Art (single)
Public Services (single)
Performing Arts (Double)
Health and Social Care
(double)
Business Studies (single)
All can be combined with A Levels
Level 3 – A Level Pathway – 5 GCSEs A*- C plus a B grade in a continuation subject
History
Geography
RE
Psychology
Sociology
Politics
Maths
Further Maths
Media
English Literature
Lit/Lang.
French
Chemistry
Biology
Physics
PE
Product Design
The structure of Post 16 Education
Year
2
Year
1
A2 2 modules
A2
AS
level
Together
they
make one
A level
AS 2 modules
The structure of Post 16 Education
Two year courses
•ICT (single and double)
•Performing Arts
Year
2
Year
1
Two year courses (with a half-way, part
qualification)
•Public Services
•Health and Social Care
•Art and Design
•BTEC Sport
What do we expect from our students?
Both staff and students feel the characteristics below
outline what should be expected of all Post 16
students at all times:
•
•
•
•
Respectful and Positive
Organised and Hardworking
Committed and Focused
Present and Punctual
What do we expect from our students?
Attendance
• Registration (daily in year 12) and all
lessons must be attended.
• Minimum expected attendance to
registration, lessons and any other
agreed session is 95%
• 95% attendance is the equivalent to
½ a day of absence per fortnight
• 90% is the equivalent to 1 day of
absence per fortnight
• Research shows that students who
have below 95% attendance achieve
on average a grade below
expectation
Below
90%
9095%
+95%
What do we expect from our students?
Dress Code
• Smart 'appropriate for
business' clothing
• Black or dark trousers
• Skirt of a suitable length
• Shirt or smart blouse/top
• Smart shoes/boots
Below
90%
9095%
+95%
What can you expect from the Centre?
Target Setting
A
B
negative
C
D
Student A
Student B
positive
E
Average GCSE Score
Student C
What can you expect from the Centre?
Progress Information
Progress is reported 3 times a year
You will be updated on:
a) Current attainment
b) Work Ethic
c) Likely end grade if student
continues to work in the same
manner
5th February – Progress evening
with subject teachers
What can you expect from the Centre?
Pastoral Support
•
•
•
•
•
•
Support-advice and guidance to keep students motivated
Monitoring
Mentoring
Partnership with parents (Home/School links)
A form tutor who is your, and the student's first point of
contact
Care and support if things aren't going right.
What can you expect from the Centre?
Enrichment Opportunities
•
•
•
•
•
•
•
•
•
Transition visit to
Swadlincote Ski Centre
Young Enterprise
Post 16 Student Council
Sports Teams
Field visits for relevant
subjects
Transition visit after AS
examinations
Work Experience and
Community Link
Citizenship Education
A wide range of Post 18
visits
What can you expect from the Centre?
Careers Guidance
•
•
•
•
•
•
•
Clear support, information and
guidance will be given to all
students at all stages of their
Post 16 education.
Students' aspirations are
encouraged through the
provision of insight and
guidance about opportunities
post 18.
Careers Café
Pastoral Support
HE guidance
Futures Week
Availability of fortnightly SYPS
appointments
What can you expect from the Centre?
Financial Support – 16-19 Bursary
•
•
Students entitled to received FSM will receive a
sum of money three times a year, equivalent to £10
per week
Three times a year all other students who qualify
will be able to access this fund to provide support
for a wide range of needs including: trips, additional
study materials, clothes for Post 16 study
Please take away and complete the FSM form if you feel
that your child will be able to benefit from this fund
How can you help and support this next stage of
education?
•
•
•
•
•
•
Access the preparing to study Power Points on our
website: http://www.stapenhillpsc.staffs.sch.uk/
Read the preparing to study guides for a range of
information about Post 16 study
Keep contact information and phone numbers upto-date
Consider the need of the student to have a part
time job – 10 hours of part time work can have
disastrous consequences with regards to Post 16
achievement
Please do not book family holidays in term time –
they will not be authorised
Phone us by 9:15am if the student is ill
Key Dates for your dairy
Date
Event
23rd August
GCSE results day. Robert Sutton and Paulet students see their Head
of 6th Form before leaving for a quick Progression Interview
3rd September
1.30 pm - Progression Interviews for any student unable to attend on
GCSE results day, and those coming to us from other schools
4th September
Enrolment day at the centre (appointments times TBC)
5th September
9.00 am – Study Skills Induction
6th September
Lessons begin – register at the schools at 8.30 am
28th September
Deadline date for subject changes
October
Progress assessment data to be sent to parents/carers
Any questions?