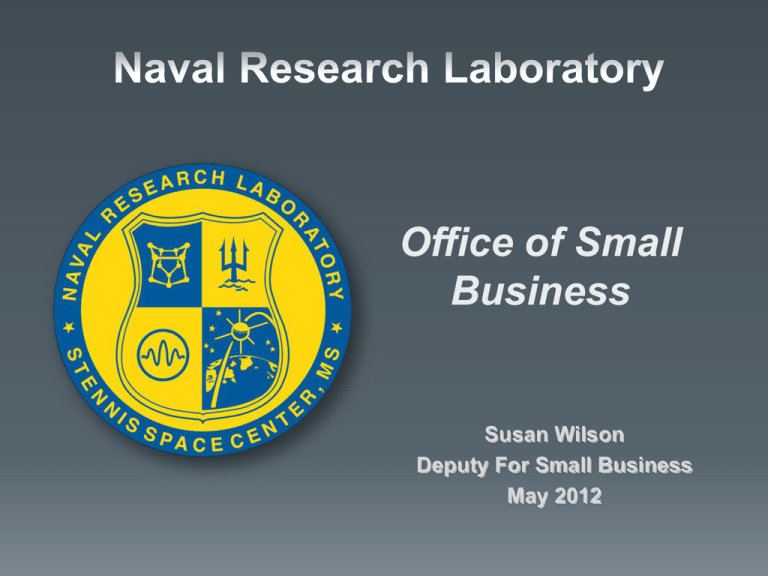 Office of Small
Business
Susan Wilson
Deputy For Small Business
May 2012
Small Business Updates
Navy focus on the "Sweet Spot"
 Acquisitions between $3,000 and $150,000
 Tracking performance metrics by major command
 Suggested for use DoD wide
Small Businesses goals to be incorporated into
SES evaluation criteria/performance plans
 Expectation that this will flow down the ranks
 Change from previous proposal to withhold bonuses if
goals are not met
Small Business Updates
Increase small business goals
From 23% to 25%
Already a proposed amendment to increase to
26%
Each percentage point equates to a billion
dollars for small business
Incorporation of a 40% small business
subcontracting goal
No agency can have a goal lower than the DoD
goal
Small Business Updates
Surety bond guarantee to increase from 2M to
6.5M
Limitation on sub-contracting
Limitation of 50% of the price of the contract
Can subcontract to the same category and it
will count
8(a) to 8(a), SDVOSB to SDVOSB, etc.
Not filing subcontracting reports shows bad
faith effort and will equate to liquidated
damages
Small Business Updates
Mid Size/Advanced Size pilot program
PCO must sign off that contracts entering into
the program would not otherwise hurt a small
business
Three year test program
Very small business program being revised
Withdrawal of the goaling exclusions
Overseas purchases, etc.
Small Business Updates
Easier to debar those violating the selfcertification as small business
Statute now in place for
misrepresentation you can be
prosecuted
Penalty of $1,000,000 or two times
the value of the contract
Small Business Updates
 Jobs Act Implementation
 Check the federal register for implementation
 Multiple award IDIQ to include GSA require set-aside of
part or parts to small business
 FAR issued interim rule
 New clause created, 52-219-13
 States CO will give notice of which orders are to be setaside
 Limitation of subcontracting applies to each order
independently
 BPA and GSA schedule orders may now be set-aside
and now count towards goals
Small Business Updates
Changes coming to subcontracting plans for
IDIQ
Require a plan per order
Reporting per plan per order is labor intensive
May change to annual reporting requirements
Job Acts implements a Mentor-Protégé
program similar to 8(a) for HUB Zone,
SDVOSB, WOSB, etc.
Doing Business with NRL
http://www.nrl.navy.mil/
Under "Doing Business"
http://heron.nrl.navy.mil/contracts/
For information on:
Business Opportunities
Request for Proposals
Request for Information
General Broad Agency Announcements
BAA-N00173-02 (Closing 6/16/12)
Doing Business with NRL
Specific Broad Agency Announcements
BAA-N00173-6101 - Advanced Diagnostics for
Field-based Biosurveillance (Closing 5/23/12)
Supply.nrl.navy.mil/home.htm
For simplified acquisitions
https://www.fbo.gov/
For Request for Information and Sources Sought
Navy Seaport (e) and (o)
http://www.seaport.navy.mil/default.aspx
Eventual transfer of all services in support of
R&D to Seaport
Exploring feasibility of both (e) vs (o)
(e) utilize Navy IDIQ, Contractors must be
registered
(o) write your own IDIQ, utilize Seaport writing
system, Contractors need not be registered
Specifically targeting Code 6000, Materials
Science and Component Technology Directorate
Navy Seaport (e) and (o)
For enrollment information:
http://www.seaport.navy.mil/SeaPort/Rolling%2
0Admissions.aspx
Open season annually in spring
Prime vs Sub
Contact Information
Susan Wilson
Susan.wilson@nrl.navy.mil
202-767-0666
Please sign-up to receive the
upcoming NRL newsletter!