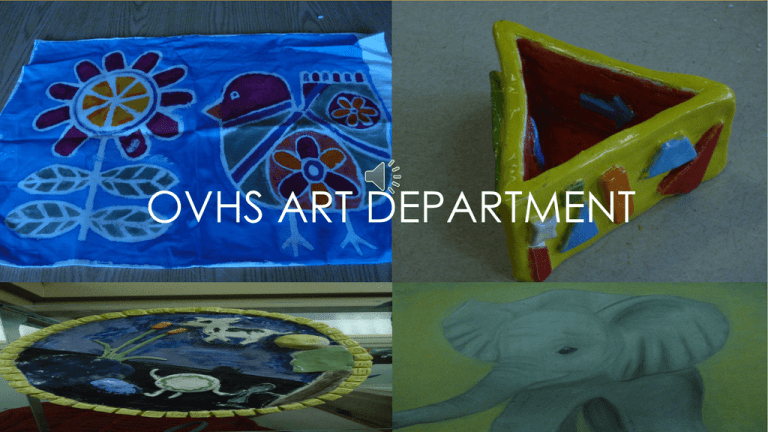 OVHS ART DEPARTMENT
COURSES:
Drawing
Fiber Arts
Advanced Drawing
Intro to 2D Art
Portfolio
Intro to 3D Art
Stained Glass
Jewelry 1
Art History
Jewelry 2
Ceramics 1
Painting
Ceramics 2
Sculpture
INTRODUCTION TO 2DIMENSIONAL ART:
Students will be introduced to
art using drawing, painting
and printmaking.
DRAWING 1 AND ADVANCED
DRAWING
Students will create
drawings using a variety of
materials and techniques.
CERAMICS 1 AND 2
Students will create works of
art in clay using various
hand building techniques,
wheel throwing, glazing
and firing processes.
JEWELRY 1 AND 2
Students will create works of
design using fabrication
techniques.
SCULPTURE
Students will create realistic
and abstract sculpture
using various techniques.
ART HISTORY
Students will learn about the
history of art in the world.
TWO DIMENSIONAL ART:
STAINED GLASS
Students will learn the basic
techniques of stained glass
and create many projects.
FIBER ARTS
Students will create fiber art
using various techniques
and materials such as:
cloth, metal, string, dyes.
PAINTING
Painting students will learn a
variety of processes and
techniques.
PORTFOLIO AND EXHIBITION
Students who intend on
pursuing art in college or at
a technical school can
pursue a portfolio or further
study.