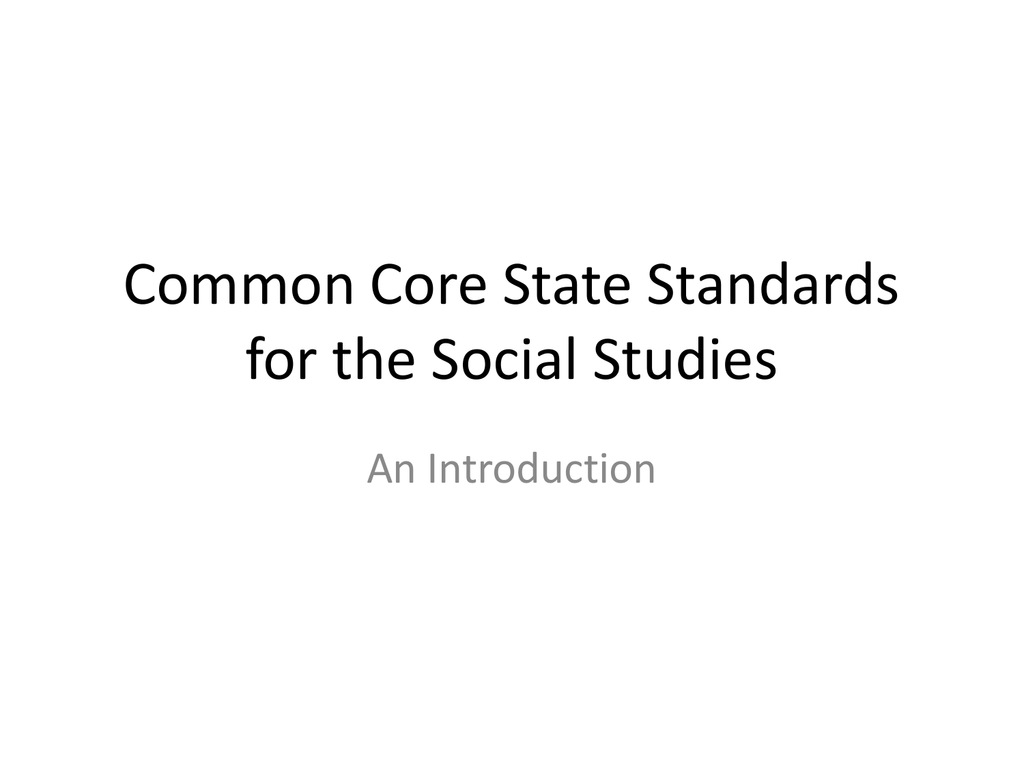 Common Core State Standards
for the Social Studies
An Introduction
Background
• A state-led effort coordinated by the National
Governors Association Center for Best
Practices (NGA Center) and the Council of
Chief State School Officers (CCSSO)
• Developed in collaboration with teachers,
school administrators, and experts, to provide
a clear and consistent framework to prepare
our children for college and the workforce.
http://www.corestandards.org/
"College and Career Ready"
What does it really mean?
"The illiterate of the 21st century will not be
those who cannot read and write, but those
who cannot learn, unlearn, and relearn"
– Alvin Toffler
CCSS and NGSSS
• CCSS has been included in all course descriptions!
• NGSSS is not going away. NGSSS are content (e.g.
Civil War, Renaissance, etc.)
• CCSS are skills that we want our students to have
upon exiting the classroom (e.g. identifying a
central idea, conducting research, etc.)
• CCSS are a way to facilitate content – not replace
it, or adding to it
What do the CCSS for
Social Studies look like?
Common Core and Social Studies
• Reading and Writing are the focus
• Standards help to facilitate content, not more
content
• Standards are divided into "clusters"
• There are four clusters for both reading and
writing
• Ten "anchor standards" make up the clusters
Let's take a closer look…
Reading: Four Clusters (pg 60)
•
•
•
•
Key Ideas and Details
Craft and Structure
Integration of Knowledge and Ideas
Range of Reading and Level of Text
Complexity
Page 61 breaks down grade
specific elements for 6-12
Writing: Four Clusters (pg 63)
•
•
•
•
Text Types and Purposes
Production and Distribution of Writing
Research to Build and Present Knowledge
Range of Writing
Page 64-66 breaks down grade
specific elements for 6-12
What About K-5?
• CCSS were not written for social studies in K-5
• Experts in ELA and Social Studies carefully
selected CCSS from the ELA standards for
these courses
• Allows for easier integration between the two
subjects
How to Read CCCS in Social Studies
Course Descriptions
•
•
•
•
LACC = Language Arts Common Core
MACC = Math Common Core
RH = Reading History
WHST = Writing History
LACC.68.RH.1.1
Language Arts
Common Core
Grades 6-8
Cluster 1
Reading History
Anchor
Standard 1
So What's Next?
• Explore the standards. Most likely you will
notice that this is just good teaching that you
probably already do.
• Take a look at your most updated course
description.