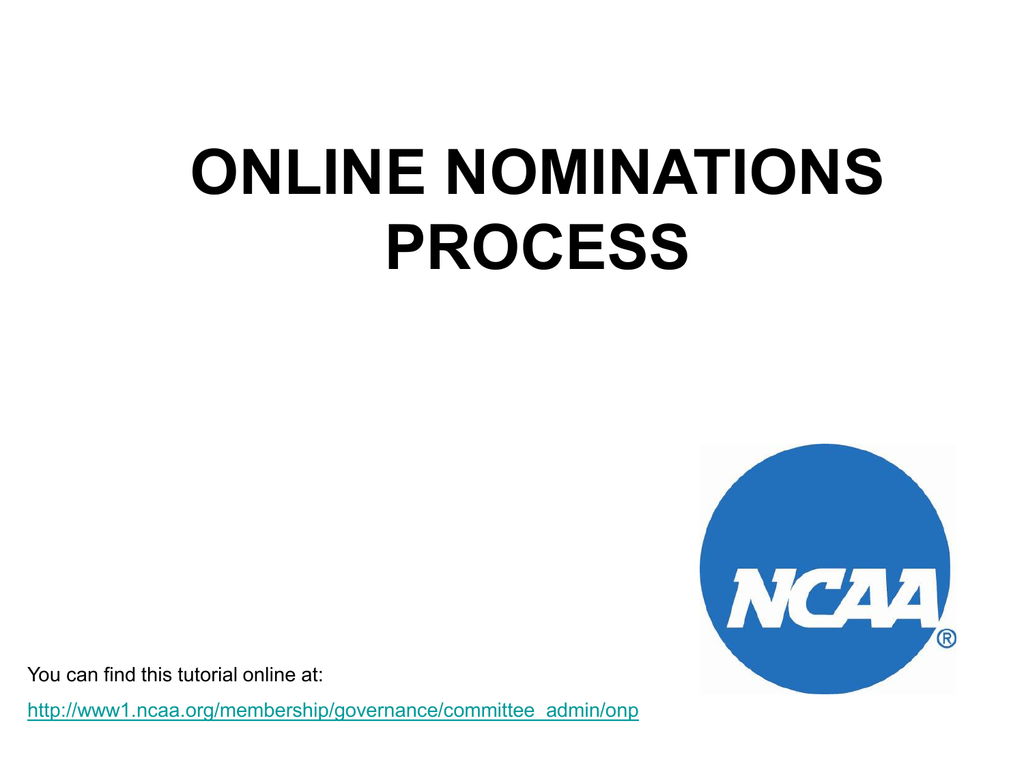 ONLINE NOMINATIONS
PROCESS
You can find this tutorial online at:
http://www1.ncaa.org/membership/governance/committee_admin/onp
http://web1.ncaa.org/committees/selection.jsp
Anyone can view active
committee nominations by
committee or conference.
Division Specific.
Use the link to the left if
you need an access code
and password
Clicking on this link brings
up an e-mail addressed to
Allison Bulkley, committee
administration.
Select nomination type and click
"Create New Nomination."
Click for self-nomination. It will take you
to Section 1.
Directions for e-mailing form to
nominee to complete when
nominating someone else.
One or more
committees may be
selected.
Click the "Submit" button to complete
the nomination.
Nominee information can
be updated from this
screen.
Nominations can be
deleted from this screen.
Click "Email" to send
the form to the nominee
to complete Section 2.
You can query for current
committee members or current
committee nominees from this
screen.
You can query by a specific committee or by a
specific conference.
Sample query for specific
committee nominees.
Sample query for specific
conference nominees – USA
South Athletic Conference.
Sample query for
current committee
members.