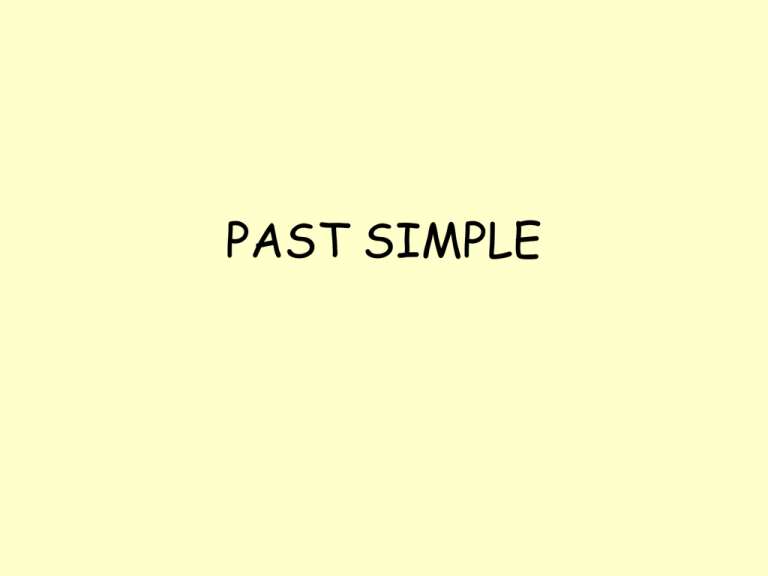 PAST SIMPLE
We use the Past Simple to talk about:
1.
Finished actions in the past :
She climbed the stairs and went to her room.
I saw an accident yesterday.
2. Past situations that were repeated or continued, and past habits:
The weather was horrible yesterday.
I went to primary school in England.
Form:
Regular verbs
We add ending – ed
/d/
smiled
opened
pulled
/t/
cooked
escaped
laughed
/id/
wanted
landed
needed
Irregular verbs: / Mini dictionary/
Latviski
infinitive
past
Salauzt
Pirkt
Nākt
Griezt
Braukt
break
buy
come
cut
drive
broke
bought
came
cut
drove
Latviski
infinitive
past
Ēst
Krist
Atrast
Sist
Turēt
Dot
Uzaugt
Doties
Dzirdēt
Turēt
eat
fall
find
hit
hold
give
grow up
go
hear
keep
ate
fell
found
hit
held
gave
grew up
went
heard
kept
Latviski
infinitive
past
Gatavot
Satikt
Maksāt
Likt
Sūtīt
Sēdēt
Domāt
Uzvarēt
Rakstīt
make
meet
pay
put
send
sit
think
win
write
made
met
paid
put
sent
sat
thought
won
wrote
In questions and negative sentences, we use the infinitive and
Did or didn't
Did you see the match last night?
Yes, I did/ No, I didn't.
We didn't like the play, it was too slow.
Where did she get this beautiful dress?
We can use the following time adverbials with the past simple:
yesterday
last month
last week
last Monday
two days ago
three years ago
in 1999
Their position in a sentence can be at the beginnning or end:
Last week I bought a new bike.
My parents got married twenty years ago.