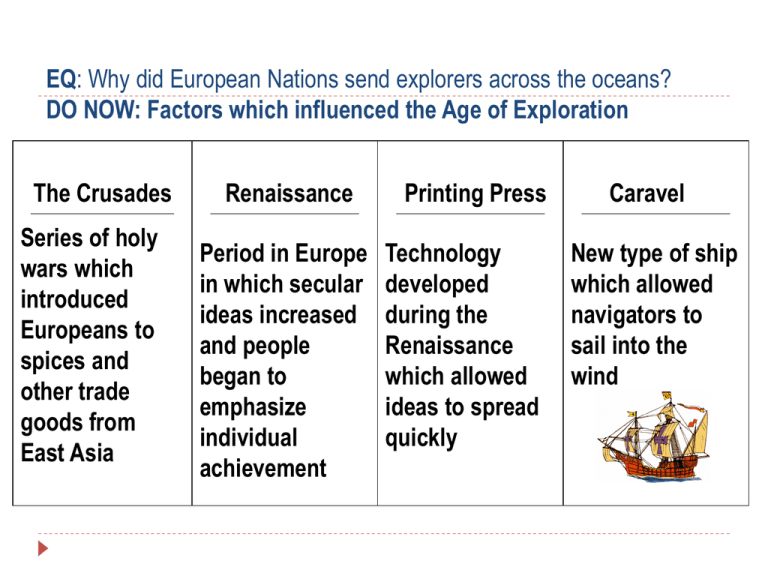 EQ: Why did European Nations send explorers across the oceans?
DO NOW: Factors which influenced the Age of Exploration
The Crusades
Series of holy
wars which
introduced
Europeans to
spices and
other trade
goods from
East Asia
Renaissance
Period in Europe
in which secular
ideas increased
and people
began to
emphasize
individual
achievement
Printing Press
Technology
developed
during the
Renaissance
which allowed
ideas to spread
quickly
Caravel
New type of ship
which allowed
navigators to
sail into the
wind
The Age of
Exploration
Begins
Miss Bonner
GOD
Europeans sent
out missionaries
to convert the
"savages" and
Muslims to
Christianity.
GOLD
European
explorers were
interested in
finding goods
(spices, natural
resources, etc.)
that they could
take back to
Europe and sell.
**Theory of
Mercantilism**
GLORY
European
explorers wanted o
claim land for their
supporting country
and then receive a
hero's welcome
when they
returned from
their voyage.
Complete the God, Gold, and Glory Graphic
Organizers
Vasco de Gamma
rounds the tip of Africa to
get to the great spice port
of India.
1.
4. Christopher Columbus
sails west in order to find a
quicker trade route to the
East.
2Hernan Cortes conquers
the Aztecs to gain riches.
5. Queen Isabella and King
Ferdinand agree to finance
voyages to increase Spain's
power and influence.
3. Missionaries flock to
Spanish colonies to
convert Native Americans
to Christianity
6. Italian adventurers
signed on as crew members
on Magellan's voyage
around the world
Please put the items above into the correct boxes on the guided notes sheet.
Complete the following information on
the graphic organizer on the worksheet.
COMPASS
A Chinese
invention which
used the
magnetic poles to
calculate
direction.
ASTROLABE
Tool using the
stars to better
locate ship's
location at sea.
CARAVEL
Smaller, faster
ships that could
maneuver in
shallow waters.
LATEEN
SAILS
A new sail which
was triangular in
shape and
mounted at an
angle, allowing the
ships to gather
wind for faster
travel.
Cartography
Mapmaking skill
increased and new
maps allowed
explorers to travel
further with
greater confidence.
Cannons
New defensive
weapon allowed
ships to sail safely,
protecting their
goods from pirates
and other competing
nations.
Central
Governments
New central
governments needed
revenue from trade
goods to finance the
building of their new
nations.
Political
Rivalries
New nations began to
compete for political
power within Europe.
With limited
resources in Europe,
the competition for
control led out of
Europe.
Strong
Monarchs
Strong monarchs in
growing nations
wanted to fund the
explorations out of
curiosity, for
increased prestige
and power, and for
greed.
Joint Stock
Companies
Corporations made up of
individuals formed, sharing
in the risk of funding
explorations. When the
sailings were successful, the
investors made great
profits.
Theory of
Mercantilism
This theory suggested
that there was only so
much value distributed
around the world.
Europeans began to
rush to gain control of
as much territory as
they could to take claim
of that value and the
wealth they believed
would come from it.