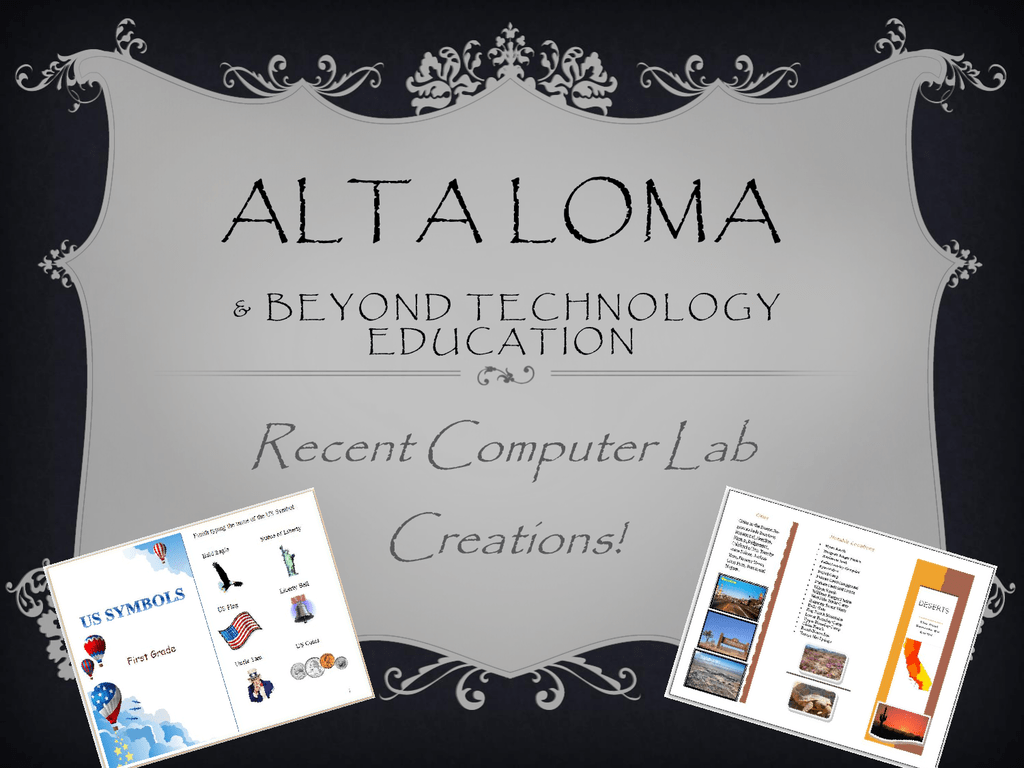 ALTA LOMA
& BEYOND TECHNOLOGY
EDUCATION
Recent Computer Lab
Creations!
UNIT 1
WORD AND PUBLISHER
 K Community Helpers
 5th American Colony Brochure
 1st US Symbols Book
 6th-7th Ancient Israel and
 2nd Complete Sentences
Religions of the World Brochure
 3rd Campaign Poster
 8th Revolutionary War
 4th Region Brochure
Newspaper
Kindergarten
Delete the babies that do
not belong to the parent
Dog
Cat
Puppy
Kitten
Delete the babies that do
not belong to the parent
Deer
Sheep
Fawn
Lamb
Match the parents with the
babies
Pig and piglet
Hen and chick
Cow and calf
Horse and foal
Goat and kid
Match the name to the baby
duckling
calf
foal
lamb
puppy
kid
Which is not a mammal?
If these two animals are not mammals, what
are they? Birds
My favorite animal is a horse.
1 ST GRADE
Shapes
FACES OF SHAPES
REAL OBJECTS SHAPED LIKE SOLID FIGURES
USE PATTERN BLOCKS TO MAKE NEW FIGURES
SIDES AND CORNERS
Sides: 4
Corners: 4
Sides: 6
Corners: 6
Sides: 0
Corners: 0
Sides: 3
Corners: 3
Sides: 5
Corners: 5
Sides: 4
Corners: 4
CREATE YOUR OWN
A 'corner' is also known as a what? Vertex
Create and color your own shape!
Sides: 7
Corners: 7
http://www.abcya.com/shapes_geometry_game.htm
Rocks, Minerals
and Fossils
2nd Grade
http://www.minsocam.org/msa/k12/k_12.html
Rocks
Name
Definition
metamorphic
This rock was made
when heat and
pressure changed and
igneous rock into
another rock.
igneous
This rock was made
when lava cooled and
hardened.
sedimentary
This rock was made
when layers of
minerals built up at the
bottom of a lake.
Image
Rock Cycle
Metamorphic
Sedimentary
Igneous
The way we study rocks and minerals
Name
Definition
Image
Describe it
color
Every rock has a color or colors
that can be seen. It is black,
brown or what?
Gold
texture
Every rock feels a certain way.
Is it rough, smooth, bumpy or
jagged?
Smooth
luster
Every rock reflects light in a
certain way. Is it shiny, dull,
metallic or sparkly?
hardness
Every rock has a different level
of hardness. What can scratch
a soft rock like limestone?
shape
Every rock has a shape. Is it
round, square, jagged or
what?
Shiny
Nail
Square
What are fossils?
A
fossil is an imprint
that's left behind by a
plant or animal that
lived long ago.
stone
 Fossils
can be found in
stone, frozen ground, or
amber.
frozen ground
amber
Examples of fossils
Name
Description
Plant fossil
These can show how plant
forms changed over time
from simple to complex.
Shell fossil
These are formed when an
animal dies and sinks to the
bottom of a lake or ocean.
Trilobite (bug)
fossil
These are from bug-like
creatures which lived in
oceans millions of years ago
Bone fossil
Animals like snakes, fish and
even dinosaurs leave these
behind and we can tell how
old it is by the age of the rock.
Image
All About
Plants
3rd Grade
Labeling a flower
Seeds
Flower
Stem
Leaves
Roots
Function of Plant Parts
Plant Part
Function
Roots
Used to give the plant support and
absorb water and other nutrients from
the soil
Stem
Delivers the soil nutrients to the leaves
Leaves
Makes energy for the plant using
sunlight, carbon dioxide and water
Seeds
These are a plant's way of getting from
one area to another by either wind, water
or animals.
Flower
Contains the petals which are important
because they help attract pollinators such
as bees, butterflies and bats.
Image
What Plants Use To Make Food
Term
Definition
Carbon Dioxide
A colorless, odorless gas in the
air that people and animals
breath out of their lungs.
Chlorophyll
The green coloring in a plant
that captures the sun's energy
Oxygen
A colorless, odorless gas in the
air that is needed for most living
things to stay alive.
Photosynthesis
The process that allows green
plants to make food from water,
carbon dioxide and sunlight.
Image
Inside a Plant Cell
mitochondria
vacuole
nucleus
cytoplasm
chloroplast
cell membrane
cell wall
Plant Life
Cycle
By The Great
Horn Spoon
Author: Sid Fleischman
4th Grade
By The Great Horn Spoon
• Type of book – Historical fiction
• Number of pages – 193
• Setting – Old Town, Sacramento during the
Gold Rush
By The Great Horn Spoon
Chapter 1:
Praiseworthy and Jack
stowaway on a ship
called the Lady Wilma.
Chapter 2: Jack and
Praiseworthy believe
there is a thief on the
ship so they have a
test.
Chapter 3: The Lady
Wilma spots another
ship and saves it.
Chapter 4: Jack had
named a pig Good
Luck and he liked her,
but the butcher tried
to kill her.
Chapter 5: The Lady
Wilma takes on the
Horn after she passes
another ship called
the Raven.
By The Great Horn Spoon
Chapter 6: After the
Lady Wilma was
ahead for a few days,
the Raven was
suddenly miles ahead.
Chapter 7: When the
Lady Wilma stopped
at the Bay of Callao,
about 100 cats went
on deck!
Chapter 8: Finally, the
Lady Wilma arrives in
California.
Chapter 9: Jack and
Praiseworthy meet up
with their friend Mr.
Cut-Eye Higgens when
they are in a wagon.
Chapter 10: Some robbers
come and attack the wagon,
but luckily Praiseworthy had
a sack of gold in his glove
and punched them.
By The Great Horn Spoon
Chapter 11: When
they finally arrive at
their mining
destination, Pitch-Pine
Billy teaches them
how to mine for gold.
Chapter 12: Everyone
hears about
Praiseworthy
punching someone
uphill 6 feet.
Chapter 13: Jack buys
a whole batch of
neckties and sells
them because a
woman is coming.
Chapter 14: Jack and
Praiseworthy get a
mule to carry their
supplies.
Chapter 15: Jack falls
in a steep hole while
trying to get a bunny
and a road agent
saves him!
By The Great Horn Spoon
Chapter 16: Jack and
Praiseworthy help
save a friend's life.
Chapter 17: While
Praiseworthy and Jack
were digging in the
ground to make a
grave, they strike it
rich!
Chapter 18: Aunt
Arabella (Jack's mom)
and Praiseworthy get
married.
My Favorite
Character
Praiseworthy is the world's best butler
and I like him for his resourcefulness,
charm, and levelheaded courage!
MEDALLION
By: Dawn L. Watkins
Presented By:
Fifth Grade
Point of View

The novel is written
in third person with
Prince Trave being
the main character
followed in the
story.
Setting

This story is set in the
Medieval times in a land
called Gadalla. Gris and
Trave travel to the
Kolonian border passing
through Rubran, Skreel
Forest, Blee Bog, Dider,
Ogham Pass and Torus
Point.
Characters

Prince Trave is the prideful
prince of a land ruled by his
lazy uncle, Panii. Gris is the
King of Kapnos who comes to
see King Panii. Tanarad is one
of Gris's Captains and an
excellent horseman. Sard is a
cruel character who wants to
capture, the prince, get the
medallion and deal with Gris.
Thag is a high ranking Sardan
who wants to take Gadalla by
force. Enna is the kind girl who
heals Trave's wrists when he is
injured.
Rising Events

Prince Trave is the prideful prince of a land called
Gadalla. His country is ruled by his lazy uncle, Panii.
His uncle refuses to side with the other good
countries called Kapnos, Kolonia, and Dider. Then
Gris, King of Kapnos, comes to see King Panii in
Ganet, the capital of Gadalla. Panii still refuses to
become allies with the other countries even though
the Dark Alliance-- the three remaining countries of
Sarda, Torridia, and Litoris-- plan to take over
Gadalla by force. Then Gris tells Trave of a
medallion. A medallion that belonged to Trave's late
father. A medallion that the true king of Gadalla
needs. A medallion that is needed to successfully
rule the kingdom. Then Trave leaves with Gris in
search of his father's medallion.
Problems

On this long journey,
Trave encounters
spies, an earthquake,
an immense bog
inhabited by a
mysterious hermit,
and giant birds of
prey. Because of
pride and flattery, he
refuses to listen to
Gris and he briefly
joins the bad side
and soon realizes
that was a huge
mistake.
Solutions

Trave becomes less critical
of others and is humbled
through the experiences of
this journey. He learns that
Kings need to show
compassion for their men
and be concerned with
their safety and well being.
He learns that it is
important to be decisive,
but to listen to his people.
He becomes king and
wears the medallion that
Gris had around his chest
the entire time.
Theme

Qualities such as honesty, hard-work,
loyalty and forgiveness are present
themes in this novel. Being a good judge
of character, knowing the dangers of false
pride, learning to lead by following and
understanding the value of loyalty and
authority are also important. In his
journeys, Trave learns the duties of a
king: to learn what is true, to believe the
truth and to act on that belief.
TH
6 ,
TH
7
AND
8 TH
PROJECTS DISPLAYED
IN THE LAB
TECHNOLOGY BROCHURES
ALSO AVAILABLE I N THE LAB!