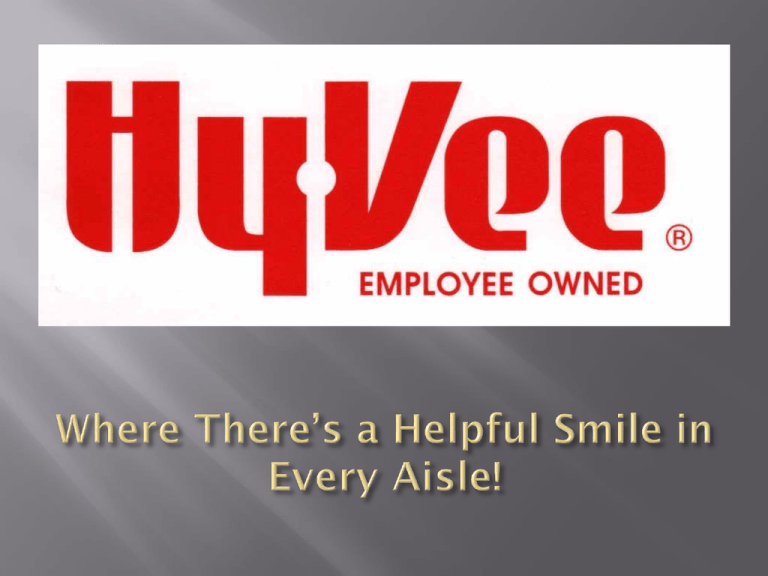 
Hy-vee's direct competitor's are


Wal-Mart
Dillon's


Target Marketing-Hy-Vee wants everyone to
come shop with them. They do not target any
one group.
Positioning-Hy-Vee has a uniform shirt
everyone is required to wear with dress pants.
They are always friendly and willing to help
while keeping the store neat and stocked for
the customers.


Strategy-Hy-Vee's strategy is to have the best
service in town, have the friendliest
atmosphere, and competitive prices.
Competitive Advantage



Customer Loyalty
Convenient Location
Multi-Channel Retailing-Groceries can be ordered
online and either picked up at the store or delivered
to your home.




Merchandise Variety-Hy-Vee offers a wide variety
of merchandise for your every need.
Merchandise Assortment-Hy-Vee carries a wide
variety of merchandise including baby products
and Health Market (gluten free, non-dairy, ect.)
Pricing-Hy-Vee offers competitive pricing for this
area.
Location-There is only one Hy-Vee located in this
area which is conveniently located by the mall but
there are more if you go to Topeka and the Kansas
City area.

Strengths
Online shopping
 Competitive Pricing
 Open 24/7 including holidays


Weaknesses


Opportunities


Higher prices on name brand items
Hy-Vee has the opportunity to open a gas station and/or
wine and spirit as other Hy-Vee's have done.
Threats

Wal-Mart is their biggest threat because of their low
prices.