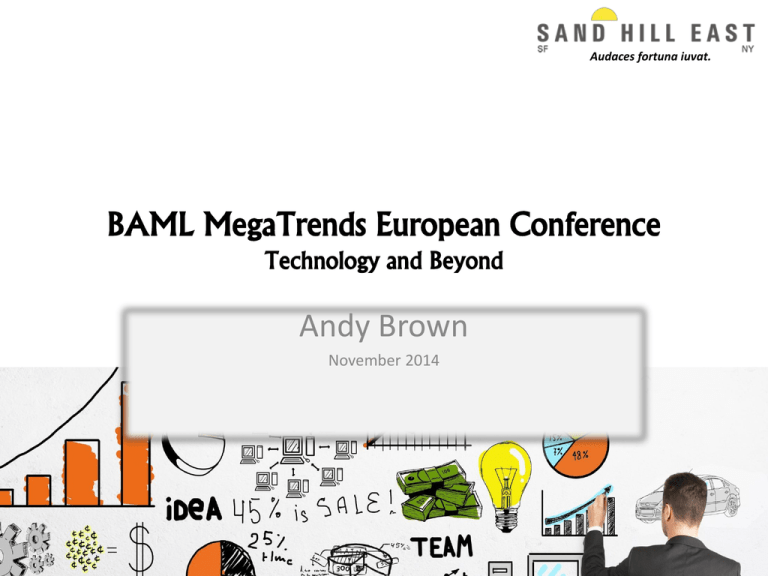 Audaces fortuna iuvat.
BAML MegaTrends European Conference
Technology and Beyond
Andy Brown
November 2014
Audaces fortuna iuvat.
"It must be considered that there is
nothing more difficult to carry out,
nor more doubtful of success, nor
more dangerous to handle, than to
initiate a new order of things."
— Niccolò Machiavelli, The Prince
1
Audaces fortuna iuvat.
Who Am I?
• Andy is currently CEO of Sand Hill East Ventures (www.sandhilleast.net)
• Andy is lead independent director on the board of Moogsoft, and an
independent director on the board of Guidewire (GWRE)
• Andy was a Director at ServiceMesh - sold to CSC in November 2013
• A founder of Desktone - sold to VMware also in November 2013
• Advisor to Cyvera - sold to Palo Alto Networks in March 2014
• Andy currently advises Wickr, Lastline, Zscaler & StreetScale IT
• In a prior life Andy was
o
o
o
o
o
o
o
Group CTO @ UBS 2010-2013
Head of Strategy, Architecture & Innovation @BofA 2008-2010
CTO Infrastructure Credit Suisse 2006-2008
Chief Architect (& Various) Merrill Lynch 1996-2006
Chief Architect Paribas Capital Markets 1994-1996
Senior Engineering Advisor, British Telecom 1988-1994
Stints @Shell Oil and ICI Pharmaceuticals 1984-1988
• Andy holds a BSc. Honors degree in Chemical Physics from University
College London
2
Audaces fortuna iuvat.
Our Key Investment Theses
At Sand Hill East, we have specific investment themes that guide
most of our investments as follows:
• Machine-based learning is the best way to automate analytics, provide
insights and surface anomalies
• Mobile is not a verb, it is a state of being
• BigData is not inherently useful, as it has to be used in a context people care
about to be monetized
• Standardization (in FinTech in particular) is not only a great commoditizer
but also a requirement for the next wave of innovation
• People are at the center of many processes and it is equally important to
understand the human aspects as well as the technical ones
• Privacy, security and, in particular, encryption are a requirement for data
inside or outside the enterprise
• Disruption in FinTech is going to happen because large banks are not focused
on it
3
Audaces fortuna iuvat.
Our Portfolio Has A Strong Security Focus
Enterprise/FinTech
Enterprise/B2B/B2C
4
Mobile/Social
Audaces fortuna iuvat.
Key Tech Mega-Trends
•
•
•
•
•
•
•
•
Software wins
Mobile wins
The 5Ws
Social wins
My Device My Life
Human-as-a-Service
Integration
Security
"All the World's an App"
"Always Connected"
"Analytic Data Trails"
"Always Informed"
"Wearing the brand"
"Virtualize Expertise"
"Plug 'n' Play, not Plug 'n' Pray"
"Encrypt to Survive"
5
Audaces fortuna iuvat.
All The World's An App
(and we are merely the players)
Key Sub Trends
• Apps are the unit of measure for software
• App integration with devices, people and
each other is expected behavior
• Apps provide decision support
• Open Source is a clear winner
• Full Function Multi Device Development
• Containers (Docker) become the unit of
measure for server side "Cloud"
Functionality
– IaaS
• Solutions (SaaS) beat pure products
• Information Protection is driven from Apps
• Many new verticals emerge (Life Science,
Wellness etc)
6
Audaces fortuna iuvat.
Transition To Cloud Forces SAP To Slash
Earnings Projections
Image Credit: Shutterstock/Pavelk
•
•
•
•
German software maker SAP cut its earnings outlook because more customers are
switching to its cloud services
Taken together, the latest update highlights the tricky balancing act that legacy
companies like SAP face as big customers move away from the traditional packaged
software business toward cloud-based services
Cloud services operate on a subscription model, which means less money up front
but more regular revenue over time
SAP is confident that the cloud deals being made today will bolster earnings in future
quarters
Source: News360.com; Chris O'Brien
7
Audaces fortuna iuvat.
All The World's An App
(and we are merely the players)
Key Investment Takeaways
iWear
Device
vSaaS
SaaS
PAAS
IAAS
8
Audaces fortuna iuvat.
Mobile Wins – "We Are Always Connected"
Key Mega Trends
•
nG/LTE, NFC, WiFi, Bluetooth and iBeacon
define Mobile Ecosystem (ME)
•
Large CRE's (Mall, Tenant buildings) adopt ME
•
Applications adapt to guide business process
•
–
People are connected & identified everywhere
–
Bricks and Clicks deliver "integrated experience"
Life Science, Wellness and Healthcare
processes revolutionized. vHealth emerges
•
iWear solutions (contact lens, Watch etc.) will
rapidly overtake #s of devices
•
Enterprise Services will be delivered on
consumer devices & iWear (Voice, Video,
Presence, Productivity, etc, etc)
•
mPayment = transaction
9
Photo credit: Forbes
Audaces fortuna iuvat.
"Never Mind Software – Mobile Is Eating The World"
• It has been three years since Marc Andreessen, co-founder of the venture capital firm
Andreessen Horowitz, wrote his influential essay, "Why Software is Eating the World."
Nothing has changed since then to cast doubt on the ideas he presented
• One big change has occurred, though: The rise of mobile
Source: WSJD 10/28/14
10
Audaces fortuna iuvat.
Never Mind Software - Mobile beats Web!
Source: WSJD 10/28/14
11
Audaces fortuna iuvat.
Never Mind Software –
"Email is for Grandparents"
Source: WSJD 10/28/14
12
Audaces fortuna iuvat.
Mobile Wins – "We Are Always Connected"
Key Investment Takeaways
+
?
Telephony
"Voice"
13
•
IBM / Apple partnership has strong
potential
•
Tech/BioTech cross overs create new
revenue streams
•
IoT supply chain vendors are very
interesting
•
Mobile TelCo Data usage will
continue to rise
•
Droid security addressed
•
WiFi/Bluetooth/NFC/iBeacon supply
chain has a lot to offer the market
•
BI Visualization leaders (DATA, QLIK
& Others) will grow >> market
•
Big Vendors Oracle/SAP seem to be
missing this boat!
Audaces fortuna iuvat.
The 5 Ws – Analytic Data Trails
(Who, What, When, Where, Why)
Key Mega Trends
•
•
•
•
•
•
•
•
•
I was at the dentist in London this morning for
a root canal. I posted on facebook and my
friends sent me ice cream
Context is the most important facet of real time
marketing & interaction
Social and Mobile Data Trails define 5Ws ++ use
cases
"Audience of One" is driven from
understanding my5Ws
Data ownership, protection and controls hugely
important
Insight, Analytics & Alerting solutions will grow
Scariest context is MyHumanGenome
Data of every type every where (FB, Gdrive,
SkyDrive, DropBox, Box, UsendME etc) but not
policy managed or encrypted by default
Privacy emerges as an even bigger global
topic…
14
Audaces fortuna iuvat.
Consumer Privacy Is Improving
…As Device Encryption Enters Stage Left
KEY TAKEAWAY –
ENCRYPTION OF CLOUD INFORMATION NEXT;
SIMILARLY ENTERPRISE DATA CENTER's MOVE FROM
PERIMETER TO CONTENT
15
Audaces fortuna iuvat.
The 5Ws – Analytic Data Trails
(Who, What, When, Where, Why)
Key Investment Takeaways
•
Integration of data trails is owned
by 'Appgregators'
•
Context based marketing and
advertising will define the new
generation
•
Email marketing
• mobile hooked will succeed
• Traditional email marketing will
disappear (SaneMail)
…
16
•
Business Processes will be
lightweight, adaptable and value
may be delivered through one killer
useful orchestration or function
•
Management of and entitlement of
data trails very important
Audaces fortuna iuvat.
Social Wins – We Are Always Informed
Key Mega Trends
• Continued growth, expansion and incremental enhancement of major
brands
• New business models being built on major social hubs
• Social "owns" "Face time", advertising, marketing, mobile
• Social Commerce becomes the norm
17
Audaces fortuna iuvat.
Social Wins – "We Are Always Informed"
Key Investment Takeaways
18
•
FB, TWTR, LNKD continue to lead.
•
Overlays, feed consumers to close
loop around real time sentiment
emerging (e.g. Pivit)
•
Contextual Social is a Big Threat to
GOOG, YHOO, BING
•
AAPL Desktop Search starting to
threaten Search giants
•
Threat to AMZN, eBay et al but
integration can be powerful
•
New paradigm for regulation
emerges as finance moves into this
space
•
mPayment and CyberCurrency will
drive changes
Audaces fortuna iuvat.
iBeacon Enabled Business Processes =
Apps + Mobile + Social + Payments
Above: The mobile customer journey, seen by MobileROI
Image Credit: MobileROI
19
Audaces fortuna iuvat.
iBeacon At Auto Dealerships: Context-Aware VIP
Experiences
Image Credit: MobileROI
20
Audaces fortuna iuvat.
My Device My Life
Key Mega Trends
•
•
•
•
•
21
Devices persist, but pace of innovation
slows
Wearables that integrate with Devices
via cloud drive extremely high growth
Traditional Desktop PC is as dead as
Monty Python's Parrot
Wellness & Illness will dramatically
transform
Services businesses will integrate with
Wearables and Devices to make life
much easier vs 800 'n' wait
Audaces fortuna iuvat.
My Device My Life
Key Investment Takeaways
• Supply Chain providers
to wearables very
interesting; Specialized
and high barrier to entry
• Vertical integration
(Devices, apps, Cloud)
remains very interesting.
Positions FB, Goog, AAPL
positively
• PC ecosystem very
negative
• Enterprises that face
consumers have to
participate or risk
antiquity
22
Audaces fortuna iuvat.
Human-As-A-Service
Key Mega Trends
• Global Virtual Enterprises emerge with completely different
economics than "The Bricks"
• Expertise is acquired as a service and paid for when it is used
• Digital training, and expertise acquisition becomes very
important
• Education seen as the vehicle to generate wealth. 2nd and 3rd
world countries will lead because they are hungrier
23
Audaces fortuna iuvat.
Human-As-A-Service
Key Investment Takeaways
Strategic
Big N Integrators consulting
24
•
New Service providers unlike
ACC, INFOSYS etc emerging
•
Aggregators emerge who can
connect buy side and sell
side of the market
•
Orchestrators emerge who
integrate aggregators with
buy side on a transaction and
longer term basis
•
Labor becomes a traded
market for commodity labor
types
(e.g. like TopCoder)
•
Traditional strongholds of
margin such as ERP programs
become fewer as cloud wins
Audaces fortuna iuvat.
Integration – Plug 'n' Play Not Plug 'n' Pray
Key Mega Trends
• Integration is all about software
protocols
• Software defines everything
(Security, Storage, Servers,
Network), but requires integration
• New technologies being
"cloudified" by the day
• Open Source playing big role in
standardization but
– Appgregators have an opportunity to
deliver significant value proposition
25
Audaces fortuna iuvat.
Integration – Plug 'n' Play Not Plug 'n' Pray
Key Investment Takeaways
• Technical integration
becomes all about the
normalization of content,
and automation using
standard interfaces
• Delivery is Mobile (Phone
or Tablet)
• Normalized Content
creates context which is
the enabler for marketing
advertising and useful
services
• Mobile app providers are
very well positioned to
combine Cloud and
Appgregation and win in
Integration
26
Audaces fortuna iuvat.
Security – Encrypt To Survive
Key Mega Trends
•
Technology proliferates, major successful
exploits target human weakness via social
exploitation
– Social Media Scams and Malware Flourish on
Mobile
– Prevalence of scams fail to change behavior on
social media
•
•
•
•
APT biggest issue is zero-day vulnerabilities and
unpatched websites which facilitate wateringhole attacks
Ransomware attacks grew by 500 percent in
2013 and turned vicious
Attackers are turning their attention to IoT
Current approaches are failing - Impossible for
Internet Security Threat
enterprises to stay ahead Source:
Report 2014 :: Volume 19; Symantec
"Financial services firms need to spend much more
on security than they currently are"
Jim Cramer after JPMC hack in October 2014
It seems clear at this point that perimeter defense has
failed and Encryption of content is required to secure data
27
Audaces fortuna iuvat.
Security – Encrypt To Survive
• JPMorgan Chase & Co. announced in October that a recent cyber attack compromised
customer information for about 76 million households and 7 million small businesses
J.P. Morgan CEO: "Cybersecurity
Spending to Double"
• New York's financial regulator told banks in a letter to tighten their cybersecurity,
particularly in terms of third-party service providers they might use (Reuters)
• Federal officials also warned companies that hackers have stolen more than 500
million financial records over the past 12 months, essentially breaking into banks
without ever entering a building (USA Today)
• "We're in a day when a person can commit about 15,000 bank robberies sitting in
their basement," said Robert Anderson, executive assistant director of the FBI's
Criminal Cyber Response and Services Branch
Conclusion : Hackers compromise enterprises daily. Consumer Encrypted,
now Enterprise Encryption ESSENTIAL! MSSP's only scaleable model.
28
Audaces fortuna iuvat.
Security – Encrypt To Survive
Key Investment Takeaways
• Companies that are specialists in
security defense will win (i.e.
Horizon, Accuvant, Symantec and
Dell Secure Works + Newcos)
• With so much personal data
increasingly being aggregated the
need for strong security is
increasing
• Combinations of vendors will be
needed to fight attackers
• Security spending will continue to
increase (double) each year for
the forseeable future, because
threats are
• Encryption will drive the tipping
point for public cloud and signal
the end of perimeter based
defense
Enterprise Encryption Vendors
(Dell, Symantec, Voltage)
Enterprise APT Defense Vendors
Enterprise Perimeter
Defense Vendors
Traditional AV
29
Audaces fortuna iuvat.
Sand Hill East
Q&A
Contribute to these ideas:
http://www.sandhilleast.net/
@sandhilleast
Audaces fortuna iuvat.