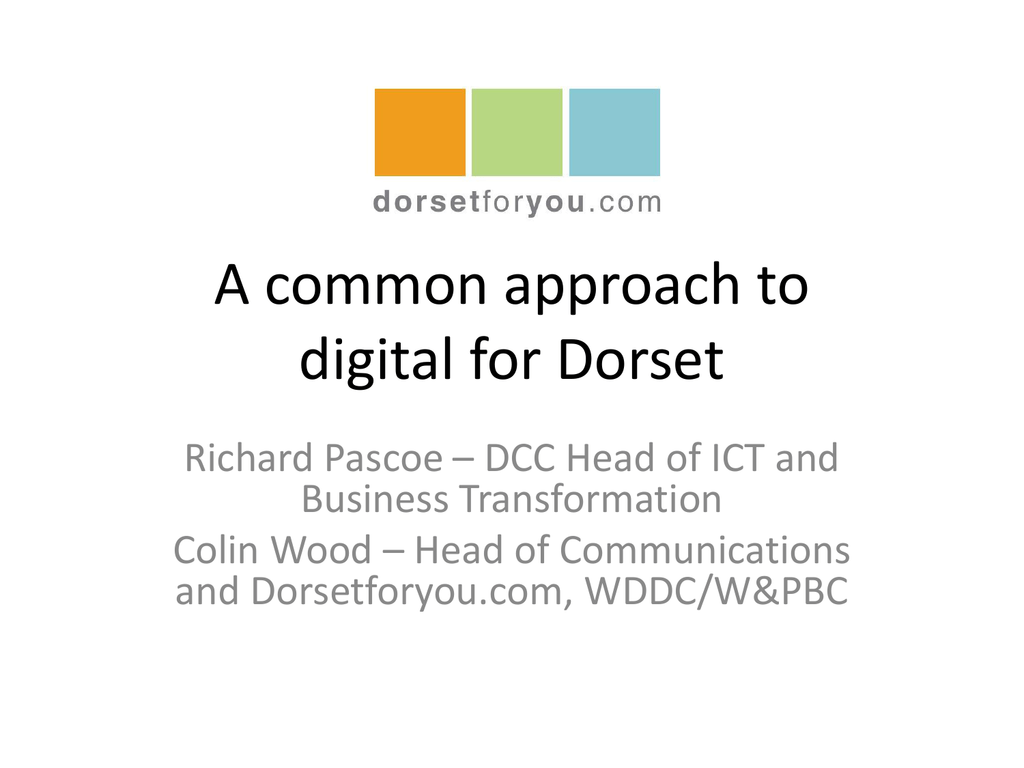 A common approach to
digital for Dorset
Richard Pascoe – DCC Head of ICT and
Business Transformation
Colin Wood – Head of Communications
and Dorsetforyou.com, WDDC/W&PBC
Partnership by default
What is dorsetforyou.com?
•
•
•
•
•
•
•
Unique – a national first
The website for all 7 councils in shire Dorset
Unbranded access . . . branded delivery
Small central web team – 5.5 staff
170 web authors across services
Shared development plan/fund
Social media
It's good because . . .
•
•
•
•
•
It makes sense to most normal people
It's cheap – 4p per visit vs 15p average
Smaller councils do well
A high profile brand
Clout around opportunities, e.g. advertising,
procurement
• Joint marketing . . . site
and digital activities
The flip side
• Some loss of individual branding
• It's a big site:
o Had to make it local
o Top tasks
o Reduce number of web authors
• Partnership working can be hard
o Pace
o Customer service ethos
o Priorities
o Money
On balance . . . it works
• Mix of 4 and 3 star in Socitm Better Connected
2014
• West Dorset District Council listed in top 20
best developed sites
Legacy issues/lessons learned
• A good idea poorly executed
o Flawed navigation, no localisation
o 15,000 pages and 21,000 pdfs
o Poor search engine
• Barriers to joining
o Financial
o Political
o Perceptions
Five years on we are still suffering!
Dorset digital access strategy
• Deliver range of digital services that customers
prefer to use and that save public money
• Use technology to improve council services
• Ensure that, whilst we become digital by
default, we don't exclude those who cannot
use online services
Sits above and supports partners' individual
customer access and digital strategies
The foundations
•
•
•
•
Data collection – the baseline
Eight customer personas
Senior engagement sessions – 180 staff
40 staff from in-scope services created
digital improvement plans
• Agreed standards for new web apps easy to use, mobile friendly, accessible
Meet Bob
Aged 61
Marine engineer, Portland
Careful with money, feel loyal to
local community and takes pride
in not being reliant on welfare
benefits and state support.
Demographic: "Residents of
small and mid-sized towns with
strong local roots (21.5%)".
Computer usage: When he has
to for work.
Channel preferences: Face to
face/telephone.
Web experience: Occasional use
to keep in touch with family,
book flights, etc.
Digital success stories
• Job applications - 99.5% submitted online
• Garden waste applications – more than 50%
online
• School admission applications – 80% online
• Bus timetables - £18,000 saving
• E-newsletters - 70,000+ subscriptions in 6
months
The big sell
•
•
•
•
•
•
•
Save time, go online
Traditional comms
Branded public terminals
E-newsletters
Customer service staff
Automated messaging
Promoting digital channels
non digital
• Big call to action buttons
ahead of
There's more to do
• Bold recommendations around digital
transformation
• Check quality of high volume web applications
• A shared e-payments solution
• More aggressive promotion of digital
• Expand web chat – half the cost of phone
• Measure, measure, measure
The challenges
•
•
•
•
Poor or no data
Integrated – redesigning services
Complete the mobile journey
All digital channels
o Telephone (IVR)
o E-newsletters
o Social media
o Web chat
• That digital divide – internal/external
Superfast Dorset
Questions?