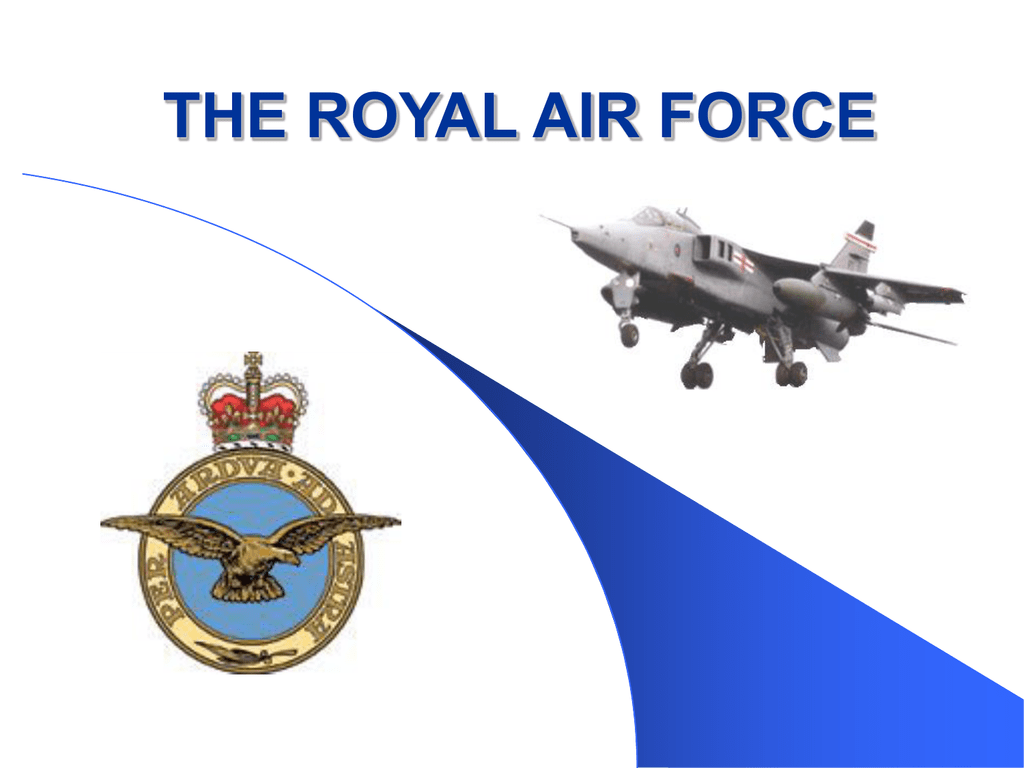 THE ROYAL AIR FORCE
PART 2

ORGANISATION OF THE RAF
The RAF, like the Navy & Army is loyal to the
Crown but is controlled by Parliament.
Defence Council

The Prime Minister and the Cabinet hold
supreme responsibility for national defence and
they decide what policies the country should
follow.

They exercise control of the Armed Forces
through the Defence Council.

The Secretary of State for Defence, appointed
by the PM, is Chairman of the Defence Council
Air Force Board
Each of the 3 services is controlled by a board of senior
officers:



Admiralty Board – RN
Army Board – BA
Air Force Board – RAF

The Heads of these Service Boards are members of the
Defence Council where they advise the Government on
matters affecting their own service.

The Air Force Board controls the Royal Air Force.
Each member of the AFB is a senior
officer or civil servant heading a specialist
branch concerned with a particularly
section of the RAF's work; all the
different Branches added together are
called:
"The Air Force Department" of the
Ministry of Defence (MOD)
RAF Command Structure
Outside the MOD the directives of the Air Force
Department are put into effect by:
RAF Commands
Grouped into 2 Commands, determined by the
jobs they do:
• Strike Command.
• Personnel & Training Command.
RAF Groups
Sub Headquarters called Groups to control specialist
units – e.g. those flying a particular class of aircraft such
as fighters.


Only exist in Strike Command.
P&T Command controls its Units directly.
RAF Units & Stations
"Unit" is the title applied to elements of the RAF
which are established to cover a particular function,
e.g. Maintenance Unit, Signals Unit.
• The Basic Operational Unit is a Squadron.
• Squadrons are equipped with aircraft or missiles
or they may be squadrons of the RAF Regiment.
• According to their size & role, squadrons may be
sub divided into two or more flights.
• The location of an individual unit or number of
units is known as a RAF Station.
• An RAF Station is run by specially trained staff,
who themselves are arranged in squadrons.
Framework of the RAF
DEFENCE COUNCIL
CHIEF of AIR STAFF
AIR FORCE BOARD
STRIKE
COMMAND
PERSONNEL & TRAINING
COMMAND
UNITS
No. 1 GROUP
No. 2 GROUP
No. 3 GROUP
UNITS
UNITS
UNITS
OVERSEAS
UNITS
STRIKE COMMAND
Strike Command is based at RAF High Wycombe
where it controls all RAF Offensive & Defensive
operations at home & overseas.
Overseas units include:
• Falkland Islands
• Cyprus
• Gibraltar
• Ascension Island
Groups
No. 1 Group:
• Responsible for all strike attack & offensive support
aircraft.
• Operates all the RAF's front line fighter aircraft including,
in the future, Eurofighter.
• Seek & attack enemy targets on the ground.
• Battlefield support forces – long range transport & tactical
transport & short range offensive aircraft to support
battlefield operations.
No. 2 Group:
• Operates all the aircraft & force
elements that support front line
operations.
• Includes air transport & air to air
refuelling aircraft
• RAF Regiment & Ground Based Air Defence
systems.
(Defence Systems will now be controlled by the
British Army).
• RAF E3 Sentry – Air Defence. (RAF Waddington)
No. 3 Group:
• Home for the new Joint Force Harrier.
(With RN).
• Nimrod Maritime Patrol aircraft.
• Search & rescue Helicopters.
• RAF Mountain Rescue Teams.
HQ Personnel & Training Command
P&T Command was created on the 1st of April 1994
and embraces all aspects of:
• Recruitment
• Training
• Career Management
• Welfare
• Conditions of Service
• Pensions
All RAF policy & implementation staffs involved in the
full span of personnel functions are based at the
Command's headquarters at RAF Innsworth in
Gloucester.
RAF Units & Stations
More than 1 unit can be located on an RAF
Station. If the Units are mostly
operational Squadrons, i.e. squadrons
flying aircraft designed to perform an
offensive, defensive or reconnaissance air
role, the station is known as an
operational station.
Other stations can be either flying
stations, e.g. stations housing
Maintenance Units or Command/Group
Headquarters etc.
A typical station is organised into 3
wings:
• Operations
• Engineering
• Administrative
Structure of Station:
Station
Commander
OC
Engineering
Wing
OC
Operations
Wing
Flying
SQN's
Operations
SQN's
M&E SQN
AIR
Air
Traffic
Control
Electrical
Eng
Squadron
Station
Service
Squadron
OC Admin
Wing
M&E SQN
GROUND
Education &
Training SQN
Supply
Squadron
Supply
Squadron
Catering
Squadron
Personnel
Management
SQN
Accounts
Flight
General
Duties
Flt
Security
& Police
Catering
Flight
Estates
Flight
RAF Regt
Flt
PE
Flight
Medical
Flight
Personnel
Services
Flight
Operations Wing
Flying Squadrons
Air Traffic Control
Fire Services
• Photographic Interpretation
Engineering Wing
• Electrical Engineering
• Electronic Engineering
• Armoury
The Engineering Wing is responsible for the repair &
maintenance of Air & Ground equipment.
Mechanical Engineering
Day to day repair & maintenance
on operational aircraft.
MT Section
Housing & Services the vehicles
needed to re-fuel, re-arm and
ground handle the aircraft, as
well as the other vehicles to
support the Station's domestic
task.
Admin Wing
The Administrative Wing looks after the personnel who
live & work on the Station. Through it's specialist
squadrons & flights, Admin Wing controls the day to day
management of:
Catering
Accommodation
Recreation
Security
Financial
Medical
BASE SECURITY!
All RAF Bases have a high level of security measures to ensure
prevention of attack by terrorism etc.
As a cadet on an RAF Base or any other MOD site, you should do
the following:
• Always carry your 3822 (ID) at all times.
• Behave in a sensible and cadet like manner.
• Never enter buildings without permission.
• Never touch military hardware/aircraft/equipment unless advised.
• Report any suspicious/unidentified packages to the Guardroom.
The Guardroom is manned 24 hours a
day to ensure site security. Security is
EVERBODY'S responsibility when on
an RAF/MOD Base.
RAF Ranks – (Non Commissioned)
LAC – Leading Aircraftsman
SAC – Senior Aircraftsman
JT – Junior Technician
CPL – Corporal (JNCO)
SGT – Sergeant (SNCO)
CT – Chief Technician (SNCO)
F/SGT – Flight Sergeant (SNCO)
WO – Warrant Officer (SNCO)
Highest & Most Respected Rank (Non – commissioned).
Aircrew Ranks
SGT AC – Sergeant Aircrew
(SNCO)
F/SGT AC – Flight Sergeant Aircrew
(SNCO)
MAC – Master Aircrew
(SNCO)
ARE THERE ANY
QUESTIONS?