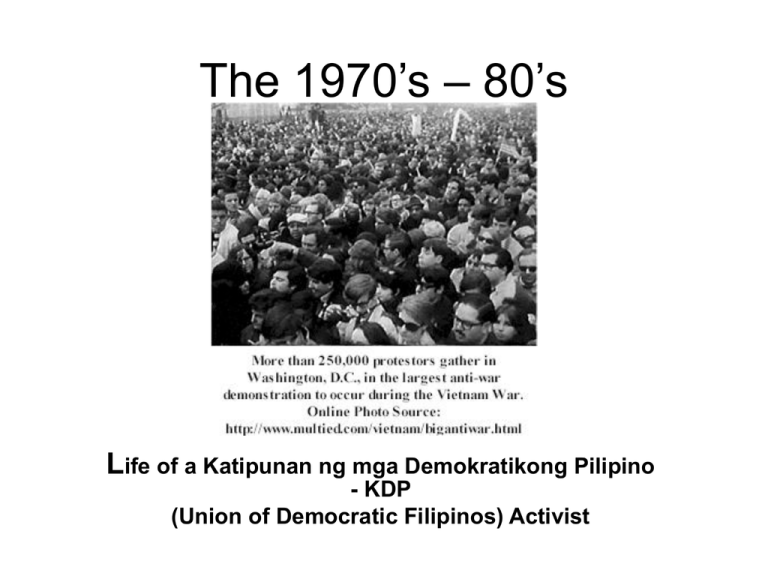 The 1970's – 80's
Life of a Katipunan ng mga Demokratikong Pilipino
- KDP
(Union of Democratic Filipinos) Activist
1969
• My Graduation from Banning High School
• My 1st Car – VW Bug – with 8 track tapes!
• Played Keyboards in Rock & Roll / Soul &
Horn Bands
• Attended CSUDH – Joined the 1st Asian
American Students Organization
• Vietnam Anti-War Movement
• Search to Involve Pilipino Americans-SIPA
My hippie wanna be days
1969 - Fresh out of
Banning High School
to… Honors Student
Anti-War Demonstrator
at CSUDH to…..
Associated Student Body
- Community Director
for Peace & Justice
(Draft Counselor)
Met other API Activists
Meanwhile at San Francisco State
College (now SFSU)
STUDENTS STRIKE
from Fall 1968 to March1969
• Black Students Union and the Third World
Liberation Front (a coalition of the Black
Students Union, the Latin American Students
Organization, the Filipino-American Students
Organization, and El Renacimiento, a MexicanAmerican student organization) strike and
present their set of 15 "non-negotiable"
demands, which include the expansion of the
College's new Black Studies Department (the
nation's first), the creation of a School of Ethnic
Studies, and increased recruiting and
admissions of minority students
• S.I. Hayakawa was named S.F. State President
1970's
1971 – First Filipino
People's Far West
Convention (FWC) –
Seattle,WA
*Worked at UCLA
Asian Am Studies Ctr.
*Co-founder UCLA
Samahang Pilipino
1972 – Martial Law
Declared in Philippines
*Marcos Black List
Anti-Martial Law Movement
1973 –KDP Formation in California /
FWC in San Jose – Met Rose
Estepa from San Diego (SDSU)
1974 – Co-founded Kababayan @
UCI / FWC at UCLA – 600
Delegates (largest FWC)
1975 – Completed the Agbayani
Village for UFW – Manongs
(Filipino pioneers started the Grape
Strike that formed the United
Farm Workers) – FWC at UCB
1977 – FWC at UCSD
International Hotel /
V.A. Hospital vs. Narciso-Perez Case
KDP / ILWU Local 13 - Activists
Murdered by Marcos
• Gene Viernes
August 16, 1951 June 1, 1981
• Silme Domingo
January 25, 1952 June 2, 1981
Far West Conventions
• Continued until 1985 –
last FWC held at CSULA
• Took up the Bakke Reverse
Discrimination Case (UCD)
• Dr. Alona Case – Oxnard, CA
U.S. Navy Doctor
• Elderly & Senior Low Cost
Housing
• Youth & Family
• Labor
• Military Organizing
• Women's Rights
• Art & Culture
• Political & Affirmative Action
Part of the Broader Movement
• Bakke Decision –
Affirmative Action
• Immigrant Rights
• Support for El Salvador
• Anti-Nuclear Movt. – Star
Wars – Reagan
• Develop Classes &
Publications
• Social Services vs. Grass
Roots Community
Organizing
• Jesse Jackson's Rainbow
Coalition
• 3rd World Coalitions –
Students & Communities
1980's Decline of the Movement
• Glenn Omatsu – "The
Four Prisons and the
Movements of
Liberation"
– The Winter of Civil
Rights
– Reaganomics
– Asian American NeoConservatives
– The "Me First"
Generation
– Activists have Families
& Careers too!
Today's Opportunities
• Students are still activists –
Passing on Lessons to the
new generations
• Community Non-profit
organizations (staff & boards)
• Social Services / Civil Rights
Law
• Teaching Asian American
Studies & Progressive
Studies
• Archiving – Collections –
MLIS in Information Studies
• History Research – MA in
Asian American Studies –
PhD in History
Same Struggle – Many Fronts
Makibaka! Huwag Matakot!
Dare to Struggle! Dare to Win!