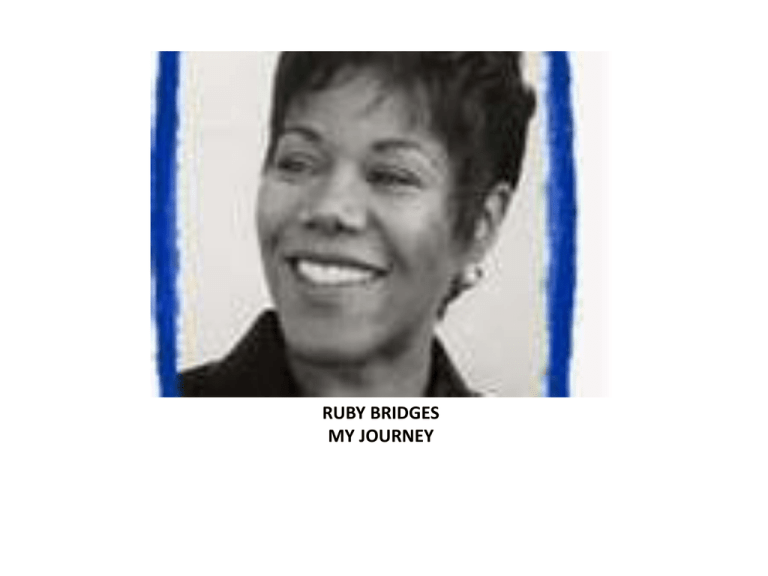 RUBY BRIDGES
MY JOURNEY
WHAT TO THINK ABOUT:
WHAT DO CIVIL RIGHTS MEAN TO
YOU?
Through My Eyes
Johnson Lockett Elementary School
Ruby Bridges Goes To School
William Frantz School
Federal Agent Escort
Integration Is A Sin
My New Jump Rope Song
• 2 4 6 8 we don't want to integrate
• 8 6 4 2 we don't want a chigeroo
• I did not know the meaning but it rhymed and
it was great for jump roping..so I taught the
kids in the neighborhood.
Threatened To Be Killed
My Scariest Moment
It All Worked Out
Robert Coles wrote a book
Secondary Reader
Ruby Bridges and What I Have Accomplished
Ruby Bridges Foundation
• Volunteer at William Frantz School as parent school
liaison
• Started after school classes
• Started ballet classes
• Started African dance classes
• Teach manners and etiquette classes
• Visit many places emphasizing the importance of
reading and the power of literacy with the education
we receive at home and school
• For more information visit: www.rubybridges.com
THANK YOU
• Do you have any questions?