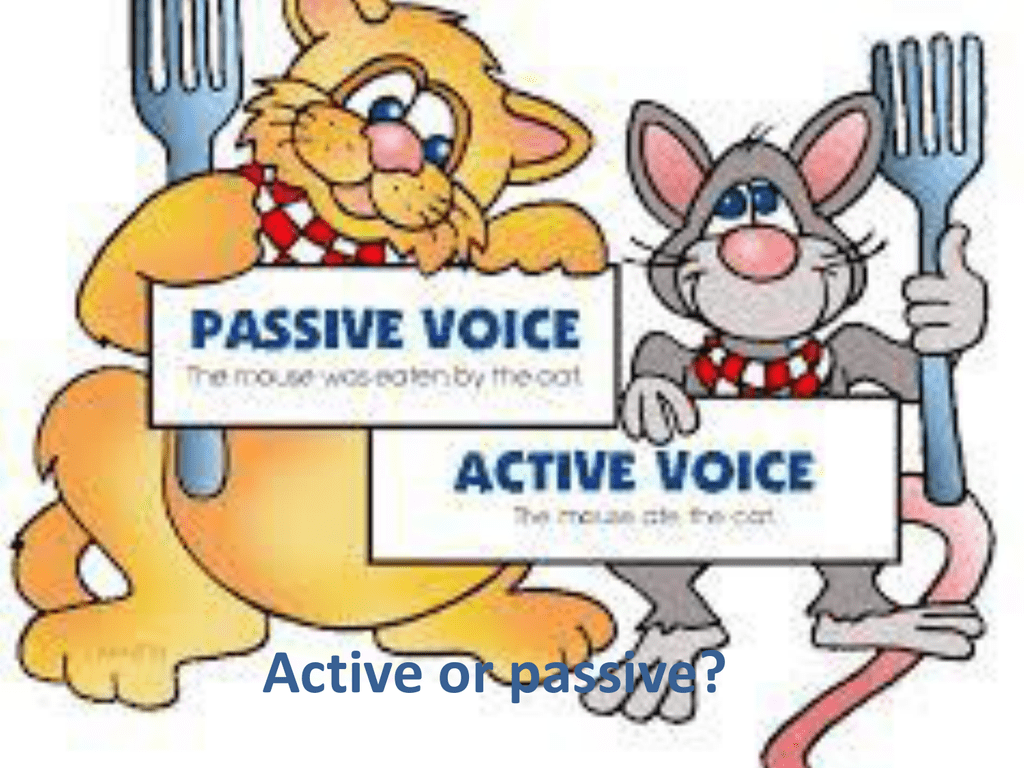 Active or passive?
Passive voice
The ball was hit.
Active voice
Goofy hit the ball.
Passive voice
Cigarette taxes will be raised.
Active voice
Congress will raise taxes on cigarettes.
Passive voice
My nose was
punched
by you.
Active voice
You punched me in the nose!
Why is the passive voice BAD?
You can see from these examples that the passive voice is less
dynamic than the active voice because it ignores or downplays the
doer of the action.
Sometimes the passive voice is appropriate…
THE DOER OF THE ACTION ISN'T IMPORTANT OR
UNKNOWN.
• School is canceled today!
• The cafeteria food was contaminated.
YOU ARE TRYING TO BE POLITE
• Your application was rejected.
• The test must be finished in one hour.
Sometimes the passive voice is appropriate…
YOU WANT TO EMPHASIZE THE THING YOU ARE
TALKING ABOUT
• The big blue ribbon will be given to the winner.
YOU ARE WRITING SCIENTIFICALLY.
• The mice were separated into two groups.
• The trees were stripped last month.
• The computers were shipped early in September.
• The letter was written by my brother.
• The old car was driven by my brother.
• The school bell was repaired in September.
• This man has been stabbed.
• My shoes were taken to the shoemaker.
• The trees were uprooted by the storm.
• The bookcase was stained a dark walnut.
• The flowers were planted in March.