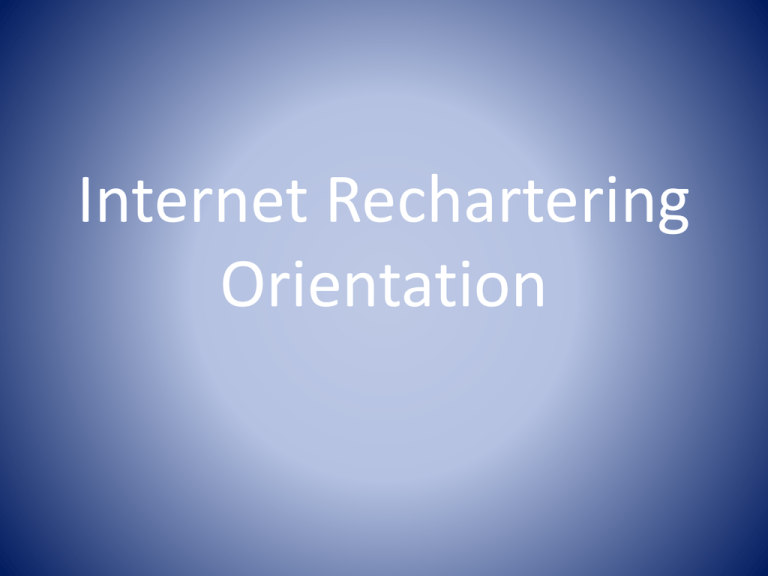 Internet Rechartering
Orientation
Internet Rechartering
Pre-Planning Steps
• Step 1: Complete membership inventory of all youth
and adults, 60 days prior to your District recharter
turn-in meeting, to ensure all members are registered.
• Step 2: Ensure ALL Adults have completed Youth
Protection Training within the past 2 years. Anyone
who has not will not be re-registered. All new
applications submitted must also have the Youth
Protection Training Completion Certificate attached.
• Step 3: Ensure ALL Leaders are fully trained. Anyone
who is not, will not be re-registered.
Internet Rechartering
Pre-Planning Steps
• Step 4: Obtain correct contact information for all youth
and adults, including email address for adult members.
• Step 5: Obtain any District specific information that is
required for your unit to submit along with recharter at
your turn-in day. This could include: FOS Dates,
Training Records, Unit Positions; for questions about
this check with your District Executive or District
Webpage.
• Step 6: Contact your Unit Leader and Executive Officer
30 days prior to recharter turn-in day to schedule a
time to meet them to get their signatures on the
completed recharter paperwork.
The
Process
Unit receives access code on sheet inside Recharter Packet
Unit receives location of Recharter Turn in Day-Don't Miss this Date!
Go to the council Web site and select Internet Rechartering
Complete the rechartering process
Print recharter paperwork
Obtain signature of Unit Leader & Executive Officer
Forward charter paperwork, member applications, correct fees (one check) or unit
account authorization, and any other District specific items to your District
Recharter Turn-in Meeting
Internet Rechartering
The unit renewal processor for Internet Rechartering begins as First Time
User because the unit access code is changed each year for security
reasons. After initial registration, log in as a Returning User.
All unit processors are required to agree to a Confidentiality Statement when the
initial First Time User registration is completed.
The Overview page lists the five stages of processing for Internet Rechartering. Click Begin
Load Roster offers two options to unit processors: Load the unit roster from council
information; or upload a rechartering file from unit-management software to match
against the council information.
At this point, we suggest that you print out a paper copy of your roster as a "work copy".
This will be helpful in gathering all of the required information to complete the Charter Renewal
process.
DO NOT MAKE ANY
CHANGES TO YOUR
CHARTERED
ORGANIZATION ON THIS
SCREEN! DOING SO WILL
CAUSE THE SYSTEM TO
FREEZE. PLEASE CROSS
OUT AND UPDATE ANY
INFO ON THE PRINTED
CHARTER.
On this screen, you
decide who is
continuing as a
member on your
new charter and
who is not. Those
continuing should
have a check by
their name.
Quick note to Cub Scout Packs. Please be sure to leave your Webelos II registered with
your pack. If they are dropped and subsequently register with a troop, their Arrow of
Light Award will not be properly recorded. You can transfer them to the troop later.
"Promote Members" was a feature that was used to move members from one unit to another
(Pack to Troop, Troop to Team, etc). THIS FEATURE IS CURRENTLY NOT WORKING AND SHOULD
BE SKIPPED. You can still easily drop members from one unit and add them to another later.
AddNew Adult
Remember
A paper application
must be submitted
with your charter
renewal for each
New or Promoted
youth and adult
If e-mail address is
available, please enter
it. This will enable the
council to, through
Constant Contact,
communicate
important program
information to leaders
in a faster and more
efficient manner for
coming events.
Add Contact Information for Adults
Do not check this box,
unless the youth is moving
into your unit from another
council
Remember
A paper application
with signatures must
be submitted with
your charter papers
for each New or
Promoted youth and
adult.
Add Youth
You must select if the parent is or isn't a current member of the unit. For this reason,
it's a good idea to enter any new adults first.
If the parent is registered with this
unit, you must select the proper
relationship and individual, which
automatically inserts the parent's
information on this youth's
application.
Update Information of Parent
A roster of the
selections is
presented so you can
then update
information on any of
the adults or youth.
If e-mail address is
available, please
enter it to facilitate
faster, more efficient
communications.
Again, you may
remove individuals
from the roster.
Update Member Data is a core part of Internet Rechartering as it provides for updating of
name, address, telephone, and e-mail address information. If new adults or new youth were
entered, records may be updated further in this step.
A listing of adults filling required positions is presented with a table of the minimum and
maximum requirements and the current status.
If the current number of people for that position does not fall within the minimum and
maximum levels, you will not be able to proceed any further, click update to change an adult's
position or go back and add leaders as needed.
Just a reminder
If your Unit is chartered by an organization
that also charters another unit you MUST
have the same Executive Officer and Charter
Representative otherwise Council cannot
process your charter paperwork.
Check Roster verifies BSA registration rules and
Update Fees handles fee payment data.
Each individual is checked to
ensure that he or she meets
the requirements for
registration. Warnings and
errors may appear.
Errors must be corrected,
while warnings should be
checked.
PLEASE NOTE: The 2014 registration fee for youth/adults is $24 and Boys' Life is $12. Charter fee is $40.
To Add a Boys'
Life
subscription or
adjust fees for
someone
already paying
in another
position or unit,
click "Update"
PLEASE NOTE: The 2014 registration fee for youth/adults is $24 and Boys' Life is $12. Charter fee is $40.
If an adult is paying fees
in another unit, You will
be prompted to enter
where the registration
is being paid.
Remember to sign up
for Boys' Life !
Click the Boys' Life button
for your 100% recognition.
PLEASE NOTE: The 2014 registration fee for youth/adults is $24 and Boys' Life is $12. Charter fee is $40.
Changes made in the
"Update Fees" process
will be displayed. In this
case, Cheryl Lane has
paid in another
unit/position and her
multiple registration
status is noted by the
fee adjustment.
PLEASE NOTE: The 2014 registration fee for youth/adults is $24 and Boys' Life is $12. Charter fee is $40.
After you press the "Submit" button, you will print the final copy of your charter renewal
which will need to be signed by your Unit Leader and Executive Officer before they are
turned into the Council. Changes after this point must be noted and explained on the
application and then made by the Council.
Submit your roster online
Membership Inventory provides a means to give a reason to each youth member who was not
selected for renewal, ranging from too old for program to moved away. This information is
shared with councils for follow-up with youth to encourage a continued Scouting experience.
Membership Inventory has been enhanced to allow entry of the
Reason for non-renewal by selecting the appropriate radio button.
Please give an honest assessment as to why Boys dropped from your unit.
After the unit renewal is submitted, the unit prints the Unit Charter Renewal Report.
Note: All pages of the final report must be completed and turned in at your District
Recharter Turn-in Day
ANYONE (youth or
adult) new to your
unit is listed on the
front page of your
charter and needs a
signed application
to accompany the
charter!
The Unit Charter Renewal Report contains the final total
due as well as signature lines. Original signatures for the
Executive Officer and Unit Leader must be on the charter
when you submit it to the Council! (Council
Representative line is for District Executive signature).
What Happens Next?
• Submit completed charter, fees and Journey to
Excellence Form at January Roundtable (January
9, 2014).
• 60-90 days after the paperwork is processed at
the council office
– Membership Cards & Roster are mailed to Unit Leader
– Charter Certificate is mailed to Executive Officer
– Your Unit Commissioner works with the Executive
Officer and your Unit Committee to hold a Charter
Presentation
Questions??
Have a Nice Day 
Thanks for all you do for Scouting!