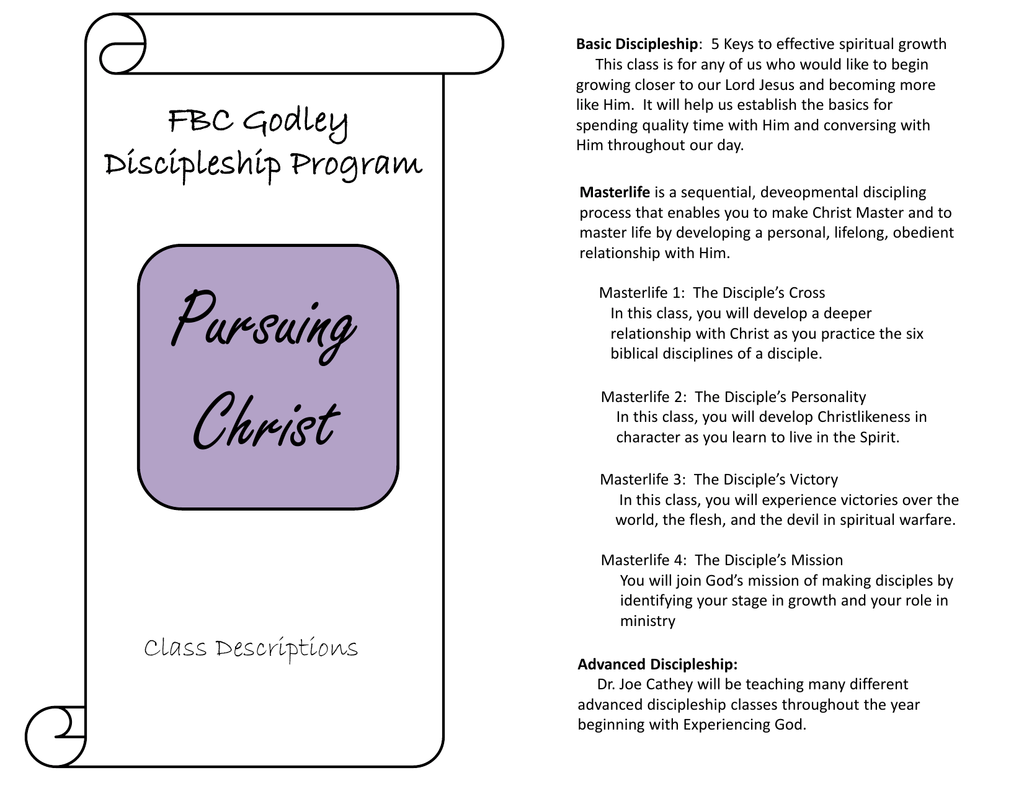 FBC Godley
Discipleship Program
Basic Discipleship: 5 Keys to effective spiritual growth
This class is for any of us who would like to begin
growing closer to our Lord Jesus and becoming more
like Him. It will help us establish the basics for
spending quality time with Him and conversing with
Him throughout our day.
Masterlife is a sequential, deveopmental discipling
process that enables you to make Christ Master and to
master life by developing a personal, lifelong, obedient
relationship with Him.
Pursuing
Christ
Masterlife 1: The Disciple's Cross
In this class, you will develop a deeper
relationship with Christ as you practice the six
biblical disciplines of a disciple.
Masterlife 2: The Disciple's Personality
In this class, you will develop Christlikeness in
character as you learn to live in the Spirit.
Masterlife 3: The Disciple's Victory
In this class, you will experience victories over the
world, the flesh, and the devil in spiritual warfare.
Masterlife 4: The Disciple's Mission
You will join God's mission of making disciples by
identifying your stage in growth and your role in
ministry
Class Descriptions
Advanced Discipleship:
Dr. Joe Cathey will be teaching many different
advanced discipleship classes throughout the year
beginning with Experiencing God.