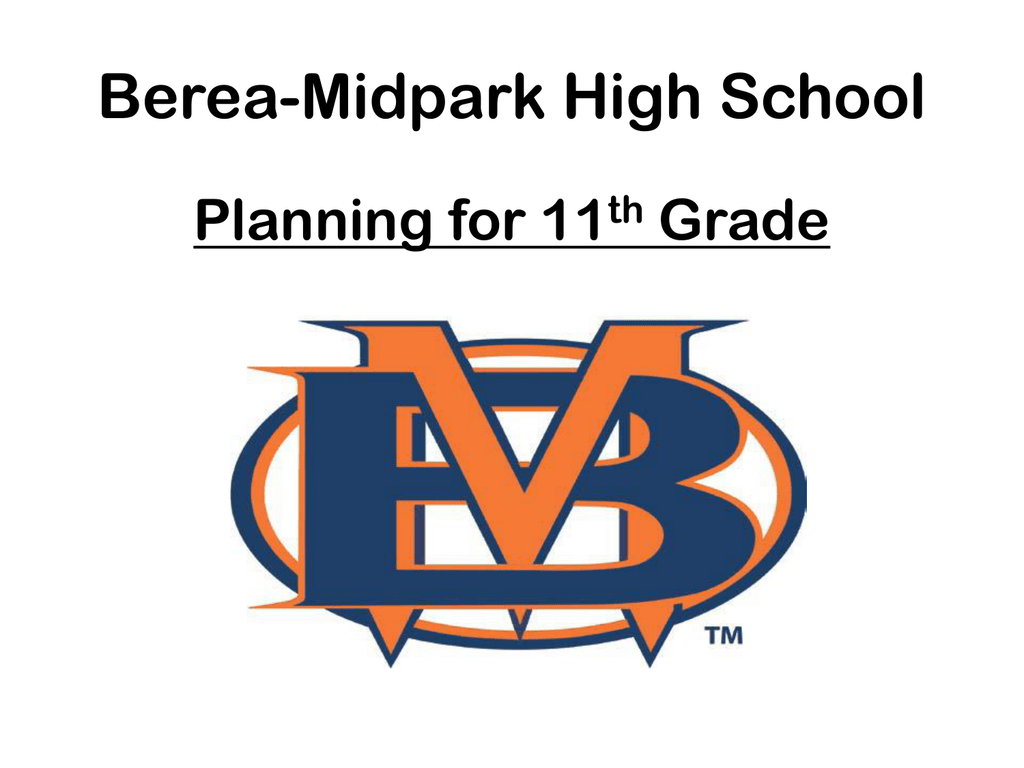 Berea-Midpark High School
Planning for 11th Grade
Berea-Midpark High School
What are we talking about today?
•
•
•
•
Testing Day Test Results
Course Registration Guide
Course Request Sheets
Course Request Input Timeline
Berea-Midpark High School
Test Results on PLAN and PSAT
– Scores were reviewed and explained at
meeting on January 16th
– See Guidance website or testing website
for more details about your scores
– How do you compare to your peers?
– Are you college ready?
Berea-Midpark High School
Graduation Requirements (p.4)
– 22 TOTAL credits
•
•
•
•
•
•
4 credits of English
4 credits of Math
3 credits of Science
3 credits of Social Studies
1 credit of Fine Art
.50 Health, .50 PE, .50 Computer, Financial
Literacy
– Pass all 5 parts of the OGT
Berea-Midpark High School
Core Requirements for College Admission (p.6)
– 4 credits English
– 4 credits Math
– 3 credits Science (2 lab sciences)
– 3 credits Social Studies
– 2 credits World Language (same language)
– 1 credit Fine Art
Berea-Midpark High School
Athletic & Activity Eligibility (p.5)
– Participants must pass a minimum of 2.5 credits per
semester (excluding credit earned through aiding)
and have a 1.5 or higher GPA in the 9 week grading
period preceding the sport to be eligible to compete
– Students who do not pass 2.5 credits are ineligible for
the entire next grading period
– Summer school credits do not pertain to athletic
eligibility
Berea-Midpark High School
NCAA Division I/II College Eligibility Rules (p10)
– Students who wish to participate in Division I/II
intercollegiate athletics as freshmen or receive
athletic grant-in-aid scholarships must meet
specific criteria
– Approved courses will have a "(NCAA Course)"
after course description
– Will need to register with the NCAA
Clearinghouse towards end of junior year
Berea-Midpark High School
Honors Diploma (p. 7-8)
4 credits of English
4 credits of Math
4 credits of Science (including both Chemistry & Physics)
4 credits of Social Studies
3 credits of one World Language (or 2 yrs of 2 languages)
1 credit of Fine Arts
Maintain an overall GPA of at least 3.5, through the
first semester of the senior year.
– Obtain a score of 27 on the ACT or 1210 on the SAT
–
–
–
–
–
–
–
Berea-Midpark High School
Polaris
(pages 11-15)
– If you are interested, but have not applied
online, see your counselor ASAP
– Many programs to choose from!
• Just a few aCosmetology, Auto Tech, Medical
Professions, Welding, Dental, Chef Training,
Construction, EMT, Baking & Pastry
– Letters of acceptance will be out in Jan. & Feb.
Berea-Midpark High School
Post Secondary Enrollment Option Program
– Take college classes & earn high school and
college credit at the same time
– One of the requirements: 3.0 overall GPA
– Meeting on March 11th at 6:00p
– You will choose your BMHS classes as if you are
NOT doing PSEOP… it can be changed once you
are accepted
Berea-Midpark High School
Choosing classes for next year
– Your teachers have recommended you for
next year's class (top right corner of your paper)
• English 2 Honors a English 3 or AP Language
• Geometry a Algebra 2 or Functions & Trig 1
– Fill in electives for both semesters
– Sign up for any core classes failed 1st
semester or last year
– Circle extra 4 elective choices on the back
Berea-Midpark High School
Choosing classes for next year
– Must request a MINIMUM of 5.50 credits
– Only 1 study hall per semester (see special numbers)
– You may request Late Arrival OR Early
Dismissal for each semester – does NOT
mean it is guaranteed (see special numbers)
– Cannot request to be a Titans Aide or
Independent Study a these things should be
done once school starts
Berea-Midpark High School
Then What?
– Turn course selection sheets into your 2nd
mod teacher by next Wednesday (Jan 29th )
– You'll input your choices the week of Feb. 3rd
during your mini lunch study hall
– Know your Infinite
Campus password!
(ex- jm080597)
Berea-Midpark High School
Thank you for coming today!
Have a great day!