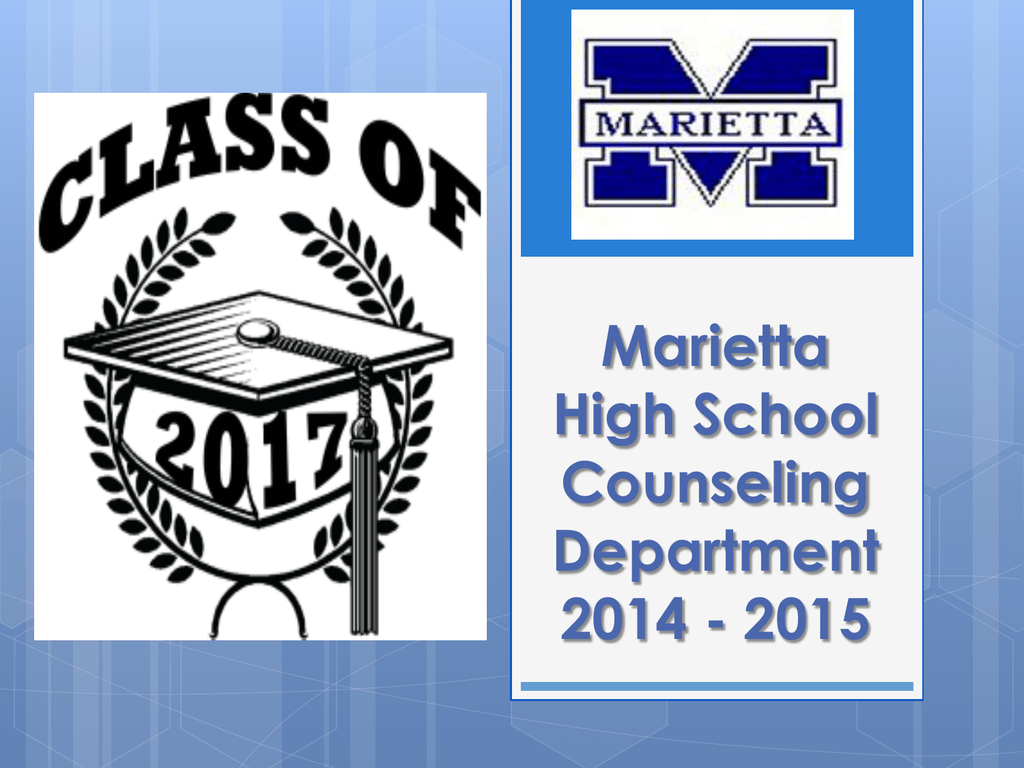 Marietta
High School
Counseling
Department
2014 - 2015
Who are we?
Students are assigned to counselors by last name
Ms. Joann Kinlaw: A – Dr
Ms. Nancy Hill: Ki – Ra
Ms. Chenedra Corbin: Ds – Kh
Ms. Betsy Alpert: Rb – Z
Ms. Sheila Colquitt – Graduation Coach
Where are we located?
Guidance
Department
Weight Room
Nurse's Clinic
Athletic Office
How do I make an appointment?
Step 1
On the desk to your left when you
enter Counseling Office, pick up a
Counselor Appointment Request
form
Step 2
Fill out a Counselor Appointment
Request form & your counselor will be
in contact with you
Why should I meet with my counselor?
 Schedule
issues
 Transcript questions
 Credit recovery
 Graduation requirements
 Personal issues (at school or at home)
 Dual Enrollment
When should I meet with the
Graduation Coach (Ms. Colquitt)?
 Information
 PLC
regarding
(Performance Learning Center)
 GAC (Georgia Achievement Center)
 Alternative education options
GRADUATION REQUIREMENTS
Subject
English
Math
Science
Social Studies
CTAE, Foreign Lang., or Fine Arts
Health/Personal Fitness
Electives
Total
Units
4
4
4
3
3
½ unit
each
4
23
Required Courses
1 unit of American Literature or AP Language
Math Support DOES NOT count for graduation
1 unit Physical Science or Physics
1 unit of Biology
1 unit of Chemistry or Environmental Science
4th Science (e.g., Food Science, Anatomy, etc.)
1 unit World History
1 unit U.S. History
½ unit Economics
½ unit American Government or Citizenship
This area can be a combination
Students can exempt this requirement if they have
completed 3 years of ROTC
Examples – PE, Journalism, Sociology, etc.
Students must also pass the Georgia Writing Test (given 11th grade).
What do I need to be a
junior next year?
 12




credits
2 units of English (Reading does not count)
1 unit of Science
1 units of Social Studies
2 units of Math
 Math
Support DOES count for promotion purposes but
DOES NOT count for graduation purposes
EXAMPLE: You can be promoted to 11th grade if you pass Geometry A
& Geometry A Support but you fail Geometry B. However, you will
have to make up the Geometry B during Credit Recovery or Summer
School for graduation purposes.
What is Dual Enrollment?
 Students
earn high school AND college credit
while enrolled in high school
 Minimal cost (or in some cases – free!)
 Must be a rising junior or senior
 Must earn qualifying scores on either SAT/ACT or
COMPASS test (given at MHS in fall & spring)
 Be aware of deadlines – KSU is in mid-January,
Chat Tech is in May, etc.
Why should I care about my grades now?
 You
want to be promoted to 11th grade
 You do not want to have to do credit recovery
either after school, attend summer school ($220
per half credit), or double up on credits next year
 Eligibility for sports, extra-curricular activities, and
Dual Enrollment
 Good, solid GPA
 College & post-secondary options
 Scholarship opportunities including
HOPE & Zell Miller Scholarships
PSAT
 All
sophomores take PSAT on Wed, Oct 15
 PSAT promotes college readiness by
providing students, parents, and
educators with detailed feedback on
students' skills as well as tools for
improvement and college planning
 Students will receive PSAT information
from homeroom advisor
Where can I find out more information
about the MHS Counseling Department?
1. Go to MHS homepage
(http://mhs.marietta-city.org/mhs)
2. Select
Counseling
3. Explore MHS Counseling Page
Questions?