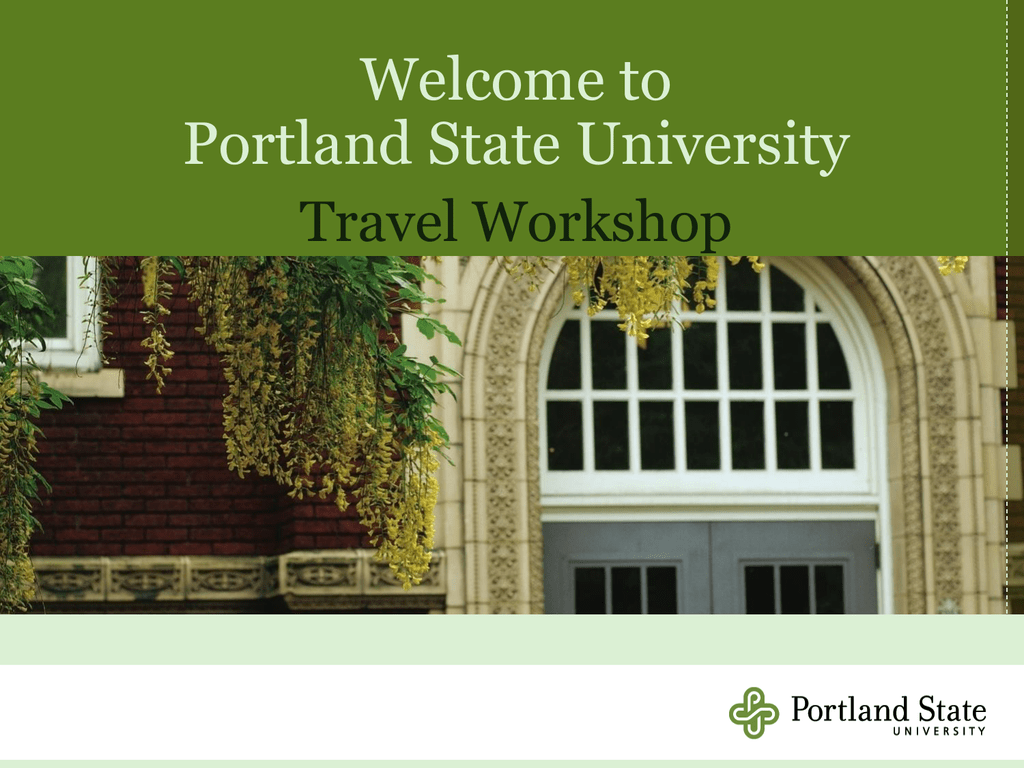 Welcome to
Portland State University
Travel Workshop
Objectives
 Meet the Travel Team
 Overview of PSU's travel policy
 Travel Checklist
 Traveler's Payment Options
 Types of Travel
 Moving Reimbursements
 Travel Forms
 Updates from audit
 Question and answer
Employee Responsibilities
 Travel should be authorized and approved prior to the
dates of travel.
(no authorization needed for in-state and no airfare)
 Travel should be in compliance with PSU policy which
follows IRS policy.
 Travel should be cost effective and beneficial for PSU.
Must have complete business purpose.
 Travel documentation and forms must be accurate and
timely (within 60 days of end of trip) with appropriate
signatures
TRAVELER'S PAYMENT OPTIONS
 Reimbursement of Personal Funds
 Direct Bill
 Group Travel Card
 Travel Advances
Reimbursement of Personal Funds
 Use of own personal funds such as: credit card,
checking, savings, cash
 Seek reimbursement by keeping original itemized
receipts/documentation and filling out Travel
Reimbursement form
Direct Bill
Log into UFS Intranet: https://sites.google.com/a/pdx.edu/bao-intranet-web/home
Use renter's PSU ODIN username and password
Click on "Campus Accounting" tab
Under "Applications" column, click on "Enterprise/National Car Rental" link
If phone reservation, an account number will be needed. PSU's account # is provided next to
Enterprise link
Renter must provide department index, contact person, phone # to ensure charges are correctly
billed. Travel Office receives billing statement which is reviewed for accuracy and creates JV to
record expenses
Register through www.zipcar.com/psu
Zipcar will route the request to the Travel Office for approval
(verifies authorized PSU employee)
Once approved, Zipcar will mail a Zipcard to traveler or CAS
Traveler gives index code at time of reservation
Zipcar sends billing to Travel Office who prepares JV upload
Book by phone (800-654-3131) or book online (Hertz.com). On bottom right side
where it says "Travel Agents", click on link "Applicant Program" to make reservation
Provide CPD (Corporate Account Number): 221255
Provide #1 Applicant Number: Call or email Travel Office for this number
Provide index code, contact person, phone number. Hertz sends billing to Travel
Office who prepares JV to record expenses in Banner.
If booking through Airfare Agency, give Applicant # to Agent to put in ID FIELD of
their computer system
Department creates PO in Banner and has printed PO approved and signed.
Department forwards approved PO via email to [email protected]
Hotel Modera will work with department to reserve rooms and provide a confirmation
number. Confirmation # must be added to PO via FOAPOXT in Banner by department.
You will get an error stating you cannot make changes to approved PO. Click OK and it
WILL let you add number. Save
Modera sends invoice directly to department who enters invoice in Banner against PO.
Once invoice is approved in Banner, payment is processed and expenses recorded
Department to make reservations by filling out Third Party Billing Form
http://www.pdx.edu/financial-services/formpolicies (under
General/University Place Third Party Billing)
Department should fax completed form to UPL Hotel to reserve room
UPL Hotel will then enter a JV into Banner expensing index codes. They also
email the JV, with copy of invoice, to Travel Office who reviews and then sends
to CAS for approval. This approval of the JV records expenses in Banner.
Traveler calls and makes reservation with the agent.http://www.pdx.edu/financial-services/formpolicies
(under Travel/Summary of Travel Reimbursement Rates) to find agency contacts info
Agent will ask traveler who is authorizing travel
Agent checks approvers list on updated Signature Authorization form emailed to them from CAS. Agent emails the approver
asking for the index and account number for authorization
Approver emails index/account number to agent, then agent adds info to reservation and issues ticket
Agency sends billed information to CAS to be uploaded via JV and entered as expenses in Banner
DO NOT BOOK AIRFARE WITH AGENCY UNLESS YOU HAVE APPROVED TRAVEL AUTHORIZATION
GIVE AGENT NAME OF DRA IF GRANT, OR DEPARTMENT HEAD IF NOT GRANT (from APPROVED
TRAVEL AUTHORIZATION)
Group Travel Card
Group Travel Card (part of Pcard program)
 Issued to a department – groups/teams who travel
 Can be used for travel expenses, i.e. hotel, meals, etc.
 Flows through p-card module – no forms to
complete (questions? Contact [email protected])
Travel Advances
 Can receive no earlier than 2 weeks prior to trip
 For Employees Only
 Send completed, signed form to FAST-CAS
 Only printed checks (remember AP runs printed checks
only on Wednesdays…..plan ahead)
 Advances are cleared using travel reimbursement form
after trip
Types of Travel
In-State
Between locations in Oregon & to Oregon
Vancouver, WA and Clark County
Out-of-State
Destination within the Continental U.S.
(Alaska and Hawaii are Out-of-State travel)
From Oregon
Foreign
To/From Outside United States (50 States)
Any Foreign Countries
In-State
 Lodging
 Mileage
 Meals
 Transportation
In-State: Lodging and Mileage
Lodging
Mileage
 $120/night (1/1/15) NEW!
 $25 non-traditional
 $.575 per mile NEW!
 Attach backup
lodging
 i.e. staying at someone's
house
 If using per diem,
NO RECEIPT NEEDED
NEW for 2015
In State Lodging: $120/night
Mileage Rate : $.575 per mile
documentation
(MapQuest or Google
maps)
 If using mileage chart no
backup necessary
 Must use most direct
route
 Home vs. office location
In-State: Meals
Meals
 $52/day (25% B, 25% L, 50%D)
 No receipts required if claiming per
diem
 If receipts are attached must go by
amount, cannot pay for tips.
 Overnight trips: 75% of total per diem
for the first day and last day of travel
(effective 1/1/ 2014)
 One-day trip meals are taxable, lunch
is not allowable
 Departure/Arrival times based on two
hours before or after work schedule
In-State: Transportation
 Taxi from PSU to PDX $40 max each way/ no tips
 Parking – $10/day max economy parking at airport
 Mileage from PSU to PDX airport is 13 miles
**If home is closer must use from home to PDX
Out of State
 High/Low Cities
 Conferences
 Lodging
 Meals
 Transportation and Airfare
Out of State: High/Low
and Conferences
High/Low Cities
NEW for 2015
Low Lodging: $120/night
High Lodging:
$194/night
Conference Exception
 Different rates for different  Follow high rates for meals
cities and counties
and actual cost of hotel if you
stay at conference site hotel
 High cities are listed on
AND…
Travel Summary Sheet
 Low follows in-state rates:  You must attach conference
agenda showing conference
$52/day meals
site hotel (hotel folio)
$120/night lodging(1/1/15)
 If meals included at
 High rates are:
conference or hotel, cannot
$65/day meals $194/night
claim on reimbursement
lodging (1/1/15)
Out of State: Transportation
and Airfare
Transportation
Airfare
 Rental Car
 No rental car for
conference
 No upgrades or GPS
 Insurance
 Taxi
 $75 and below no
receipts required. Tips
not reimbursable
 Use contracted agency
(preferred) See Direct
Billing Instructions
 Flight Itinerary
 No upgrades
Best Practices
 In-State
 Using mileage chart
 If same trip-print out one map and write
dates on map
 Per diem
 Contracted agencies (preferred)
 Out-of-State
 Travel Authorization must be completed and approved
before travel
 Detailed daily itinerary
Foreign
 Lodging
 Meals
 Currency
 Transportation and airfare
 Best practices
Foreign: Lodging & Meals
Lodging
Meals
 Per diem rates vary by
 Per diem rates vary by
location
(http://aoprals.state.gov/we
b920/per_diem.asp)
 If city is not listed must use
"other" rate
 If traveling for conference
lodging reimbursed at actual
cost with conference
information and hotel folio
 No receipts required if
claiming per diem
location
(http://aoprals.state.gov/we
b920/per_diem.asp)
 Meals included in
conferences will not be
reimbursed
 Incidentals are included in
per diem rates
 No receipts required if
claiming per diem
Foreign: Currency &
Transportation/Airfare
Currency
 Oanda
(http://www.oanda.com/c
urrency/converter/)
Transportation and
Airfare
 No quote needed from

 Conversion should be by
day of receipt or using
credit card statement
showing actual rate



contracted agency
Flight Itinerary
No upgrades
Taxi – itemization of
to/from; no lump costs
No receipt needed if under
$75 each way
Foreign: Best Practices
 Use per diem
 Daily detailed itinerary
 Do not use average for currency conversion
 When paying for services complete "Receipts for
Services" form
 Use Oanda for all conversions
 Business purpose is needed for all supplies
 Supplemental form available if more space is needed
Proof of Payment
No Receipt
Receipt
 Per Diem !!!!
 Conference rate exception for
 Taxi to PDX airport
($40/trip max)
 Parking at PDX airport
($10/day max)
 Taxi Out of State under $75
 Misc. expense under $25
lodging (hotel folio, no balance
due)
 Conference registration fees
Moving
 Types of moving expenses
 Taxable
 Non-Taxable
 What is taxable and non-taxable?
 Letter of offer
 50 mile test
Moving: Taxable vs. Non Taxable
Taxable Items
 House Hunting
 Transportation between new
and old locations
 Transportation in vicinity of
new location
 Meals and lodging
Non Taxable Items
 Moving




Moving company or van rental
Storage for first 30 days
23 cents/mile (1/1/15) NEW!
Lodging non-taxable
 Temporary Living
 Meals and lodging
 Moving
 34.5 cents/mile (1/1/15) NEW!
 Meals
 Miscellaneous
 Closing costs, utility hookup,
etc.
Moving Guide on UFS website
Moving: Letter of Offer
 Must be attached to moving reimbursement
 Cannot be email
 Cannot be phone conversation
 Cannot be sticky note
 Must have $ amount stated in letter of offer. If not,
supplemental letter of offer needed.
Forms
** Forms can be found on UFS website








Travel Authorization
Travel Reimbursement
Travel Advance
Foreign Supplemental
Moving Reimbursement
Mileage Supplemental (log)
International Receipt for Services
Direct Billing Instructions
Travel Authorization
 Estimate of costs while on trip (over 10% + approval)
 Required for all travel except in-state without airfare
 Must be completed and approved prior to trip
 Two/three signatures required-If Grant, DRA
approval needed
 Detailed daily itinerary
 Not required for non-PSU affiliated travelers
 Keep in department/send copy over with Travel
Reimbursement
Travel Reimbursement
 Turned in within 60 days of last day of travel
 Traveler/ Department signatures
 If Grant, DRA signatures
 Complete business purpose
 Provide contact name for questions
 Provide accounting info (index, acct #)
 Deduct any advance, clears advances
 Weekly Wed check run, daily ACH
 Check FAIVNDH to see if processed
If received
Advance, check
box
Fill out Advance
Account code
TRA001 A3110
Travel Reimbursement
Additional Forms
All on our UFS
website!
 In State & Out of State
 Supplemental mileage log – odometer reading

Use when going to obscure locations or cannot determine
miles from MapQuest or Google maps
 Foreign
 Foreign Supplemental form only needed if expenses do
not fit on travel reimbursement
 International Receipt for Services
Moving Reimbursement Form
 Letter of Offer must be attached
 Turned in within 60 days of move
 Original itemized receipts and proof of payment
required
Commonly Made Mistakes











Not completing TA and getting it approved before trip
Over 60 days late (after last day of trip)
Lumping in travel expenses
Signatures
Lack of backup for mileage
No or limited business purpose
Receipts vs. No receipts
Using incorrect form
No detailed itinerary
Advance box not checked
Advance index and account code, TRA001 A3110, not in
accounting string to clear advance
INV
I0859657
This is where you will see if your
reimbursement amount is different from
what was requested. For instance, "tips
not allowed"
.
Helpful Resources
All found on UFS website
 Oanda-currency conversion
 PSU Signature sheet
 Per diem rates
 City pair
 Moving expenses matrix
 UFS travel policy
 Mileage chart
 Travel summary
 Direct Billing Instructions
We are Here to Help
 Travel email – [email protected]
 Instant messaging – http://www.pdx.edu/financial-
services/travel
 Cora: [email protected] 5-4382
 Jarred: [email protected] 5-2747
 Xi: [email protected] 5-3733
 Beth: [email protected] 5-9825
BANNER TRAINING
Geoff bring in
Thank you for coming to
Portland State University
Travel Workshop
True or False – In State
 I am attending a conference in Ashland OR by
airplane, I do not need to prepare a Travel
Authorization Form because it is In State Travel
 Answer: False. Travel Authorization Form is required
for In State Travel with airfare
True or False – In State
I am attending a meeting in Eugene OR. I am choosing
to use the mileage from Gresham OR home to Eugene
OR instead of using Portland State University address.
 Answer: False. Always use the shorter route for
mileage reimbursement. PSU to Eugene is closer than
Gresham.
True or False – Out of State
 If a faculty wants to pay for lodging for 3 students
who are presenting at a conference and wants to
share a hotel room. Can the faculty get reimburse for
the total lodging cost?
 Answer: Yes. But all 3 students will need to prepare
a memo indicating that the faculty paid for their
lodging and they will not be seeking a
reimbursement for it
True or False – Out of State
 I was provided breakfast with the conference,
however, I am gluten intolerant and had to purchase
breakfast for myself. Can I get reimbursed for
breakfast I purchased?
 Answer: Yes, but doctor's note will need to be on
file as medical exception.