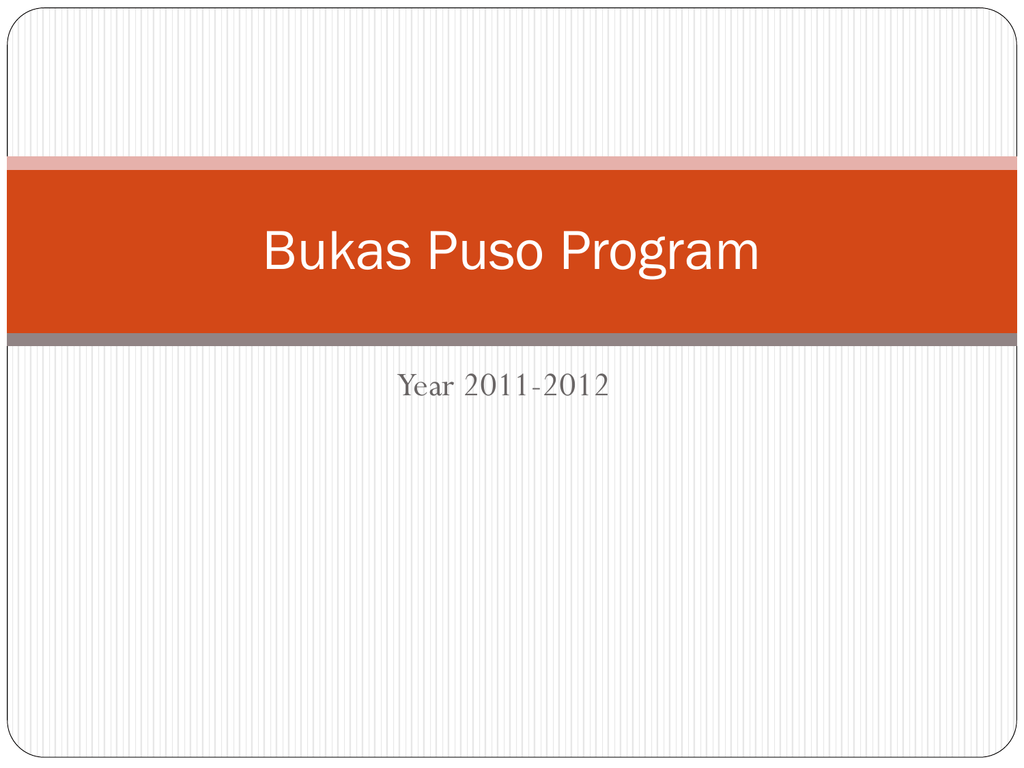 Bukas Puso Program
Year 2011-2012
Recipients of Bukas-Puso Program
 ETWF supports
 High School
 College
 High School
- 1st Year
- 2nd Year
- 3rd Year
-4th Year
5
3
7
9
24
49 recipients:
24
25
( 2nd Semester)
College
1st Year
2nd Year
3rd Year
4th Year
7
4
11
3
25
Annual Funds needed
Total Annual Amount based on current 49 Recipients
High School (23 x Ph.p6800) = Ph.p156,400
College
(26 x Ph.p8000) = Ph.p208,000
Total
= Ph.p364,400
S$ equivalent:
Annual Total amount:
Per High School Student:
Per College student
S$10,717
S$ 200
S$ 235
New Recipients for 2011-2012
 High School
- 1st Year
- 2nd Year
- 3rd Year
 College
 1st Year
( 6)
4
1
1
(4)
4
Fields of Study












Education
Mass Communication
Information Technology
Christian Education
Business Administration
Hotel &Restaurant Mgnt
Accountancy
Mathematics
English
Journalism
Secretarial
Music
- 10
-1
-2
-1
-2
-1
-2
-1
-2
-1
-1
-1
New High School Recipients
1. Erielle Sison- 1st year
2. Aljon Sanchez-1st year
3. Samantha Arabit- 1st year
These new recipients attends Youth fellowships faithfully, please pray that they will
grow in the knowledge of Yeshua and walk obeying God's words.
4. John Jover Mendina3rd year
5. David Sol- 2nd year
6. Aljumel Alcaraz-1st-year
New College Recipients
 Attends the
care group of
Dennis &youth
fellowships
7. Jecon Laureano- 1st year

Youth leader, Kasinay
 Saturday School
Overseer
 Care group leader
 member of Prayer
Voices.
8. Monica Castillo- 1st year
 Attends the care
group of Clarisse and
youth fellowships
Attends the
care group of
Dennis &
youth
fellowships
9. Ariel Leongas- 1st year
10. Alma Francisco- 1st year
2010-2011 Graduate
 One of the ETWE Bukas Puso recipients graduated with a
Bachelor of Science in Business Administration
 Mark Arquilita
Please pray for Mark as he looks for a job.
Current ETWE Recipients
1. Graciel Abejo- 3rd
Saturday School Teacher
 member of Worship team
Senior Youth
Attends care group of
Ems.
2. Kielvin Alcaraz- 3rd year
 Youth leader
 Worship leader
 Trained as Sunday
speaker
Care group leader
3. Milicent Silvestre- 3rd year
 Youth leader
 Worship team
4. Marife Alonzo-2nd
Music Ministry, member
7. Camille Barra- 4th
5. Helen Grace Ammen- 3rd
 Compassionate
Ministry coordinator
 Care Group Leader
 Member, prayer
voices
Leads Bible studies
in her school's
outreach
6. Gilda Vargas - 3rd
 Saturday School
Teachers,
 worship team
member,
Youth leader
8. Christopher Sol-1st
 Attends youth fellowships
at ETWF
9. Alexis Ferrer- 2nd
10.Jennifer Barbosa- 3rd
 Attends youth fellowships
 stop schooling this 2nd
semester due to family and
financial problems
 Attends Ems care
group
 Desires to serve in
Kasinay outreach
11. Glaiza Mella- 4th
Youth Leader
 Saturday School
Teacher
 Worship Team
keyboard player
& committee leader
 Care group leader
( 1 Jr. Y Group &
1 Sr. Y group)
12.Ana Marie Miranda – 3rd
Faithfully attending
the care group of Ems
 Has led sister to
Christ and is now
attending youth
fellowships
13. Frances Marille Pueyo- 3rd
ETWF
Music Ministry member
 Youth Leader
 Care Group Leader
14. Ma Lou Morilla - 4th
Worship Team member
 Saturday School
Teacher
15. Roselle Norcio-2nd
ETWF
Guitarist in Music
Ministry of ETWF,
Youth Leader
 Saturday School
Teacher.
16. Roselee Sistina
ETWF
Attends youth
fellowships
17 . Jeric Picones
18 .Francis Aragon
Worship Leader
 Youth Leader
 Care Group Leader
 Bearer of God's words
 Leads Young Pro
19.Marlon Quijano
 Worship Leader
Youth Leader
With additional support from Ate Cecilia
PhP 1,000.00 / month
HIGH SCHOOL
1. Eloida Bitong
2. John Edward Buliag
Junior Youth
3. Muriah Jane Castillo
4. Roberto Cervantes
5. Vanessa Garcia
Junior Youth
6. April Mae Lirio
7.Sofia Lobarbio
ETWF
Attends
Grace's care
group
8. Hannah Magbanua
ETWF
Worship Team Member
 Saturday School
Teacher
Junior Youth
9. Andrea Mae Parayno
Jr. Worship Team Member
10. Gerielle Plegaria
11. Maria Niña Ramintas
Junior Youth
12. Marlon Jay Robles
13. Raven Salazar
14. Iluminada San Juan
Junior Youth
15. Ronilo Sistina
16. CrisantaVillaflores
17. Jairo Villarin
Junior Youth
18. Mara Angela Teves
19. Kenneth Asinas- 3rd
 Attends youth
fellowships and care
group
Special cases Sponsored by Francis
and Esther
Silverio Abad
Raymond Abelong
20, Jelacin Enguito
UPDATES
Will replace RENZ ENGUITO this 2nd semester, Renz will be transferring to
Morong as his Auntie will send him to school in return for doing housework,
but he still attends church service s once in a while.
Surname
Sex:
Date of Birth
Address
Education
Interest
ILLANO
Given Name
JELACIN
MI
T.
Female
Nickname
Baby
October 6, 1996
Place of Birth:
Binangonan, Rizal
Kasinay Binangonan, Rizal
Year Level : 2nd year High School
Taking care of little brother, Reading
Father
Jesus Illano
Mother
Necita T. Illano
Age
45 y/o
Age
43 y/o
PARENTS
Occupation
Construction Worker
Occupation
none
Monthly Income P2,100/week(irregular)
Monthly Income
none
Marital Status of Parents
living together
Number of Brothers
3
Order in the family
2nd
Housing type
Rented
Additional Family Information
The Illano family is renting a house at Kasinay, worth P1,000/month. Jelacin is the second child among 4 siblings and the
only girl. There are 3 more male siblings, the oldest is in 3rd year high school, next to Jelacin is a grade 6 student and the
youngest is only 1 ½ years old. All of them were acknowledged by their father as his children though her mother and father
are not married. Jelacin's father is a construction worker earning P350/day, but his work is irregular. The family is actively
attending church services.
Conclusion
 For every ETWE Recipient, the commitment is 4 years i.e seeing them
through High School and College.
 Pastor Murel, Jesmar and the leadership team in Palangoy assess each
application with special attention given to their financial needs, family
back ground, academic achievements and commitment to serve and
worship in Palangoy, Tayuman and Kasinay.
 Current amount for each Bukas Puso recipient does not cover all the
tuition fees, transport costs and meals.
 For special cases, we may have to raise the current given amount to
ensure that they continue to attend school or college without having to
stop schooling and find work so as help out their families.