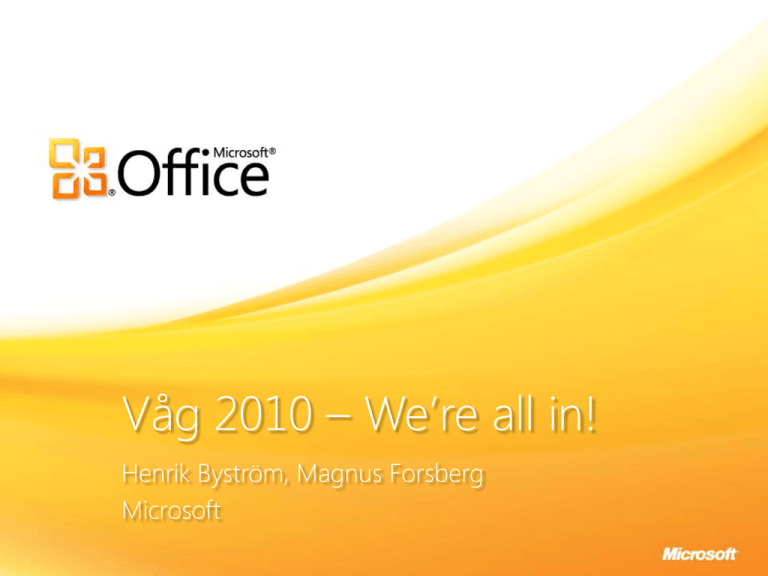 Click to edit headline title style
Click to edit body copy.
Våg 2010 – We're all in!
Henrik Byström, Magnus Forsberg
Microsoft
Citizen
ClickService
to editPlatform
headline title style
Kommunens utmaningar
Click to edit body copy.
En effektiv, tillgänglig och serviceinriktad kommunal
organisation.
Människor, service & processer
All verksamhet kretsar runt de människor och processer som
är nödvändiga för att leverera den bredd av service som
kommunen erbjuder sina medborgare.
Applikationer och mallar
Microsoft och partnerlösningar som de kommunala
organisationerna behöver för att agera effektivt, från
verksamhetsapplikationer till applikationer som möjliggör
kvalitativa medborgar och näringsslivskontakter .
Plattforms lager - MSKD
Microsoft's end-to-end infrastruktur tillhandahåller en säker
skalbar och lätthanterlig plattform där de kommunala
organisationerna kan lägga de applikationer de behöver för sin
verksamhet.
Microsofts Plattform & Public 360
kompletterar varandra
Citizen Service Platform
Självbetjäning/
e-tjänster
Ärendehantering
Service
center
Nämndadministration
Skolportal
Projekthantering
etc.
Verksamhetseffektivitet (Office, SharePoint, Exchange m m)
Applikation & Integration (SQL Server&Biztalk)
Infrastruktur (Windows)
Click to edit headline title style
Click to edit body copy.
Källa: Omvärldsanalys Växjö Kommun, 2008
Allt hänger ihop
Unified
Communications
Beslutsstöd
(BI)
Enkelt och kraftfullt
för användarna
Dokumenthantering
Samarbete
Sök
Flexibilitet och kontroll för IT
Våg 2010 – dags för nästa steg
Discreet
Purpose
Apps
Personal
Productivity
'Suite'
Email-led PC/
Productivity
Explosion
Widespread
Internet
Publishing
Collab
beyond
E-mail
Dynamic
Information
Flow
Consumerization
Data
Processing
Acquisition
cost
Total Cost of
Ownership
Security
Self-service
Interoperability
Enterprise
Cloud
Uppfylla föränderliga
verksamhetsbehov
Uppnå insikter ur komplexitet
Arbeta med kunder och partner
Införliva moderna arbetssätt
Efterleva bestämmelser
Hantera kostnader och
komplexitet inom IT
Integrera affärsspecifika system
Beredskap till skalbarhet
Uppmuntra innovation
Skydda immateriell egendom
Office Mobile 2010 på Windows® Phone
Nya och uppdaterade produktivitetsapplikationer som komplement till Office 2010
Applikationer:
• SharePoint® Workspace Mobile: NY!
• PowerPoint® Mobile: Ny version med editeringsmöjlighet
• Word Mobile: Office 2010 kompatibel – stöd för gester
• Excel® Mobile: Office 2010 kompatibel – stöd för gester
• OneNote® Mobile: Office 2010 compatibility
• Supporterad plattform: Windows® Phone 6.5
Word
Mobile
Excel
Mobile
PowerPoint
Mobile
(Tillgängligt via Marketplace eller förinstallerad av tillverkare)
OneNote
Mobile
8
Word
Mobile 2010
Excel
Mobile 2010
PowerPoint
Mobile 2010
OneNote
Mobile 2010
SharePoint
Workspace
Mobile
SharePoint Workspace
Mobile 2010
Affärssamarbetsplattformen för företaget och för webben
Microsoft Business Productivity Infrastructure
Office ger mervärde genom Server & Services i samverkan
Förenkla samarbete och
kommunikation genom
familjära verktyg
Rätt information och stöd till
alla medarbetare i varje
givet tillfälle
Arbeta oberoende av
tid och plats
Marknadstrender, verksamhet & IT gör investeringar tillsammans
Dela kompetens ständigt ansluten
Hantera stora volymer Information
Arbeta från olika plater med olika klienter
Hjälpa olika användare att bli mer
produktiva
Koppla ihop verksamhetsprocesser med
medarbetare och klienter
Göra mer med mindre
Bästa
användarupplevelsen
Möta
förändrade
flexibla plattformen
Hantera ITMest
kostnader
Maximera
Arbeta verksamhets
Förenkla utrullning
Låt idéer få livbehov
Oberoende
värde av
och och
komplexitet
sänk kostnader
tillsammans
av tid och plats
plattformen
Koppla ihop
Dela
Utför
Föreställa sig
Arbeta fram
Informera
PC
Phone
Browser
Val
Relevans
Kraft
Tänjbar
Interoperabilitet
Upplev klienter och servrar i samverkan
Genom Office Professional Plus 2010
Initiera arbetsflöden direkt från Office
Arbeta med närvaro och snabbmeddelanden enkelt med Communicator
Skydda IP med Rights Management
Ta med SharePoint innehåll offline med SharePoint Workspace (formerly Groove)
Arbeta integrerat med verksamhetssystem direkt i bekanta Office applikationer
Uppdateringar till
Office Professional
Plus 2010
SharePoint Workspace
OneNote
Deeper server integration
Office Web Apps
 = New
Office Enterprise
Office Pro Plus
Office Small Biz
Office Standard
              
              
    

       
Sammanfattning
© 2009 Microsoft Corporation. All rights reserved.
This presentation is for informational purposes only. Microsoft makes no warranties, express or implied, in this summary.