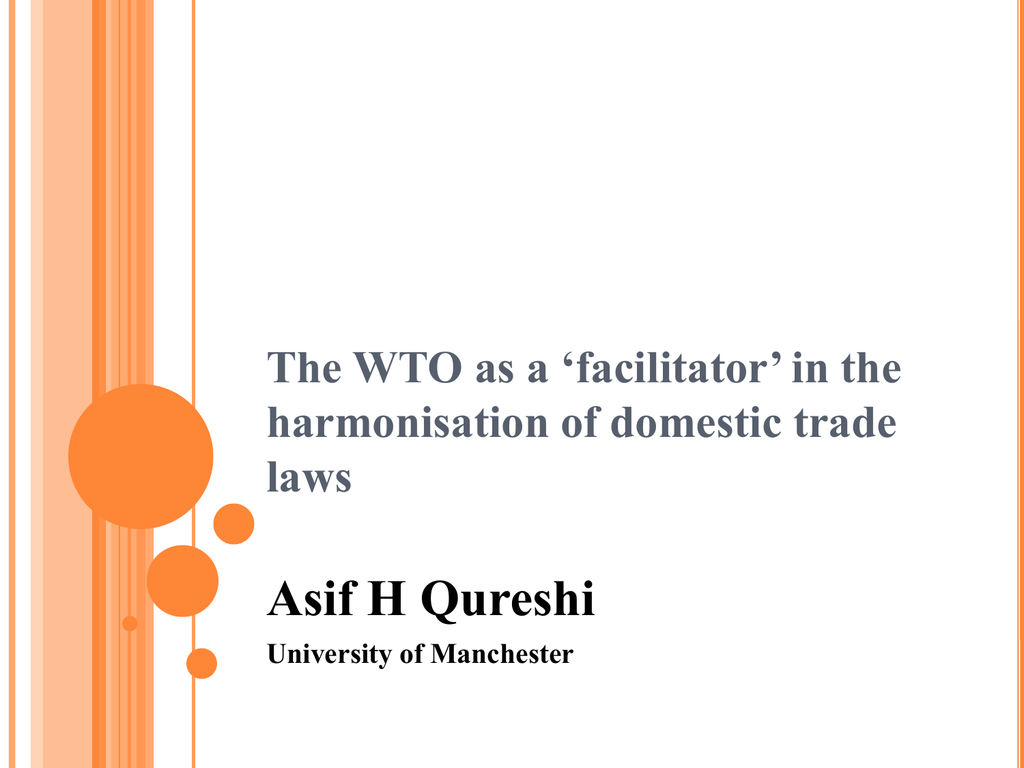 The WTO as a 'facilitator' in the
harmonisation of domestic trade
laws
Asif H Qureshi
University of Manchester
Introduction
Obstacles and distortions to international trade can be
embedded in differences in national trade related
legislation.
Harmonisation of domestic trade legislation is the
subject of reciprocity in multilateral trade negotiations,
and a matter of national policy space.
2015/4/10
WTO role in the harmonisation of domestic trade
legislation considered a heresy --- as resonating of a
genre of 'WTO Conditionality' --- an unwarranted
intrusion in domestic policy space of members.
Process of Harmonisation
Advantages and disadvantages of harmonisation and
the governance framework of the harmonisation
process.
2015/4/10
Unidirectional but can also be multidirectional,
international, voluntary, or arise as a matter of osmosis
spontaneously from the fact of membership.
The WTO harmonisation mandate?
Reference to achieving greater coherence in global
economic policy-making? (Article III (5) of the
Marrakesh Agreement).
Reciprocity
Expressly advocated in some of the agreements. Focus
mainly in three different normative spheres viz.,
Qualifications and standards with respect to goods and services;
intellectual property rights and
customs related issues.
2015/4/10
No carte blanche mandate to harmonise.
Obligation to bring in conformity domestic laws with
WTO obligations? (Article XVI (4) of the Marrakesh
Agreement)
WTO Agreements
Agreement on Technical Barriers to Trade
GATS
TRIPS
Agreement on Rules of Origin
2015/4/10
Agreement on the Application of Sanitary and Phytosanitary
Measures
Generally
2015/4/10
Optional rather than necessarily prescriptive.
Minimal rather than exhaustive.
Programmatic rather than accomplished.
It is derivative rather than formulated ab initio.
Normatively specific.
Incentivised through built-in presumptions of validity.
The processes in the WTO that facilitate harmonisation
Reasonableness of a legislative measure
Harmonisation through technical assistance and transparency
Workshops and training sessions
Model legislation
2015/4/10
Prior-harmonisation
Accession negotiations.
Harmonisation through Trade Policy Reviews
Recent China, EU and US trade policy reviews
Harmonisation and Dispute Settlement
Common Understanding
Article 31 (3) (c) VCLT1969 EC-Aircraft AB (2011)
a priori aspect of DS
Conclusion
2015/4/10
WTO role in the harmonisation of domestic trade
legislation : nuanced, qualified and limited.