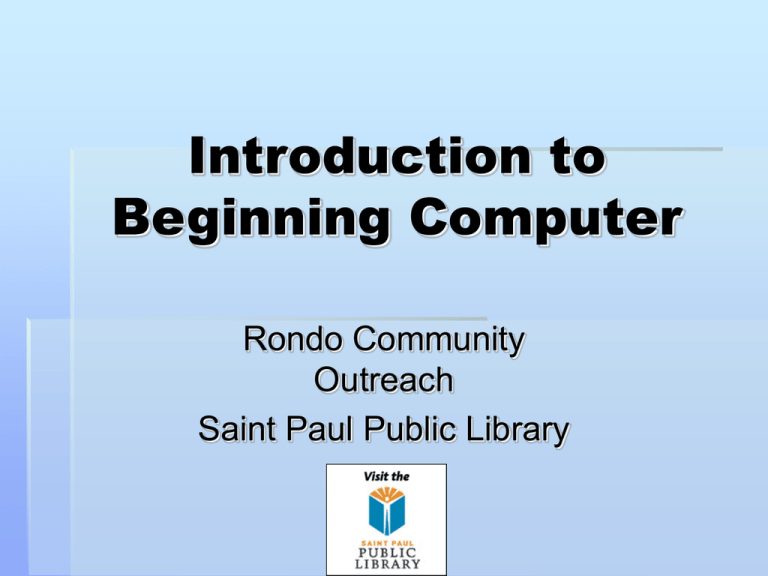 Introduction to
Beginning Computer
Rondo Community
Outreach
Saint Paul Public Library
Drives
 Drives are different places on your computer to save
information.
 3 ½" floppy disk drive
 (C:) Hard drives
 CD drive
 Flash/jump/USB drive
 Some computers use different letters, or may not
have all the drives listed above.
Portable Data Storage
Devices
Floppy Disk
CD or DVD
Flash Drive
FLASHDRIVES
 Work like a floppy
disk, but hold
more info (1-2
gigabytes, or
more!)
 Plug into USB
ports
USB Ports
 A USB port hosts input & output devices
 INPUT: items that you can put IN information (like a
keyboard, microphone or flash drive)
 OUTPUT: items that send OUT information (like a
printer or speakers)
 USB Ports are the rectangular holes on your
computer, often indicated by this symbol:
Find them on the front or side
of the computer!
What is a Computer
Program?
 A set of instructions that tells the
computer how to perform a task
 Also called computer software
 Most computers include basic
software to make it start and
display things on the screen
 Buy more in a store or on the
Internet
 Programs need to be "upgraded"
as the software improves or
when if becomes out of date
Microsoft Word
 Word Processing
Program
 Like a typewriter
except you can edit,
copy, move and
delete text.
 Word can check your
spelling and grammar
 Use for letters and
documents which are
mainly words
Microsoft Excel
 Spreadsheet
Program
 Use with documents
which are mainly
numbers or graphs
 Adds and multiplies
numbers
Microsoft PowerPoint
 Presentation program
 Use for posters and
presentations
 This presentation
was created on
PowerPoint!
Internet Explorer
 This software allows you
to use the Internet.
 It is also called a web
browser.
 Use this to access an
E-mail account and
explore the Internet
The "window" is what you view a program in.
You can open up multiple "windows" to view more than one
program at the same time.
What is a Home Page?
•Page that automatically opens when you
start your web browser
•The first page of a web-site
Hyperlinks
 Often referred to as "Links"
 Something you can click to take you to another
web-site or part of the web-page
 Links are often blue and underlined
 The "cursor" of your mouse will turn into the
Pointing Finger when you can click on a link.
Example: http://www.sppl.org
Minimize, Maximize, Restore
and Close
When using Internet Explorer or other
programs, these are important to know!
Any Questions?
Thank you!