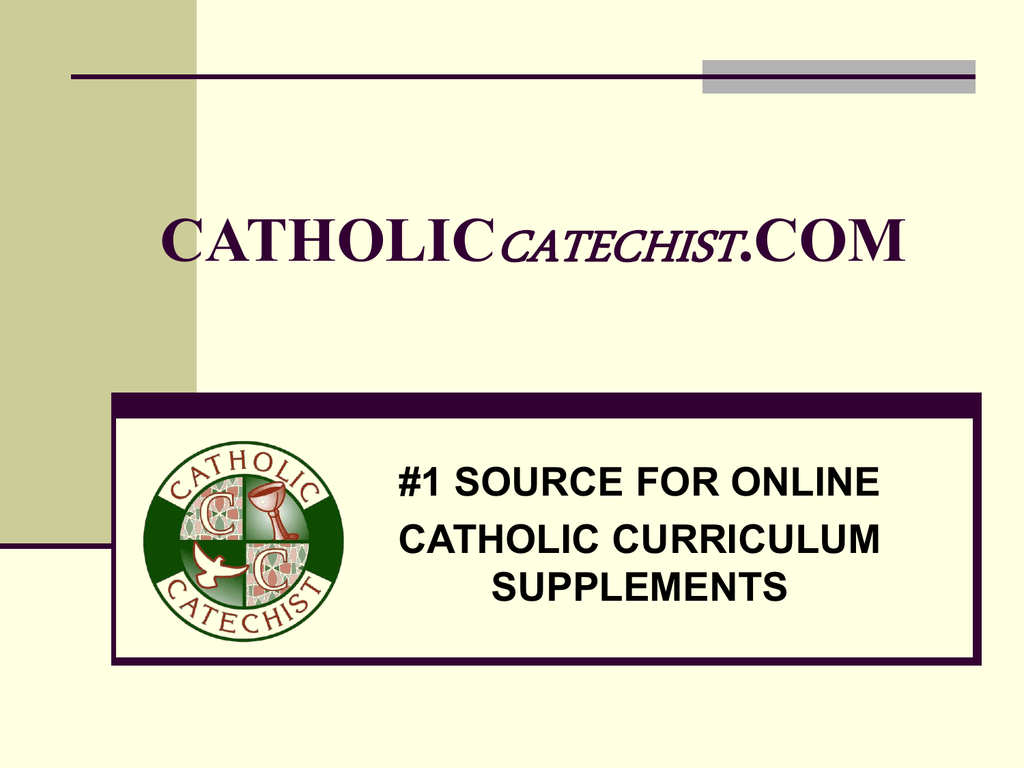 CATHOLICCATECHIST.COM
#1 SOURCE FOR ONLINE
CATHOLIC CURRICULUM
SUPPLEMENTS
READY WHEN YOU ARE
WE ARE OPEN • 24 / 7
Holy Eucharist Crossword
Solve the crossword using the list of words and the clues.
 GAMES
Across
1
2
 ARTS & CRAFTS
3
1.
Truly present in the consecrated host.
4.
Jesus said: "I am the ______of life . .
6.
As communicants approach the altar to receive Holy Eucharist,
they are to make proper___________.
4
9.
Christian doctrine of Christ's real presence by conversion of the
substance of bread into the substance of His Body is
called___________.
 ICEBREAKERS
5
6
7
8
10.
Another name for the Eucharist is the Real ________of Christ.
11.
This memorial sacrifice of the new law is both sacrifice and sacred
______.
9
 WORKSHEETS
12.
The Blessed Sacrament is reserved in the_________.
13.
We receive Christ in Holy________.
14.
Jesus commanded His ____________: "Do this in remembrance of
10
me"
11
 PRAYER SERVICES
12
15.
A sign of adoration before the Blessed Sacrament
17.
A Sacrament instituted by_________.
Down
13
2.
14
The Catechism tells us that "the Eucharist is the _______and
summit of the Christian life. (CCC:1324)
15
16
WITH
ANSWERS!!
3.
"If any one eats of this bread, he will ______forever;"
5.
When the Eucharist was instituted.
6.
Jesus instituted the Eucharist as the memorial of his death and
_________.
7.
Anyone who desires to receive Christ in Eucharistic communion
must be in the state of ______.
8.
Only validly ordained priests can preside at the Eucharist and
__________the bread and the wine so that they become the Body
and Blood of the Lord.
17
16.
The institution of the Eucharist is recorded in the _______.
Christ
apostles
source
genuflecting
gospels
tabernacle
Presence
Jesus
grace
The Last Supper
Communion
meal
transubstantiation
reverence
resurrection
consecrate
live
bread
THOUSANDS OF FILES
EASY TO FIND • EASY TO DOWNLOAD
 READY TO DOWNLOAD INSTANTLY
 NEW FILES ADDED MONTHLY
 EASY TO EDIT
HELPFUL LINKS
FIND WHAT YOU NEED WHEN YOU NEED IT…

















The Ten Commandments
Confession/Reconciliation
Mary
Advent and Christmas
Creation
Miscellaneous
Angels
Curriculum Guidelines
Peace and Justice
Apologetics
Curriculums: People with Disabilities
Prayers
Apostles' Creed
Free Catholic Stuff
Saints
Scripture
Halloween

















Service Projects / Ideas
Catechist Magazines
Hebrew Scriptures and Jewish History
Thanksgiving
Catholic Church and Catechesis
Home Schooling
Trinity
Catholic Resource Sites
Ice Breakers, Puzzles and Games
Vacation Bible School
Christian Crafts and Activities
Jesus
Youth Ministry
Catholic/Christian Music
Lent and Easter
Coloring Pages For Children
Liturgy/Mass/Eucharist
CATECHIST DISCUSSION GROUP
JOIN OVER 670 CATHOLIC EDUCATORS WORLDWIDE
 FREE!
 FUN!
 GREAT SOURCE FOR
SHARING IDEAS
SUNDAY MASS WORKSHEETS
CYCLES A • B • C
INCLUDES:
 GOSPEL READING
A
reading according to the holy Gospel
of Luke
Luke 14:25-33
Glory to you, Lord.
Now great multitudes accompanied him;
and he turned and said to them, "If any one
comes to me and does not hate his own
father and mother and wife and children
and brothers and sisters, yes, and even his
own life, he cannot be my disciple.
 LIFE APPLICATION
 LITURGICAL COLOR
 CCC REFERENCES





 REFLECTION / ACTIVITY


Jesus is on the road to Jerusalem where
He will take up His cross and die.
Those that follow Jesus must be willing
to walk that same road with Him and
follow Him all the way to Calvary.
Jesus requires 3 things in order to be His
disciple:
~To put God first above all family,
including myself.
~To take up my cross(s);
~Renounce all material possessions
that detract me from God.
Practice discipleship everyday!
Jesus tells me that discipleship is not
always easy.
The
Kingdom
of
God
requires
preparation and a price.
Following Jesus has a cost. Am I willing
to pay it? It will not be easy, but Jesus
has promised to be at my side.
Suggested Songs: "Yes I Will" by Bebo Norman from the CD: The Christ:
His Passion: Remembering the Sacrifice.
"Bookmark:God Alone" by Donna Cori Gibson from her CD: Prayers of the
Great Saints.
"Christ has no Body now but yours
No hands, no feet on earth but yours
Yours are the eyes through which He looks
compassion on this world
Yours are the feet with which He walks
to do good
Yours are the hands with which He blesses
all the world"
__ St. Teresa of Avila
CCC:
904, 905,
935, 1122,
1533
The disciples traveled on foot and brought God's
message to the people by speaking to them
personally in the towns to which they were sent.
List one new way of transportation available to
you today that the disciples did not have and one
new way of communication:
[transportation]
A reading according to the holy Gospel of Luke
Luke 10:1-12, 17-20
"Revised Standard Version of the Bible, copyright 1952 (2nd edition, 1971) by the Division of Christian Education of the
Glory to you, Lord.
Council of the Churches of Christ in the United States of America. Used by permission. All rights reserved."
After this the Lord appointed seventy others, and sent them on ahead of him,National
two by
two, into every town and place where he himself was about to come. And he said to
them, "The harvest is plentiful, but the laborers are few; pray therefore the Lord of the
harvest to send out laborers into his harvest. Go your way; behold, I send you out as
lambs in the midst of wolves. Carry no purse, no bag, no sandals; and salute no one
on the road. Whatever house you enter, first say, `Peace be to this house!' And if a
son of peace is there, your peace shall rest upon him; but if not, it shall return to you.
And remain in the same house, eating and drinking what they provide, for the laborer
deserves his wages; do not go from house to house. Whenever you enter a town and
they receive you, eat what is set before you; heal the sick in it and say to them, `The
kingdom of God has come near to you.'
But whenever you enter a town and they do not receive you, go into its streets and
say, `Even the dust of your town that clings to our feet, we wipe off against you;
nevertheless know this, that the kingdom of God has come near.' I tell you, it s hall be
more tolerable on that day for Sodom than for that town.
The seventy returned with joy, saying, "Lord, even the demons are subject to us in
your name!" And he said to them, "I saw Satan fall like lightning from heaven. Behold,
I have given you authority to tread upon serpents and scorpions, and over all the
power of the enemy; and nothing shall hurt you.
Nevertheless do not rejoice in this, that the spirits are subject to you; but rejoice that
your names are written in heaven."
The Gospel of the Lord.
Praise to you, Lord Jesus Christ.
[communication]
During your lifetime you will have many important missions,
some small, some larger, and some more difficult than others.
List one that you have already faced opposition to; one that
you failed to do when you had the chance; and one that you
were successful at:
The Grail Prayer
Lord Jesus,
I give you my hands to do your work.
I give you my feet to go your way.
I give you my eyes to see as you do.
I give you my tongue to speak your words.
I give you my mind that you may think in me.
I give you my spirit that you may pray in me.
Above all, I give you my heart that you may love in me
your Father and all humanity.
I give you my whole self that you may grow in me, so that
it is you, Lord Jesus, who live and work and pray in me.
Amen.
Created by Doreen Gerczak [email protected]
Successful:
Remember that, like the disciples, you are the
hands and feet of Christ now and that everyday
you will have new opportunities to lead others to
Him. He really does need your help. Rejoice! †
A reading
John 15:1-8
CCC:
618,according
2544-45 to the holy Gospel of John
Glory to you, Lord Jesus Christ
"I am the true vine, and my Father is the vinedresser. Every branch of mine that bears no
fruit, he takes away, and every branch that does bear fruit he prunes, that it may bear more
Created
by IDoreen
[email protected]
fruit. You are already made clean by the word which
haveGerczak
spoken
to you. Abide in me,
and I in you. As the branch cannot bear fruit by itself, unless it abides in the vine, neither
can you, unless you abide in me. I am the vine, you are the branches. He who abides in me,
and I in him, he it is that bears much fruit, for apart from me you can do nothing. If a man does not abide in me,
he is cast forth as a branch and withers; and the branches are gathered, thrown into the fire and burned. If you
abide in me, and my words abide in you, ask whatever you will, and it shall be done for you. By this my Father is
glorified, that you bear much fruit, and so prove to be my disciples.
The Gospel of the Lord.
P
Praise to you, Lord Jesus Christ.






The vine grower is The Father.
Jesus is the True Vine; we are the
branches.
Having a relationship with Christ;
keeping His commandments and
loving one another is a way of
bearing fruit.
My life must be rooted in Christ.
I make the decision to bear fruit or
become dead wood.
Pruning helps us to grow.





Fruit can only grow and ripen on
the branches.
Without God I cannot achieve
anything. I need to ask God for
what I want.
If I fail to bear fruit I will be
separated from God.
There are only two choices: life
or death.
Choose to be fruit!
CCC: 2074, 2732

 Jesus sends out 70 (other sources say 72) disciples to
towns and places He will soon visit to prepare the way
for Him by proclaiming the Good News and sharing His
love and peace.

 Their instructions were to:


Failed to do:
whether he is able with ten thousand to
meet him who comes against him with
twenty thousand?
And if not, while the other is yet a great
way off, he sends an embassy and asks
terms of peace. So therefore, whoever of
you does not renounce all that he has
cannot be my disciple.
The Gospel of the Lord.
Praise to you, Lord Jesus Christ.
In today's Gospel Jesus tells us the parables of the
man desiring to build a tower and the king
preparing to go to war. Both needed to consider the
cost of their plans in order to be successful. Being a
disciple requires both a plan and a price. Keeping
in mind the cost of the 3 requirements of a disciple,
write your own discipleship plan, including any
worldly obstacles you struggle with that detract you
from Christ. How can you put God first in your life?

Opposition:
Pray this every morning….
Whoever does not bear his own cross and
come after me, cannot be my disciple.
For which of you, desiring to build a tower,
does not first sit down and count the cost,
whether he has enough to complete it?
Otherwise, when he has laid a foundation,
and is not able to finish, all who see it begin
to mock him, saying, `This man began to
build, and was not able to finish.' Or what
king, going to encounter another king in
war, will not sit down first and take counsel












Pray for more disciples; travel light, trusting God for
everything; do not linger; to use these words first upon
entering a house: "Peace be to this house"; accept
what others give to them; cure the sick and witness the
nearness of God's reign.
To accept or reject the disciples was to accept or reject
Christ.
People who refuse to hear the Word of God will suffer
more than the people of the city of Sodom. (Read
Genesis 19)
The disciples return successful and are full of joy.
Jesus reminds His disciples not to be joyful that
demons were subject to them, but for the fact they will
have a place in Heaven.
God made me to know Him, love Him, and serve Him.
God has chosen me to lead others to Christ.
I am sent forth to do His Will at each Mass. ("Missa" in
Latin means "sent forth")
True Vine or Consequences. Choose the correct statement. Then arrange the black bolded
letters in the True statements to find God's Promise to those who remain in Him. Arrange the black
bolded letters in the False statements to reveal the consequence for those who don't.
1. Apart from Christ we can do all things.
Apart from Christ we can do nothing.
2. God will decide if I ever produce fruit.
I will decide if I ever produce fruit.
"To cling always to God and to the things of
God-this must be our major effort; this must be
the road that the heart follows unswervingly."
St. John Cassian
3. Those who abide in Christ will be disciplined.
Those who abide in Christ will not be disciplined.
___ ___ ___ ___
___ ___ ___ ___ ___
___ ___ ___ ___ ___ ___
___ ___ ___
___ ___ ___
___ ___ ___ ___
___ ___ ___
"Revised Standard Version of the Bible, copyright 1952 (2nd edition, 1971) by the Division of Christian Education of
the National Council of the Churches of Christ in the United States of America. Used by permission. All rights
reserved."
2006 Doreen Gerczak [email protected]
WHAT IS THE COST?
LESS THAN .02 CENTS PER FILE DOWNLOAD
 $44.95
INDIVIDUAL MEMBERSHIP
 $399.95 PARISH/SCHOOL MEMBERSHIP
 CHECK OR CREDIT CARDS ACCEPTED
 INSTANT ONLINE PROCESS
VISIT CATHOLIC CATECHIST TODAY!