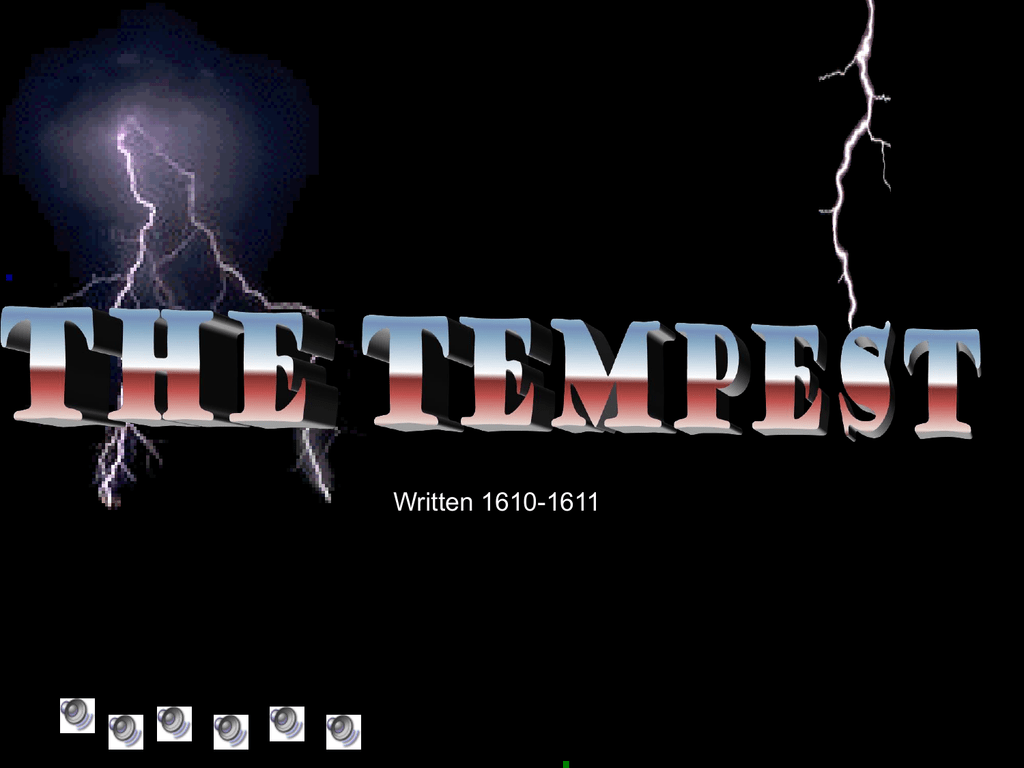 Written 1610-1611
Task
View the slides that follow and in pairs, or
threes, create a plot summary for what you
think the story is about.
The Shakespeare Quiz…
• http://www.shakespeare-online.com/quiz/
http://shakespeare.palomar.edu/quiz/bioqu
iz.htm
SHAKESPEARE:
Starter
WHAT DO YOU KNOW ABOUT SHAKESPEARE?
COMPLETE A QUICK BRAINSTORM IN YOUR BOOKS.
SHAKESPEARE
Born in 1564. He
lived for 52 years.
Not just an actor and
playwright.
He also wrote poetry and
sonnets.
He is buried at
the Holy Trinity
Church in
Stratford-uponAvon.
He wrote on
average 1.5 plays
per year of his
life. That's 37
plays!
His son Hamnet died
at 11 years of age.
SHAKESPEARE
He was also
an actor
and
performed
in his own
plays. He
played in
front of
both
Elizabeth I
and James
I.
Came from a wealthy
background: His
father was a wealthy
merchant.
Married at Anne
Hathaway, an older
woman, when he was
18 years old. She was
26.
When you
google his
name, 15
million
pages come
up!
SHAKESPEARE'S
ENGLISH
SHAKESPEARE'S ENGLISH
Shakespeare took full advantage of the changing
English language and created, throughout his plays,
many new words which we still use today. In all his
works – the plays, the sonnets, and the narrative
poems – Shakespeare uses 17,677 words. Of those,
1,700 were first used by Shakespeare. He has been the
most important influence on the development of the
modern English that we speak today.
SOME OF HIS WORDS…
•
•
•
•
•
•
•
•
•
•
- Accommodation
- Apostrophe
- Bloody
- Control (noun)
- Critical
- Generous
- Hurry
- Monumental
- Premeditated
- Road
- Amazement
- Assassination
- Bump
- Countless
- Exposure
- Gloomy
- Lonely
- Obscene
- Reliance
- Suspicious
THINGS YOU NEED TO KNOW…
• Most of the play is written in a poetic
rhythm. This is called a meter.
• Shakespeare uses IAMBIC
PENTAMETER. This is a meter most
similar to the beating of the heart.
Baabom, baabom, baabom…
• There are five IAMS per line. An iam is a
stressed then unstressed syllable.
• /u /u /u /u /u
KEY FACTS
•
•
•
•
•
•
•
•
•
•
•
•
•
•
•
•
•
•
full title · The Tempest
author · William Shakespeare
genre · Romance
language · Elizabethan English
time and place written · 1610–1611; England
date of first publication · 1623
tone · Dreamy, mysterious, magical
setting (time) · The Renaissance
setting (place) · An island in the Mediterranean sea, probably off the coast of Italy
protagonist · Prospero
major conflict · Prospero, the duke of Milan and a powerful magician, was banished from Italy and cast to sea by his usurping
brother, Antonio, and Alonso, the king of Naples. As the play begins, Antonio and Alonso come under Prospero's magic power
as they sail past his island. Prospero seeks to use his magic to make these lords repent and restore him to his rightful place.
rising action · Prospero creates the tempest, causing his enemies' ship to wreck and its passengers to be dispersed about the
island.
climax · Alonso and his party stop to rest, and Prospero causes a banquet to be set out before them. Just as they are about to
eat, Ariel appears in the shape of a harpy and accuses them of their treachery against Prospero. Alonso is overwhelmed with
remorse.
falling action · Prospero brings Alonso and the others before him and forgives them. Prospero invites Alonso and his company
to stay the night before everyone returns to Italy the next day, where Prospero will reassume his dukedom.
themes · The illusion of justice, the difficulty of distinguishing "men" from "monsters," the allure of ruling a colony
motifs · Masters and servants, water and drowning, mysterious noises
symbols · The tempest, the game of chess, Prospero's books
foreshadowing · Prospero frequently hints at his plans to bring his enemies before him and to confront them for their treachery.
Prospero also hints at his plans to relinquish his magic once he has confronted and forgiven his enemies.
THINGS YOU NEED TO KNOW…
• Some devices are used regularly in Shakespearean
plays. One is the soliloquy. This is where a character
stands alone and speaks his or her thoughts so that the
audience knows what he or she plans to do. The second
is an aside, this is where a character speaks quietly to
the audience while the rest of the characters on stage
are oblivious.
• Lastly you need to be aware of the role of women during
Shakespeare's era. Women are men's property. Their
lives are entirely governed by men.
The Feminist Critique
The Feminist Critique
• The Tempest has only one female character, Miranda. Other
women, such as Caliban's mother Sycorax, Miranda's mother and
Alonso's daughter Claribel, are only mentioned. Because of the
small role women play in the story in comparison to other
Shakespeare plays, The Tempest has not attracted much feminist
criticism. Miranda is typically viewed as being completely deprived
of freedom by her father. Her only duty in his eyes is to remain
chaste. It has been argued that she is typical of women in a colonial
atmosphere, has completely accepted the patriarchal order of
things, thinking of herself as subordinate to her father.
• The less-prominent women mentioned in the play are subordinated
as well, as they are only described through the men of the play.
Most of what is said about Sycorax, for example, is said by
Prospero. Prospero has never met Sycorax — all he learned about
her he learned from Ariel. It can be argued that Prospero's suspicion
of women makes him an unreliable source of information.
Post-Colonial Theory & The
Tempest
• During the 15th Century until the 19th Century
(1400s-1800s) Europe began its first colonial
wave.
• This was a common occurrence in
Shakespeare's time.
• The earth was being "discovered" and stories
were coming back from distant lands. There
were myths about the "cannibals" of the
Carribean, of true Edens and distant utopias (an
ideally perfect place)
Post-Colonial Theory & The
Tempest
• With the character Caliban (whose name is roughly
anagrammatic to Cannibal), Shakespeare may be
offering an in-depth discussion into the morality of
colonialism.
• Different views of this are found in the play, with
examples including Gonzalo's Utopia, Prospero's
enslavement of Caliban, and Caliban's subsequent
resentment.
• Caliban is also shown as one of the most natural
characters in the play, being very much in touch with the
natural world; and modern audiences have come to view
him as far nobler than his two friends, Stephano and
Trinculo, although the original intent of the author may
have been different.
Post-Colonial Theory & The
Tempest
• From the mid 1950s more and more academics have
studied The Tempest through a post-colonial lens. This
new way of looking at the text explored the effect of the
coloniser (Prospero) on the colonised (Ariel and
Caliban). Though Ariel is often overlooked in these
debates in favour of the more intriguing Caliban, he is
nonetheless an essential character. Ariel is generally
viewed by scholars as the good servant, in comparison
with the conniving Caliban—a view which Shakespeare's
audience may well have shared. Ariel is used by some
postcolonial writers as a symbol of their efforts to
overcome the effects of colonisation on their culture
Post-colonial theory in The
Tempest
– The Tempest explores many different aspects of colonialism:
– Europeans' appropriation of and exploitation of foreign territories
– Europeans' subordination of indigenous populations (such as the
different treatment of Caliban and Ariel)
– Europeans' claims that they are colonizing to bring Christianity
and civilization (Prospero's taking credit for the fact that he has
taught Caliban how to speak and the fact that he has liberated
Ariel)
– Europeans' use of colonialism as a way to let off pressure from
their own social conflicts (for instance Prospero's exile on
Caliban's island after he has been deposed by Sebastian;
Gonzalo's vision of an island society that would correct all of the
bad things about Europe; lower-class men like Stephano and
Trinculo seeking to exploit Caliban and set themselves up as
rulers of the colonized space)
Post-colonial theory in The
Tempest
• Caliban has been ensalved, as was the case of native
people being "colonized" by conquering nations. He
suffers as a result, receiving alcohol and
misunderstanding the "gift" and the giver because he is
not accustomed to this culture. He reacts by devising a
plot, wanting Stephano to be leader of the island. He
struggles against his enslavement, but like so many
colonies, he does not realize that his own choice of
leader could be just as destructive. Post-colonial Africa
is dealing with this still, having ousted nations of Europe
only to find themselves in civil war, and hugely
unstable. Similarly, other "natives" are easily distracted
by the wealth of Prospero, and are drawn to it, leaving
behind their need for rebellion. Comfort exceeds
freedom.
Usurpation
• The NZ & Australian Experience
ACT I:I
• Using the READING STRATEGY from
term one, write three paragraphs on ActI:I
using supporting evidence.
• NOTE: YOU MUST REFER TO THE
WORDS IN THE STRATEGY
ACT I:II
WRITE THE FOLLOWING NAMES IN
YOUR BOOKS:
prospero
caliban
sycorax
ariel
Beneath each name write all the
associations you make.
ACT I:II
WRITE THE FOLLOWING NAMES IN
YOUR BOOKS:
prospero
caliban
sycorax
ariel
One is a savage, one is a duke, one a
witch and the other a spirit. Which one is
which do you think?
ACT I:II
•
•
•
•
Read all of ActI:II
Close reading
BOX QUOTE
Quotation Quest
Tempest Quiz
• The Quiz
The Use of Magic
When Magic is Used
PUNS
• In The Tempest, two sets of characters use
puns. Antonio and Sebastian use them to mock
other people. Stephano and Trinculo use puns to
amuse themselves and each other.
Students should also watch out for metaphors,
or plays on words in which one object or idea is
expressed as if it were something else.
Gonzalo's Idea of Governance
• Gonzalo's fantasy about the plantation he would like to build on
the island is a remarkable poetic evocation of a utopian society,
in which no one would work, all people would be equal and live
off the land, and all women would be "innocent and pure." This
vision indicates something of Gonzalo's own innocence and
purity. Shakespeare treats the old man's idea of the island as a
kind of lovely dream, in which the frustrations and obstructions
of life (magistrates, wealth, power) would be removed and all
could live naturally and authentically. Though Gonzalo's idea is
not presented as a practical possibility (hence the mockery he
receives from Sebastian and Antonio), Gonzalo's dream
contrasts to his credit with the power-obsessed ideas of most
of the other characters, including Prospero. Gonzalo would do
away with the very master-servant motif that lies at the heart of
The Tempest.
Colonising Caliban
•
More important than the emphasis on the way in which Caliban seems to
others more monster than man, is the way in which this scene dramatizes the
initial encounter between an almost completely isolated, "primitive" culture
and a foreign, "civilized" one. The reader discovers during Caliban and
Prospero's confrontation in Act I, scene ii that Prospero initially "made much
of" Caliban (II.ii.336); that he gave Caliban "Water with berries in't" (II.ii.337);
that Caliban showed him around the island; and that Prospero later imprisoned
Caliban, after he had taken all he could take from him. The reader can see these
events in Act II, scene ii, with Trinculo and Stephano in the place of Prospero.
Stephano calls Caliban a "brave monster," as they set off singing around the
island. In addition, Stephano and Trinculo give Caliban wine, which Caliban
finds to be a "celestial liquor" (II.ii.109). Moreover, Caliban initially mistakes
Stephano and Trinculo for Prospero's spirits, but alcohol convinces him that
Stephano is a "brave god" and decides unconditionally to "kneel to him"
(II.ii.109–110). This scene shows the foreign, civilized culture as decadent and
manipulative: Stephano immediately plans to "inherit" the island (II.ii.167),
using Caliban to show him all its virtues. Stephano and Trinculo are a
grotesque, parodic version of Prospero upon his arrival twelve years ago.
Godlike in the eyes of the native, they slash and burn their way to power.
Usurpation
•
As we have seen, one of the ways in which The Tempest builds its rich
aura of magical and mysterious implication is through the use of
doubles: scenes, characters, and speeches that mirror each other by
either resemblance or contrast. This scene is an example of doubling:
almost everything in it echoes Act II, scene i. In this scene, Caliban,
Trinculo, and Stephano wander aimlessly about the island, and
Stephano muses about the kind of island it would be if he ruled it—"I
will kill this man [Prospero]. His daughter and I will be King and Queen
. . . and Trinculo and thyself [Caliban] shall be viceroys" (III.ii.101–
103)—just as Gonzalo had done while wandering with Antonio and
Sebastian in Act II, scene i. At the end of Act III, scene ii, Ariel enters,
invisible, and causes strife among the group, first with his voice and
then with music, leading the men astray in order to thwart Antonio and
Sebastian's plot against Alonso. The power-hungry servants Stephano
and Trinculo thus become rough parodies of the power-hungry
courtiers Antonio and Sebastian. All four men are now essentially
equated with Caliban, who is, as Alonso and Antonio once were,
simply another usurper.