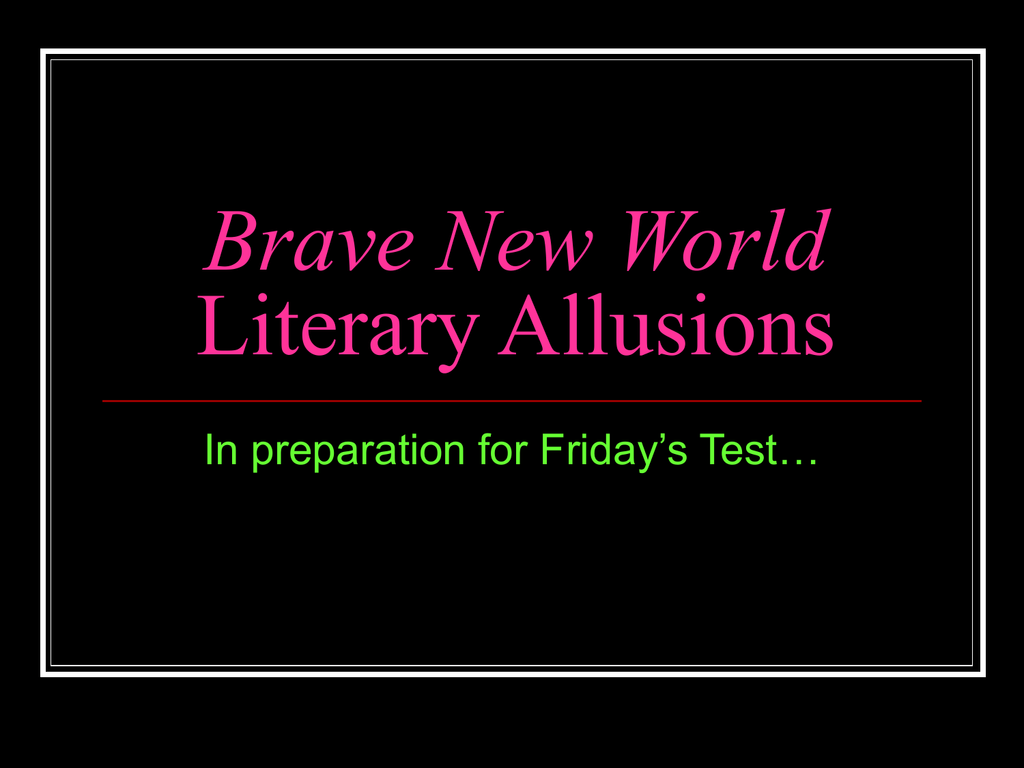 Brave New World
Literary Allusions
In preparation for Friday's Test…
Herman Von
Helmholtz
 German
scientist who
discovered the principal of the
conservation of energy.
Rothschild
 An
international banking family
who exerted great control over
European economic history for
almost 200 years.
Friedrich
Engels
 German
revolutionary political
economist who worked with
Karl Marx from 1842-1883
Ivan Pavlov
 Russian
Physiologist and
Noble laureate, best known for
his studies of reflex behavior.
(dogs+ bell=salivation)
Sigmund
 Austrian
Freud
physician who
developed theories about the
psychology of human sexuality
and dream interpretation.
John B.
 American
Watson
psychologist who
became the leader in the
psychology of behaviorism
Benito Mussolini
 Italian
leader who created the
first fascist political party and
allied himself with Germany
during W.W. II
Herbert Hoover
 31st
president of the U.S. who
held office (1929-1933), during
The Great Depression
Henry
Ford
 He
developed and massproduced the "model T" and
pioneered the use of the
factory assembly lines
J. Edger Hoover
 American
criminologist and
director of FBI for 48 years.
Federal Bureau of Investigation
"Just the facts, ma'am…"
Nikolai Lenin
 Russian
Communist leader
who was responsible for
placing the soviet government
in control of Russia during the
October revolution of 1917
Karl Marx
 German
philosopher who
wrote of a communist utopia in
his Communist Manifesto.
Thomas Malthus
 British
economist who wrote
an essay on The Principal of
Population—a book that says
population tends to increase
faster than the supply of food
is available.
George Bernard Shaw
Irish
born writer who wrote
more than 50 plays that
dealt with themes regarding
the need of social reform.
Pascal
 French
philosopher,
mathematician, and physicist
who reasoned that it was more
beneficial believing in God
than it was harmful.
Mustapha
 A poem
written by Fulke
Gerville in 1609.
William Shakespeare
 British
author who wrote 36
plays, 154 sonnets, and 2
narrative poems. One of the
most widely admired writers
ever.
Eton College
 Aldus
Huxley attended this
private school in Berkshire,
England. The school is so
prestigious, that children are
registered at birth for
admission into the college.
Thebes
 A well-watered
and fertile city
in Greece that was reportedly
founded by the legendary
Cadmus, a Phoenician who
introduced the alphabet to the
Greeks.
Babylon
 This
ancient capitol once was
located 55 miles south of the
Euphrates river. The name
means "Gate of God."
Charing Cross
Bridge
in London that was
an early work by Andre
Derain (1880-1954).
Westminster Abbey
 The
most famous
church in Great
Britain; it enshrines
many of the traditions
of the British people.
Princess Diana's
marriage and funeral
were in this church.
Big Ben
The
Great
Bell/Clock
tower located
on the Houses
of Parliament
in London.
Odysseus
A Greek
hero, who in
Homer's Odyssey,
adventures for ten years
before finally returning
home.
Job
(pronounced Jobe)
 A book
in the Bible about a
pious Jew afflicted with
disease, poverty, and tragedy;
he remains loyal to God and
eventually is blessed in
abundance.
Miranda
She
The Tempest
says, "O Brave New
World" in Shakespeare's
last play. She is the
daughter of Prospero.
Ariel
She
The Tempest
is Prospero's good
spirit servant. She is a
major character in
Shakespeare's last play.
Romeo and Juliet
 Shakespeare's
famous
tragedy play that was written
in 1595. It dramatizes the fate
of two lovers through poetic
treatment.
Othello
 Play
that was written by
Shakespeare in 1604. It is a
tragic story about jealousy and
deception between a Moor
and a white woman.
Grrr….
Argh!
Anthony & Cleopatra
 This
is a historical
tragedy play written by
Shakespeare in 1607.
It is about two lovers
who must face the
wrath of the Roman
Emperor, Octavius
King Lear
 A Shakespearean
tragedy that deals
with a king, his
three daughters,
and the fall of
nobility through
deceit and
treachery.
 A Shakespeare
Hamlet
tragedy
play that was written in
1603. It is one of the
best known plays in
world literature, and
involves a king's death
and his son's
vengeance.
Desdemona
 A young
woman
who loves and
marries a Moorish
soldier. Tragically,
she is killed by the
man whom she
married.
Othello
Courtly Love
 This
is a code of
behavior that
influenced chivalric
ideals and feudalism.
It established rules of
conduct that men and
women were
supposed to follow.