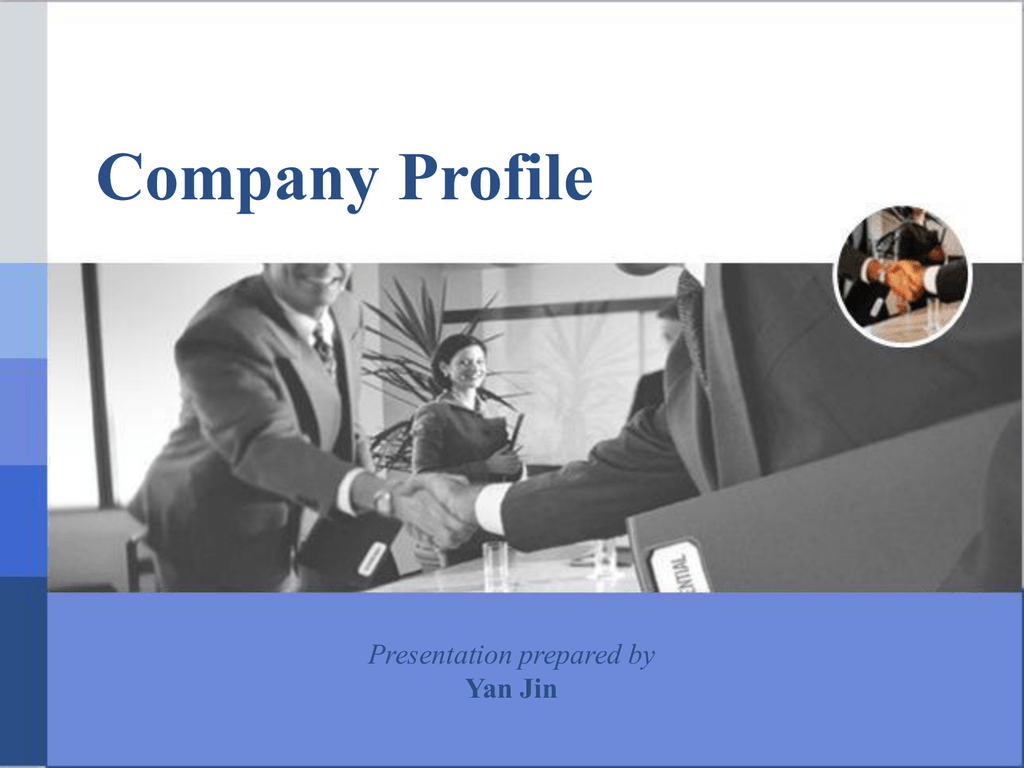 Company Profile
Presentation prepared by
Yan Jin
Contents
Vocabulary
Business brief
Describing a working day
Company culture
Company history
The internet
Learning Objectives
Understand some important definitions in company.
Some points to remember when making business
introductions in English-speaking western countries.
 Introduce yourself and others in business situation.
 Receive your client in business situation.
 Make a business card.
 Describe career, working department and company
(esp. company history, the development of the
company and company culture)
Introduce your company, and make a PPT.
Vocabulary
Vocabulary 1: Job titles
accountant, manager, technician, engineer,
cashier, director, telephone operator,
receptionist, lawyer, sales assistant, personal
assistant
Vocabulary
Vocabulary 2: Department
finance, marketing, production, human
resources, payroll, public relations, research
and development, sales, administration,
advertising, customer services
Business brief: Some points to remember when making
business introductions in English-speaking western countries
Introduce business people in order of professional rank.
Stand up when introductions are made.
The clients should be introduced first.
Treat business cards with respect.
Address people by their first name only if
they indicate that they want you to.
Gender does not effect the order of
introduction.
Describing a working day
 Match the correct job titles
1. I'm Kevin. I have general
responsibility for the entire
company. I represent the company
in the financial community
and the business world.
2.My name is Diane.
I do the bookkeeping and the payroll
3.I'm Bernard.
I'm in charge of the people
who sell our products.
4.I'm Gamal.
I 'm responsible for money planning.
Finance Director
Managing Director
Accountant
Sales Director
Describing a working day
 Match the correct job titles
5.My name's Leila.
My job is to make sure that
the company is producing
what people want to buy.
Human Resource
Manager
6.My name's Chris.
My area of responsibility is
finding and testing our new product.
Production Manager
7.I'm Jenny.
I'm responsible for recruitment
and issues to do with staff welfare.
Marketing Director
8.I'm Guy.
I lead the team
which makes our products
Research & Development
Manager
Describing a working day
Scan the text to see if the following statements
are true or false.
Donald Eisner
1. He comes from a rich family.
2. He can cook pancakes.
3. In the programme, he successfully cleans rooms up to his
company's required standards.
Alex Jennings
4. He believes quality is important in his restaurants.
5. He has good skills as a writer.
6. He is making changes to the uniforms that staff wear.
Company Cultures

Company Cultures
Company culture is the distinctive personality of the organization.
It determines how members act, how energetically they
contribute to teamwork, problem solving, innovation, customer
service, productivity, & quality.
As we matured from infancy to adulthood, it was our culture, in &
outside of the home, that told us how to act. As human beings
we are highly skilled at learning from social settings,
recognizing almost immediately how we should behave. We
know how to fit in, how to do what is needed.
Company Cultures
Company Cultures
 Company cultures, like any other culture, tell members
how to behave — what to do & what not to do. The work
culture is the stage or context for what people do, for all
that happens.
 A company with a well-developed culture, easily
outperforms its competitors.
 If you want to understand why people do what they do,
look to the culture. Or said another way; if you want to
understand a company's culture, look at what people do.
Company Cultures
Starting up
A
Look at the following tips for visiting a different country or doing
business there. Use the words from the box to complete the tips.
date clothes hours book customs
money cards food sport language
1. Find out about the most popular ________
sport in the
country.
money in US dollars.
2. Always take __________
hours
3. Find out about the normal working _________.
4. Be careful how you write the _________.
date
customs
5. Find out about the most important ___________
and festivals.
language
6. Learn how to speak a little of the local __________.
Company Cultures
Vocabulary
A
Different companies have different cultures and ways of working.
Complete these sentences with the words in brackets.
Dress
(uniforms / casual Fridays / weekend clothes)
1.We don't have to wear business suits at the end of the week. My
casual Fridays
company has a system of ______________.
2.In many banks, staff can't wear what they like. They have to wear
____________.
uniforms
Timekeeping ( flexible hours / part-time / shift work)
3. For two weeks each month, I work at night. I can't sleep during the
day. I hate _____________.
shift work
4.We have a ____________
flexible hours system in our office. Some people work
from 9 a.m. to 5 p.m.; others work from 10 a.m. to 6 p.m.
Company Cultures
Vocabulary
Different companies have different cultures and ways of working.
Complete these sentences with the words in brackets.
Time off (childcare / annual leave / public holiday)
5.I am so busy at the moment that I worked on New Year's Day,
public holiday
which is a(n) ___________.
annual leave do you get in your company?
6.How many days ___________
Reporting procedures ( written report / face-to-face / e-mail)
face-to-face
7.We often speak on the phone but never __________.
written report in the post each month.
8.He sends us a(n) __________
Company Cultures
Different companies have different cultures and ways of working.
Complete these sentences with the words in brackets.
Types of meeting
( informal / formal / social)
informal meeting. It is
9.Our department starts everyday with a(n) ___________
very relaxed.
10.Companies have an Annual General Meeting (AGM) once a year. It is
formal meeting, with a lot of people.
a very _________
Names
( job title / first name / family names)
11.In some countries, the company culture is formal. Staff use
family
names when they speak to each other.
______________
job title now? Are you 'Chief Executive' ?
12.What's your __________
Company Cultures
Would you like to work for an
organization which has:
 Uniforms?
 Casual Fridays?
 A lot of formal meetings?
 Flexible hours?
Why ? Why not?
Case study
Work in groups of four.
1. Introduce yourself to others.
2. Make notes about others' personal
information.
3. Introduce the people you know to others.
4. Write a short e-mail about some people you
met to your boss.
Sample dialogue:
 Ivy: Hello, my name's Ivy. Nice to meet you.
 Susan: You, too. I'm Susan. I'm an accountant in ** company and I'm
from America. What's your job and where are you from?
 Ivy: I'm a sales manager in *** company, and I'm from China. Let me
introduce Linda to you. This is Linda, she work in **** company.
 Linda: Hi, nice to meet you.
 Susan: Nice to meet you, too. Where are you from?
 Linda: I'm from Germany and my office is in Berlin. Here is my
business card.
 Susan: Oh, thank you. Here is mine. And Ivy, may I have your card?
 Ivy: Of course. Here you are. Oh, is that the CEO of * company?
 Linda: Yes. Haven't you met him yet? I'll introduce you to him.
 John: Hi, Linda. Please to meet you here.
 Linda: You too. Let me introduce Ivy and Susan to you. This is Ivy, a
sales manager in *** company and this is Susan, an accountant in **
company. And Ivy, Susan, this is John, CEO of * company.
 John: Nice to meet you.
 ……
Company history
Introduction
Business cards
Company history
Business cards
Company history
Questions
1. How important are
business cards to
people?
2. What information
can you get in the
business cards?
Company history
Suggested answers
1. Answers to Q1
 Help people communicate with others; build relations
 Help people know you well;
 Help people do business .
2. Answers to Q2
 Your name?
 Your job / title /position?
 Who do you work for?
 Company address?
 Your tel., fax, email, website,
Company history
Company history
 Introduction:
 Companies are involved in many activities, for example,
buying, selling, marketing and production, in a range of
different industries, such as information technology,
telecommunications, film and car manufacture. Many wellknown companies are multinationals, these are companies
which operate in a number of countries.
 Multinationals often have a complicated structure. There is
usually a parent or holding company. This company owns
other companies or parts of other companies. These other
companies are called subsidiaries.
Company history
Starting up
A. Which of the these companies would you like to work for?
Why?
1 a family owned company
2 a multinational company
3 your own company (be self-employed)
B. Which business sectors would you like to work in?
◆ Telecommunications/Media ◆ Transport
◆ Vehicle manufacturing
◆ Engineering
◆ IT /Electronics
◆ Retailing
◆ Food and drink
◆ Construction
◆ Pharmaceutical
◆ Tourism
◆ Banking and finance
◆ Other
Company history
Describing
companies
Vocabulary: Describing
company
A. Complete the sentences with words and phrases
from the box.
share price
profit
turnover
market share
workforce
subsidiary
head office
Company history
1.
2.
3.
4.
5.
6.
7.
The amount of money a company receives from sales in a
turnover companies
Describing
particular period is called
its ____________
.
The money a company makes after taking away its cost is its
profit
___________
.
A company which is more than 50% owned by a parent
company is called ___________.
subsidiary
The employees in a particular country or business are called
the _____________
workforce .
The percentage of sales a company has in a particular market
market share .
is its _____________
The main building or location of a large organisation is its
_______________
.
head office
price .
The cost of a company's shares is its share
____________
Company history
Describing
companies
B. Complete the extract from a company
report with appropriate words or
phrases from the box in Exercise A.
Financial Performance
I am pleased to say the company has continued its
excellent performance. We are changing, growing
and doing well at a difficult time for the industry.
__________
Turnover was €57.2 million, an increase of 15%
on last year, and __________
profit rose by 5% to €6.4
million.
We are a highly competitive business. We have
market share to 20%.
increased our ______________
Consequently our ____________
share price has risen and is
now at an all-time high of €9.6.
Financial Performance
Increased production and strong demand have had a
positive effect on our cash flow, so we are able to
finance a number of new projects. We have
head office in
successfully moved to our new ___________
central London. We are now planning to start full
production at the recently opened Spanish
subsidiary in October.
__________
Finally, thanks once again to our loyal and dedicated
___________.
workforce Our employees will always be our
most valuable asset.
Vocabulary: Describing company
Company
Main activity
Nationality
Cisco Systems
Internet equipment supplier
American
Car manufacturer
French
Drinks supplier
Spanish
Peugeot
Bacardi Martini
American Express
Travel and financial
services provider
American
Bayer
Drug and chemical maker
German
Benetton
Clothing manufacturer
Italian
Sony
Electronic goods maker
Japanese
Container ship operator
Danish
Maersk
Cisco Systems, Inc.
It is a multinational corporation with more
than 66,000 employees and annual revenue of
US$39 billion as of 2008. Headquartered in
San Jose, California, it designs and sells
networking and communications technology
and services under five brands, namely Cisco,
Linksys, WebEx, IronPort, and Scientific
Atlanta.
Peugeot
Peugeot is a major French car brand, part of PSA
Peugeot Citroën. It is the second largest automaker in
Europe, behind Volkswagen. Peugeot's roots go back
to pepper, salt and coffee mill manufacturing in 1842
and later bicycle manufacturing at the end of the 19th
century. Its world headquarters are in Paris, Avenue
de la Grande Armée, close to Porte Maillot and the
Concorde Lafayette Hotel but the Peugeot company
and family is originally from Sochaux, France.
Peugeot retains a large manufacturing plant in
Sochaux which is also home to the Peugeot Museum.
The company also sponsors the Sochaux football
club, founded in 1928 by a member of the Peugeot
family: the club' s arms contain a lion logo similar to
Peugeot's.
Bacardi Martini
Bacardi-Martini, Ltd. engages in
bottling and distributing alcohol
beverages. It also distributes
liquors. The company is
headquartered in Southampton, the
United Kingdom. Bacardi-Martini,
Ltd. operates as a subsidiary of
Bacardi International Limited.
American Express
American Express, sometimes known as "AmEx" or
"Amex", is a diversified global financial services
company, headquartered in New York City. American
Express makes money even if you do leave home without
it. The company is one of the world's largest travel
agencies, but it is equally as well known for its charge
cards and revolving credit cards. And yes, the company
still issues traveler's checks and publishes such magazines
as Food & Wine and Travel & Leisure through its
American Express Publishing unit. Its travel agency
operations have more than 2,200 locations worldwide and
its Travelers Cheque Group is the world's largest issuer of
traveler's checks (it also issues gift cards). But the
company's charge and credit cards are its bread and butter;
American Express has issued more than 86 million cards
worldwide.
Bayer AG
Bayer AG is a German chemical and
pharmaceutical company founded in Barmen,
Germany in 1863. Today it is headquartered
in Leverkusen, North Rhine-Westphalia,
Germany. It is well-known for its original
brand of aspirin. Bayer is currently the third
largest pharmaceutical company in the world.
Benetton
Benetton Group S.p.A. is a global clothing brand,
based in Treviso, Italy. The name comes from the
Benetton family who founded the company in 1965.
Benetton Group is listed in Milan and the Frankfurt.
If Benetton had a theme song, it could be "We Are
the World." Italy's largest clothing maker, The
Benetton Group pushes a global attitude in its ads
while dressing customers in about 120 countries
through some 5,500 franchised Benetton stores,
department stores, and megastores. Benetton's
clothing -- primarily casual knitwear and sportswear
for men, women, and children -- bears labels such as
United Colors of Benetton (about 75% of sales) and
Sisley.
Sony
Sony Corporation is a multinational conglomerate
corporation headquartered in Minato, Tokyo, Japan,
and one of the world's largest media conglomerates
with revenue of US$88.7 billion (as of 2008). Sony is
one of the leading manufacturers of electronics,
video, communications, video game consoles and
information technology products for the consumer
and professional markets. Its name is derived from
Sonus, the Greek goddess of sound.
Maersk (马士基航运公司)
The A. P. Moller-Maersk Group is an international
business conglomerate more commonly known simply as
Maersk. Maersk has activities in a variety of business
sectors, primarily transportation (container shipping fleet)
and energy (offshore oil exploration and transportation). It
is the largest container ship operator and supply vessel
operator in the world. Maersk is based in Copenhagen,
Denmark, and has subsidiaries and offices in more than 130
countries worldwide. The group has around 110,000
employees. It stood as number 131 on the Fortune Global
500 list for 2008. Up from 138 in 2007. Maersk is the
second largest company in Scandinavia by revenue.
Company history
Listening
Reasons for success
A. Bruno Tagliaferri is UK Sales Manager at Triumph, the
British motorcycle manufacturer. Listen to the first part
of the interview. What three reasons does he give for
triumph's success?
1. Triumph has a very strong brand name.
2. It has invested in and developed new models.
3. It has given the bike a very up-to-date look: it has
focused on styling and on the quality of the product.
Company history
Listening
Reasons for success
B. Complete this extract from the first part of the
interview.
styling 1 and also on the
We've focused on _____
quality
_____2 of our product. It's taken a bit of time
to build up _____
sales 3, but we've done well in
the first nine years, and we are now aserious
_____4
alternative manufacturers
______5.
Company history
Listening
C. Discuss these questions.
1. Which brands of motorcycle are most popular in
your country?
2. What kinds of people buy motorcycles?
3. Should your government encourage people to use
motorcycles in large cities?
Reading
What clothing companies
do you like? Why do you
like them?
What are the most
successful clothing
companies in your
country?
C. Read this text about Zodiac, a highly successful clothing
company, and complete the chart. The information is from its
company website.
Reading
Brands
Zodiac, Gemini, Capricon
Revenues
More than $8 billion
Headquarters
Seattle
Number of employees
More than 100,000
Main aim
Long-term, quality growth
Skills: Presenting your company
Presenting your company
A. Which of these suggestions do you agree with?
To make an effective presentation, you should:
 1. find out as much as possible about your audience.







2. introduce yourself (name, position, company)
3. start with a joke.
4. outline the structure of your talk.
5. vary the tone of your voice.
6. refer to your notes as often as possible.
7. use clear visual aids
8. summarize your main points.
Skills: Presenting your company
B. Listen and complete the chart.
Tara Fashions
Where is the head office?
Cordoba, Spain
What does it sell?
Clothes
Fashion-conscious men and women aged
20—35
Who are its customers?
Annual turnover?
€ 260 million
Annual net profits?
€ 16 million
Number of stores:
in Spain?
in other European cities?
Strengths
Future plans?
15
14 (5 new stores next year)
Can bring out new designs very quickly
Designs sold at right price
New store in New York next year
Tara Fashions
 Good morning, everyone. Thanks for coming to my presentation.
My name's Marta Rodriguez. I'm Personnel Director of Tara
Fashions. I'm going to talk to you today about our company. First,
I'll give you some basic information about Tara Fashions. Then I'll
talk about our overseas stores. After that I'll outline the strengths of
the company. Next I'll talk about career opportunities with Tara.
And finally I'll mention our future plans. I'll be pleased to answer
any questions at the end of my talk.
 Let me start with some basic facts about Tara. The company started
in 1978. We are a family-owned business and our head office is in
Cordoba, Spain. We sell clothes for men and women, and our
customers are mainly fashion-conscious people aged 20 to 35. We
have 15 stores in Spain. All of the stores are very profitable. Right,
those are the basic facts.
Tara Fashions
 Let me add a few figures. We have an annual turnover of
about E260 million. Our net profits last year were
approximately E16 million. We have a workforce of just
over 2,000 employees. So those are the numbers.
 Now about our overseas stores. We have 4 large stores in
France and another 10 in other European countries. We are
planning to open 5 new stores next year.
 What are our strengths? We keep up with fashion trends. If
we spot a trend, we can bring out a new design in 15 days.
And we get it to the stores very quickly. We deliver to
stores twice a week. And we sell our designs at the right
price.
Tara Fashions
 OK, now what about career opportunities? It's quite simple.
If you are ambitious and fashion-conscious, we have
opportunities in all areas of our business. We will welcome
you with open arms.
 Finally, a few words about our new project. We are
planning to open a new store in New York next year - on
Fifth Avenue. This will give us a foothold in the US market.
We're very excited about this new development. Well,
thanks very much for listening to my talk. Are there any
questions?
Skills: Presenting your company
Outlining the presentation
First, I'll give you some basic information. √
Secondly, I'll talk about our stores in other countries.
Next, I'll talk about career opportunities. √
Last of all, I want to look at our future plans.
Introducing new information
Here's some basic information.
Let me add a few figures. √
Let's have a look at some statistics.
What are our strengths? √
Ending the presentation
To conclude, I want to tell you about our future plans.
Finally, a few words about our new project. √
Thanks very much for listening to my talk. √
Thanks for coming to my presentation.
Practice:
Presenting your company
Make a presentation about a company you
invent. Use the headings in Exercise B to
help you prepare a presentation for it. Try to
use Useful language as much as possible.
The Internet: Warm-up activity 1
What words occur to you when thinking about
Internet?
Hardware/software
E-commerce
crash
website
Internet
cyberspace
spam
Vocabulary: internet terms
Enter information to start using a computer or
website.
log on
A website which finds information about other
websites.
search engine
The word which tells the search engine what
you are looking for
keyword
Places on the internet containing information
website
People who spend a lot of time using the internet
surfer
Take information from the internet and copy it to
your computer
download
Your computer stops working because of a
problem.
crash
Warm-up activity 2
What do people use Internet for?
booking
 _______airline tickets
buying
_______ books and CDs
shopping for food
_______
using chat rooms
_______
keeping in touch with family and friends
_______
_______
getting news and sports results
_________
researching a project
_______
doing a course
Further study: reading and translating
12 steps for E-mail Addicts
Lead-in question:
How often do you check your E-mail? or
message?
Can't stop working your messages? Experts
say it may be as addictive as gambling. Here is
how to quit by Chris Taylor:
Step 1: admit your have a problem
Mark Ellwood, author of Cut the glut of E-mail,
calculates that 白领阶层仅仅检出垃圾邮件一
周就要浪费3小时. If you spend any more
than that, you had better read on.
White-collar workers waste an average of three
hours a week just on sorting through junk mail
Step 2: recognize the symptoms
眼睛干涩、背痛、手腕痉挛以及手指麻木
是你在键盘上呆得过久的症候。
Dry eyes, backaches, wrist cramping and
numb fingers are signs you are spending too
much time at the key board.
Step 3: take responsibility
If you didn't send so much e-mail, maybe you
wouldn't get so much.
Step 4: practice the rule of three
If an e-mail thread has gone back and forth
three times, it is time to pick up the phone.
事不过三
思路
来来回回
Step 5: don't copy the world
仔细考虑 about the people you put on your cc:
list. If they all respond. The where will you
be?
Think twice
三思而后行
Think twice before you act
Look before you leap
cc: list: carbon copy (to) 转发
Step 6: turn off the chime
Nothing triggers a Pavlovian response (巴甫洛
夫氏反映,条件反射) faster than a ringing
bell, but a flashing icon in the task bar comes
close. Turn both off, and your urge to check
will diminish over time.
Trigger
His action has triggered off a crisis.
A spark triggered the explosion.
Step 7: slow down
一收到信息就回复给人造成一种预期:that
you will always respond as quickly. Let it be
known that you won't, train people to call if
it's really urgent.
Answering messages the moment you get them
creates an expectation
Step 8: touch each message only once
If it isn't relevant, hit the delete key. If it is, set
it aside, and plan to spend some time at the end
of the day to replay.
set aside
留出,拨出
He set aside a little money each week.
他每周都留出一些钱备用。
Step 9: let your software do the work
The more you filter out spam and divert e-mail lists to
their own folders, the more manageable your In box
becomes.
filter out
滤除
We must filter out the dirt.
我们必须滤除尘垢。
divert
使转向;使改道[(+from/to)]
They diverted the river while they were building the dam.
Step 10: get help from humans
And I don't mean your therapist. Senior managers: let
your assistant wade through your In box for you.
Ordinary mortals: ask friends to stop by or phone in
from time to time to interrupt your e-mail reveries.
wade through
费力地进行
I waded through that long report at last.
我终于看完了那篇长报告。
Ordinary mortal: 普通大众,凡人
revery: 空想, 幻想曲
Step 11: don't check your E-mail at home.
This may seem extreme, but forcing yourself
to go to a library or internet café will at least
allow the possibility of some face-to-face
human interaction in your life.
Step 12: time off
Designate one day a week that is utterly e-mail
free. That goes double for cruise-ship
vacations.