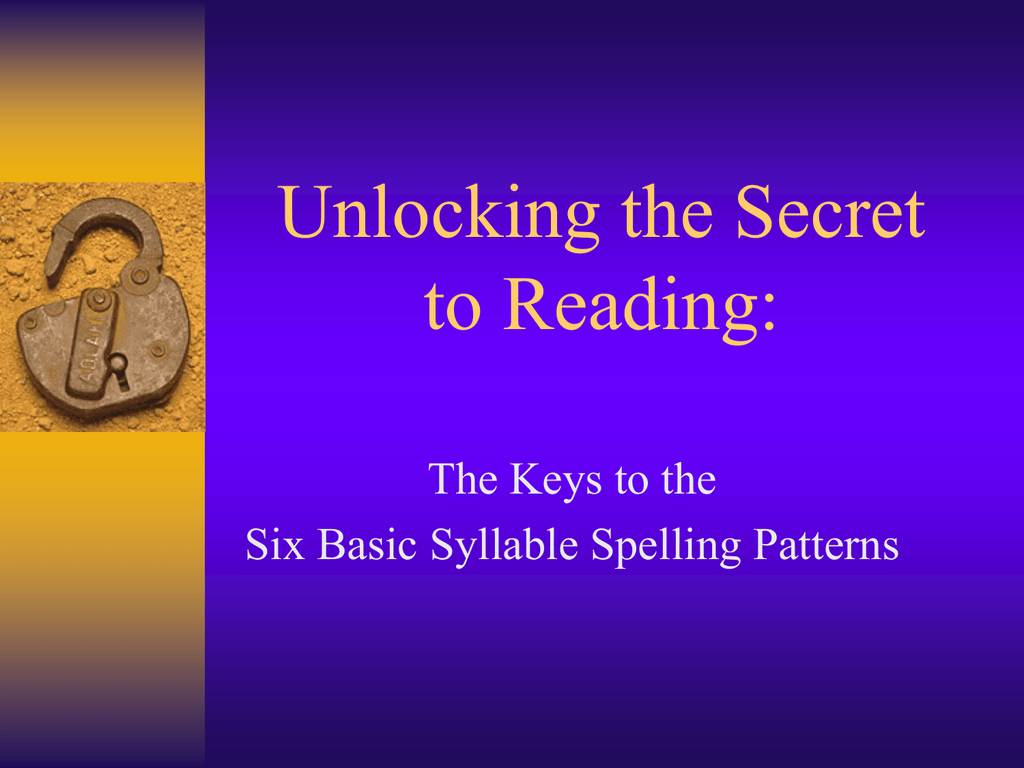 Unlocking the Secret
to Reading:
The Keys to the
Six Basic Syllable Spelling Patterns
Opening the Door to Reading!
• The English
alphabet has 26 letters.
• All English words use some
of these 26 letters.
In the alphabet:
- 21 letters are consonants that
have only one sound
b,c,d,f,g,h,j,k,l,m,n,p,q,r,s,t,v,w,x,y,z
In the alphabet, 5 letters
are special:
- 5 letters are vowels that have
two sounds (long and short)
a e i o u
The key to reading and
spelling all words:
•All words have at least one vowel.
happy
the
remember tip
key
book
a
school
• All words have syllables.
• Syllables are word parts.
• Reading is easy if you can
break words up into small
parts (syllables).
re – mem – ber
remember
Use the Keys to Unlock
and
Read New Words!
All you need to know
are the six syllable
rules!
The Six Basic Syllable Types:
1. Closed Syllables
2. Open Syllables
3. Vowel-Silent e Syllables
4. Vowel Team Syllables
5. r-Controlled Syllables
6. Consonant + le Syllables
Closed Syllables
• A closed syllable has one vowel in the
syllable and ends with a consonant.
• The vowel sound is usually a short
sound.
bed
mat
happy
(Your lips are mostly closed when you
say the final consonant sound.)
Open Syllables
• An open syllable ends with a
vowel sound.
• The vowel sound is usually
a long sound.
ti- ger
hu-man
ba-con
do-nut
(Your mouth is open when you say the long
vowel sound.)
Vowel-Silent e (Vce) Syllable
•Each syllable has only one
vowel sound.
• When a syllable has two vowels,
the first vowel usually makes a
long sound, and the second vowel
is silent.
bake bike pile cube rope
Vowel Team Syllables
• Two vowels are side-by-side.
• The first vowel says its name.
• The second vowel is silent.
• Sometimes the two vowels
e
a
make a whole new sound.
team mail play shout
r-Controlled Syllables
•When a vowel is followed by the letter r,
the sound of the two letters changes.
park
store
her
girl
hurt
remember
Bossy r
Silent
vowel
Consonant + le Syllables
• A consonant + le, al, or el
is usually the last syllable in
a word.
ta-ble
pic-kle
s c r a m - ble
den-tal
nic-kel
ren-tal
lit-tle
Congratulations!
You now know the six major
syllable types of the English
language.
Happy Reading!!!!