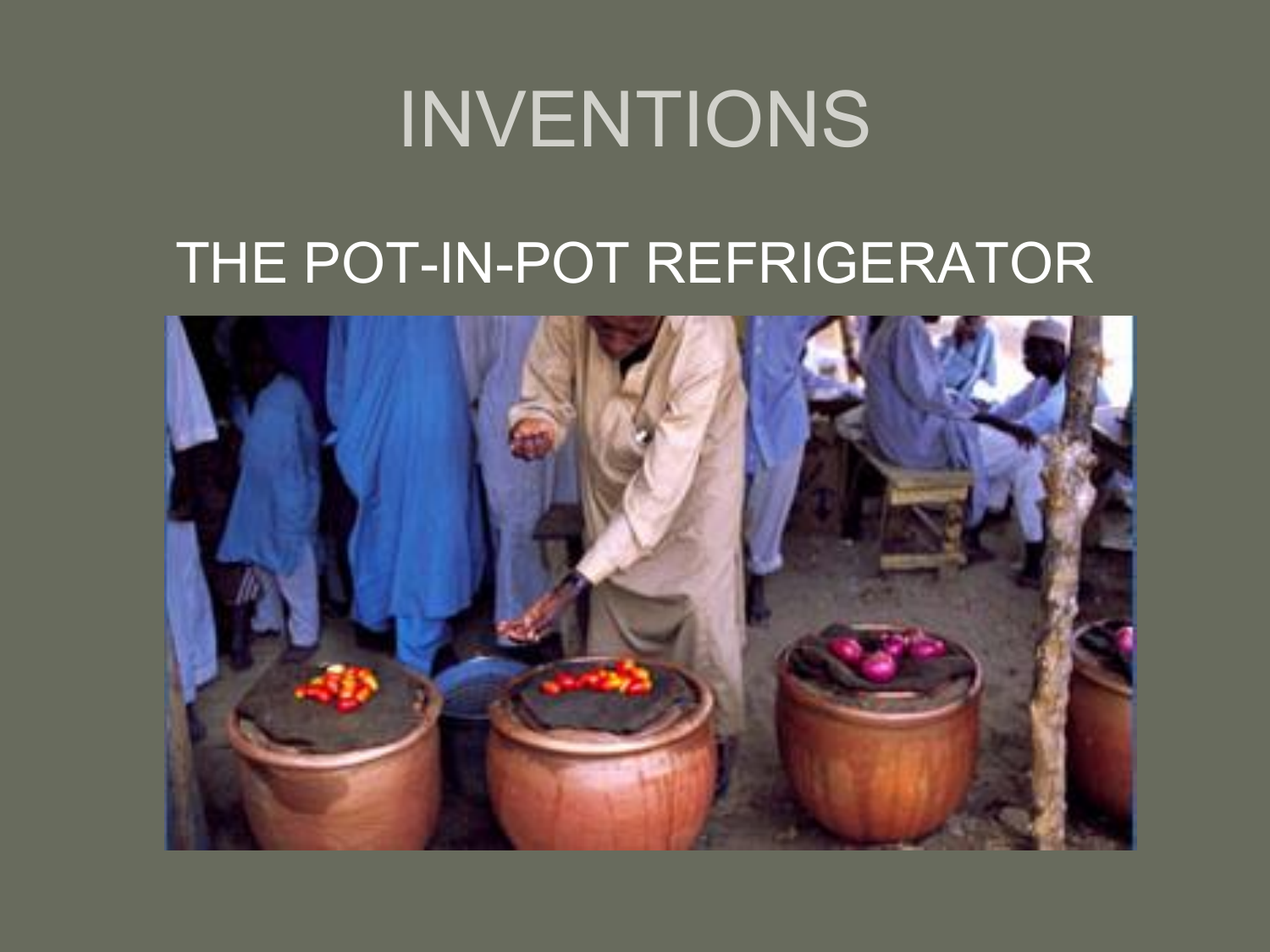 INVENTIONS THE POT-IN-POT REFRIGERATOR
THE POT-IN-POT REFRIGERATOR • The pot-in-pot refrigerator, also known as Zeer in Arabic, is a way of keeping cool without electricity by using evaporative cooling.
• It is constructed by placing a clay pot withing a larger clay pot with wet sand in between and a wet cloth on top .
• As the water evaporates, there is The food stored in the inner a drop in temperature.
container cools so it can be kept fresh for much longer in a hot, dry climate.
• Mohammed Bah Abba invented the device in 1995 and was awarded a Rolex Laureate (Rolex Awards for Enterprise) in 2000 for this ingenious technique.
MAKE YOUR OWN FRIDGE (ZEER) LINK:http://www.happyselfsufficient.com/Green-Energy/make-your own-fridge-zeer.html
CHINDOGU INVENTIONS What is a chindogu? "Dogu" is the Japanese word for tool and "chin" might be best translated as "really weird ." Basically, it ' s a tool that doesn't quite improve our lives but it ' s fun to look at because it's really weird. It ' s just a fanciful invention of questionable utility. Let ' s see some examples. Try to describe them and guess what they might be used for.
BUTTER STICK
FOOD COOLER
BACKSCRATCHER T-SHIRT
PORTABLE TOOTHBRUSH
UMBRELLA SHOES
DUSTER SLIPPERS AND BABY MOP