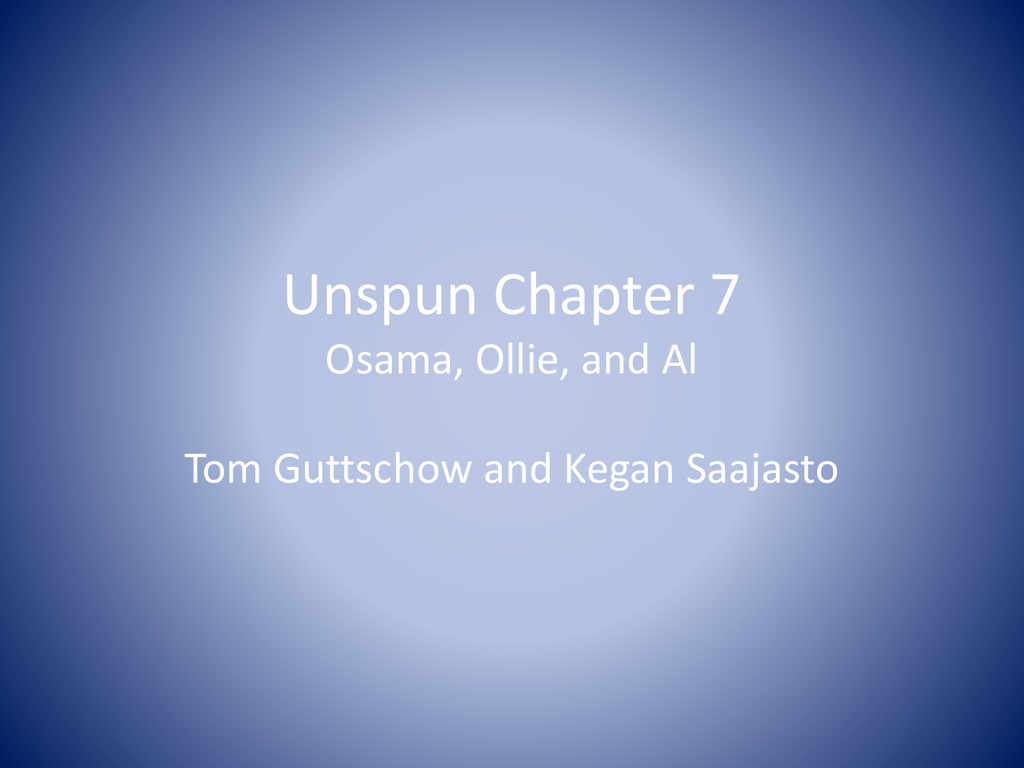 Unspun Chapter 7
Osama, Ollie, and Al
Tom Guttschow and Kegan Saajasto
BAM! BOOM! BANG!
• The Internet is so big, so powerful and
pointless that for some people it is a complete
substitute for life. ~Andrew Brown
• The Internet is becoming the town square for
the global village of tomorrow. ~Bill Gates
Introduction
•Thesis
•Purpose
•Preview
Chapter
1
Chapter
6
Chapter
7
You are
here.
Chapter
2
Chapter
5
Chapter
3
Chapter
4
A concise summary
PRÉCIS
The Internet
•
•
•
•
Solution to Spin
Full of information
Everyone is an author
True and False
Information
Example of Bad Info on the Net
• Osama, Ollie, and Al
• Message circulated via
E-mail
• Easily Disproved
Good sources of Info on the Net
•
•
•
•
•
.gov
.edu
News stations
Wikipedia
blogs
Blogs
• Personal diary viewable
by everyone
• Everyone is an author
• Can be influential
• Bloggers go places
ordinary news stations
cannot
• Verify information
Due Diligence
• What are they selling?
• What's their
reputation?
• Can I verify?
• Who's behind it?
• Who's paying?
• Who are the people?
Connections and Examples
READER RESPONSE
Connection to 1984
• Winston and the Ministry of Truth
• Censorship and Emmanuel Goldstein
• Differences from Unspun
Unreliable Websites
• Wikipedia.org
• politico.com/blogs/bensmith
• martinlutherking.org
Reliable Websites
• usa.gov
• cnn.com
• eece.maine.edu
Sample Hoax
• "A few highlights from the first 500 pages of
the Healthcare bill in congress Contact your
Representatives and let them know how you
feel about this. We, as a country, cannot
afford another 1000 page bill to go through
congress without being read. Another 500
pages to go. I have highlighted a few of the
items that are down right unconstitutional."
Connection to Language Awareness
• Weasel Words: The Art of Saying Nothing at
All
• Indirect connection
• Weasel Words purpose compared to Unspun
How to stay Unspun
• In Sum –
• How to find Good
information
I command thee to go forth now
and be Unspun!