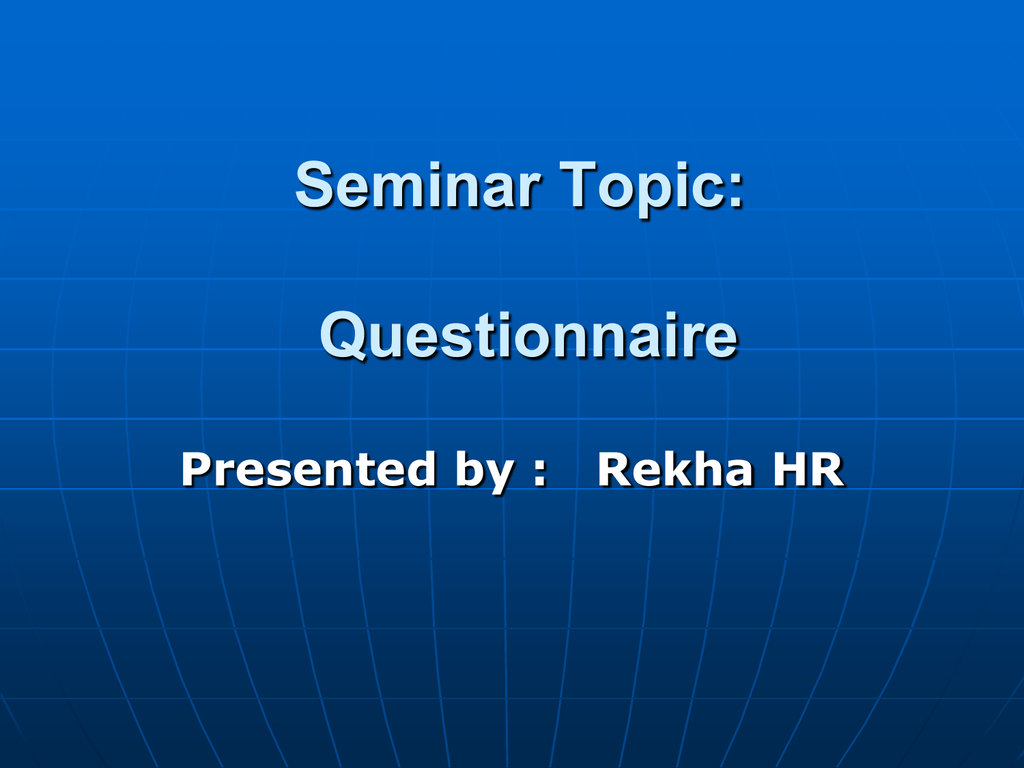 Seminar Topic:
Questionnaire
Presented by :
Rekha HR
Major Topics
I.
II.
III.
IV.
V.
VI.
VII.
VIII.
Meaning, definition and need.
Question types
Scales
Validity and reliability
Formatting the questionnaire
Administering the questionnaire and Web
questionnaires
Advantages and disadvantages
Conclusion
I. Questionnaire:
1. Questionnaires are often used in surveys as the
primary data collection instruments.
2. Questionnaires are useful in gathering
information from key organization members
about




Attitudes
Beliefs
Behaviors
Characteristics
Why a Questionnaire is needed?



To standardize the process of data collection – helps in
analysis
To achieve speed & accuracy in collection & recording
To achieve speed & accuracy in handling data within &
between offices for analyses
Situations suitable for Questioning


Knowledge, opinion, motivation, intension etc. are not
open for observation
Past events (like time & quantity of last purchase) can be
studied only by questioning
II. Question Types
Questions are designed as,

a. Open-ended,
b. Closed
Definition:
Open-ended (Unstructured Questions)

In this allow respondents to reply freely without having to
select one of several provided responses. It is useful in
exploratory studies.

An open question is likely to receive a long answer.
Closed (Structured)

In this questionnaires are characterized by a group of provided
fixed responses. Here participants are allowed to choose
among several answers designed to reflect various views,
beliefs or feelings

A closed question can be answered with either a single word or
a short phrase.
Application and usage:
a. Open-ended
 Try to anticipate the response you will get
 Well suited for getting opinions
 Useful in explanatory situations
Eg: What are the facilities you are expecting from
the library ?


b. Closed
Use when all the options may be listed
When the options are mutually exclusive
Eg: Are you using the internet facility available in
the library
a. Yes
b. No
Open-Ended and Closed Questions
Open-ended





Slow
High
High
Easy
Difficult
Closed
Speed of completion
Exploratory nature
Breadth and depth
Ease of preparation
Ease of analysis
Fast
Low
Low
Difficult
Easy
Questionnaire Language
Questionnaire language should be







Simple
Specific
Free of bias
Not patronizing
Technically accurate
Addressed to those who are knowledgeable
Appropriate for the reading level of the
respondent
III. Scales
Scales are devised to


Measure the attitudes or characteristics of respondents
Have respondents act as judges for the subject of the
questionnaire
Measurement Scales




There are four different forms of measurement scales:
Nominal
Ordinal
Interval
Ratio
Nominal Scales

Nominal scales are used to classify things into categories

It is the weakest form of measurement

Data may be totaled
Eg., What type of software do you use the most?
1 = Word Processor
2 = Spreadsheet 3 = Database
Program
4 = Email
Ordinal Scales

Allow classification

Ordinal scales also imply rank ordering

There is no difference between the importance of the choices
Eg.,The support staff of the Technical Support Group is:
1. Extremely Helpful 2. Very Helpful 3. Moderately Helpful 4. Not
Very Helpful
5. Not Helpful At All
Interval Scales

An interval scale is used when the intervals are equal

There is no absolute zero

Examples of interval scales include the Fahrenheit or centigrade
scale
Eg.,
How useful is the support given by the Technical Support Group?
NOT AT ALLUSEFUL
EXTREMELY USEFUL
1
2
3
4
5
Ratio Scales

The intervals between numbers are equal

Ratio scales have an absolute zero
Eg.,
Approximately how many hours do you spend on the Internet daily?
0
2
4
6
8
IV. Validity and Reliability
Questionnaires must be valid and
reliable
 Reliability of scales refers to consistency in
response
 Getting the same results if the same
questionnaire was administered again
under the same conditions
 Validity is the degree to which the
question measures what the analyst
intends to measure
V. Formatting the Questionnaire
Questionnaire Format

When designing questionnaires

Allow ample white space

Allow enough space for responses to be typed for openended questions

Ask respondents to clearly mark their answers

Use objectives to help determine format

Be consistent in style





Order of Questions
Most important questions go first
Similar topics should be clustered together
Randomization of questions tries the patience of
respondents
Controversial questions should be positioned after less
controversial questions
Questionnaire Design Steps
Ten Steps of Questionnaire Construction
1.
2.
3.
4.
5.
6.
7.
8.
9.
10.
Specify objectives: List of needed information
Decide method of data collection
Determine content of individual questions
Determine type of questions to use
Decide wording of the questions
Decide question sequence
Pre-Code & Obtain approval
Decide layout
Pre Test / Pilot survey
Revise & Implement
VI Methods of Administering the
Questionnaire
Methods of administering the questionnaire
include





Convening All concerned respondents
together at one time
Personally administering the questionnaire
Allowing respondents to self-administer
the questionnaire
Mailing questionnaires
Administering over the Web or via email
Web Form Questionnaires







Controls (fields) used on Web forms
Single line text box
Scrolling text box, used for one or more paragraphs of text
Check box for yes-no or true-false answers
Radio button for mutually exclusive yes-no or true-false
answers
Drop-down menu for selection from a list
Submit or Clear buttons
Electronically Submitting Questionnaires

Administering a questionnaire electronically has many
benefits
 Reduced costs

Collecting and storing the results electronically
VII Advantages and disadvantages of questionnaire:
a. Some advantages of questionnaires:



Questionnaires are more objective than
interviews.
Generally it is relatively quick to collect
information using a questionnaire.
Potentially information can be collected from a
large portion of a group. However return rates
can be dramatically improved if the questionnaire
is delivered and responded to in class time.
b. Some disadvantages of questionnaires:

Questionnaires, like many evaluation methods occur after the event, so
participants may forget important issues.

Questionnaires are standardized, so it is not possible to explain any points
in the questions that participants might misinterpret.

Open-ended questions can generate large amounts of data that can take a
long time to process and analyze.

Respondents may answer superficially especially if the questionnaire takes
a long time to complete.

Respondents may not be willing to answer the questions. They might not
wish to reveal the information or they might think that they will not
benefit from responding perhaps even be penalized by giving their real
opinion.
VIII. conclusion:

Questionnaire is an important tool in the research
methodology. They are the primary data collection
instruments. In this objective based question must be
develop and care must be taken regarding framing the
questions. The Questionnaires are written instruments. It
has both advantages and disadvantages. Investigators
should weigh all of these carefully before apply in the
research.
Thanking you..