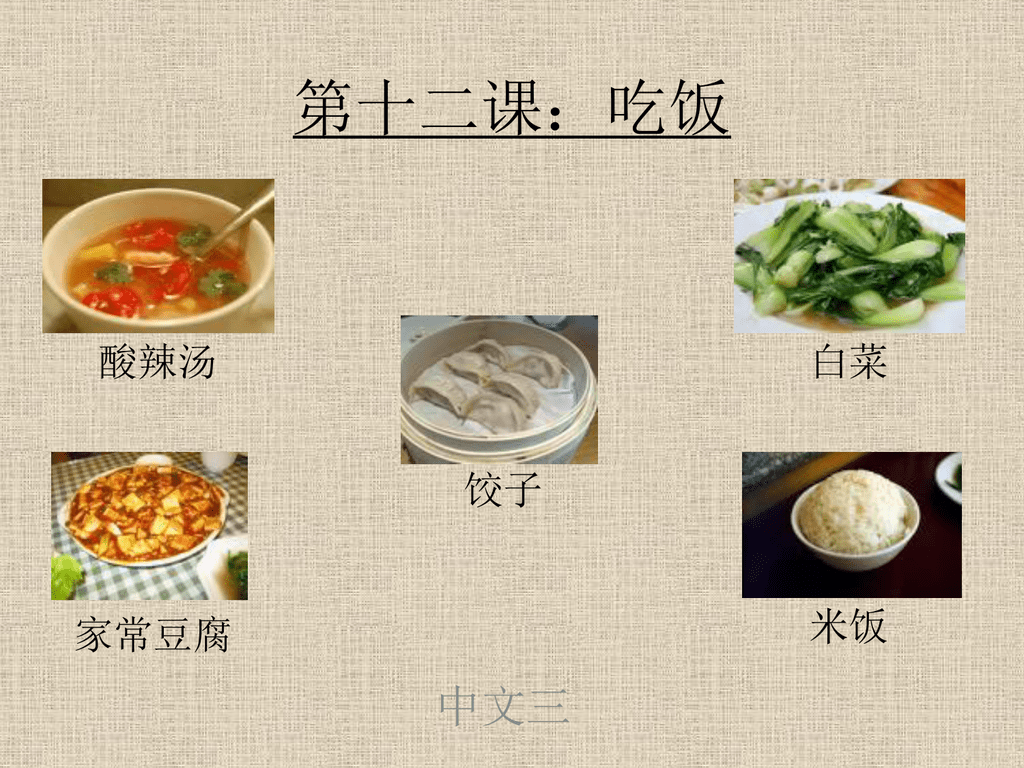 第十二课:吃饭
酸辣汤
白菜
饺子
米饭
家常豆腐
中文三
饭馆
好像
位子
服务员
桌子
点菜
盘
饺子
素
家常
豆腐
放
肉
碗
酸辣汤
味精
盐
白菜
刚
卖完
青菜
冰茶
渴
些
够
饿
上菜
语法: 一…也…不…
都 没
This grammar pattern is used to say "not at all" or "not even one."
The sentence formula is:
Subject/Topic + 一 + Measure Word + (Object) + 也 + 不 + Verb
都 没
1. 李友一个朋友 也没有
Li You does not have a single friend
2. 爸爸今天一杯咖啡都没喝。
Dad did not have a single cup of coffee today.
3. 这些 (xie) 衬衫 (chenshan) 我一件 (jian) 也不喜欢。
I don't like any of these shirts.
4. 哥哥的鞋,弟弟一双都不能穿。
Little brother cannot wear any of his older brother's shoes.
联系
I do not like any of this food.
这个菜我一盘都不喜欢.
My friend is much taller than me. I can't wear any of her clothes.
我的朋友比我高得多. 她的衣服我一件不能穿.
I did not smoke a single cigarette today.
我今天一个香烟 (xiangyan) 都不吸烟 (xiyan).
语法:The Adverb 多/少 + Verb + Object
多 and 少 are used to express the idea of doing something "more" or "less".
爸爸告诉妈妈做菜的时候少放盐,多放点儿糖。
Baba gaosu Mama zuo cai de shihou shao fang yan, duo fang dianr tang.
告诉= gaosu
做菜= zuo cai
放= fang
Dad asked Mom to add less salt and more sugar when she cooks.
上中文课多说中文,少说英文。
Shang Zhongwen ke duo shuo Zhongwen, shao shuo Yingwen.
In Chinese class, speak more Chinese and less English.
多/少 Continued
-The two adverbs used together (colloquially) can mean "how much" IE "how
much money?"
1. 这本书多少钱?
How much money is this book?
2. 我可以带多少行李?
How much luggage can I bring?
3. 你多找了我一块钱。
Ni duo zhao le wo yi kuai qian.
You gave me one dollar too many.
Another Example:
-老师说要写五十个字,我写了四十五个,少写了五个。
Laoshi shuo yao xie wushi ge zi, wo xie le sishiwu ge, shao xie le wu ge.
The teacher told us to write fifty characters, I wrote 45, I was 5 short.
刚
As an adverb (modifies a verb) 刚 shows that the action or change in situation took place
in the incredibly recent past.
*It will usually come right before the verb it is describing*
*It CANNOT by followed by negative words (没,不)*
*It CANNOT have了 at the end*
*It CAN be followed by a duration of time*(4, 6)
1. 我刚从中国来。
Wo gang cong Zhongguo lai.
I just came from China.
4. 他刚走了两天.
Ta gang zou le liang tian.
He just left two days ago.
2. 我刚洗完澡。
Wo gang xi wan zao.
I just finished showering.
5. 我刚开始学中文.
Wo gang kaishi xue Zhongwen
I just started studying Chinese.
3. 电影刚开始.
Dianying gang kaishi.
The movie just started.
6. 我刚学了三个月,只会说一点儿.
Wo gang xue le san ge yue, zhi hui shuo yidian.
I just studied three months, I can only speak a little.
刚才
-刚才 is a noun used when talking about the time period shortly before the present time.
*A sentence with 刚才 often ends with 了*
*Means "a moment ago" or "just now"
*It does not NEED to be followed by a verb, but it often is*
*It CAN be followed by negative words 没 and 不* (4)
1. 他刚才在这儿,我不知道他去哪儿了。
Ta gangcai zai zher, wo bu zhidao ta qu nar le.
He was JUST here, I don't know where he went.
2. 我朋友刚才吃了十五个饺子。
Wo pengyou gangcai chi le shiwu ge jiaozi.
My friend just ate 15 dumplings.
3. 你刚才去哪儿了?
Ni gangcai qu nar le?
Where were you a moment ago?
4. 你为什么刚才不说?
Ni wei shenme gangcai bu shuo?
Why were you not talking?
Resultative Complements
*The use of an adjective or another verb comes after a verb shows the result of
that (verb) action, hense "resultative"
Verb 1=main verb
Verb 2=resultative complement
白菜卖完了
Baicai mai wan le.
The bokchoy is sold out.
那个白板你看清楚了吗?
Na ge baiban ni kan qingchu le ma?
Did you see the whiteboard clearly?
这个字你写对了。
Zhe ge zi ni xie dui le.
You wrote this character correctly.
Negative Resultative Complements
A negative resultuative complement is formed by placing 没 or 没有 before the
main verb.
Verb 1=main verb
Verb 2=resultative complement
Negative=没有,没
白菜还没卖完.
Baicai hai mei mai wan
Bok choy is not sold out yet.
那个白板我没看清楚.
Na ge baiban wo mei kan qingchu
I did not see the whiteboard clearly.
这个字你没有写对.
Zhe ge zi ni meiyou xie dui.
You did not write this character correctly.
好 as a Resultative Complement
When used as a resultative complement, 好 shows that an action has been completed.
饭做好了!
Fan zuo hao le!
The food is ready!
功课做好了.
Gongke zuo hao le.
(I) am done with my homework.
准备好了吗?
Zhunbei hao le ma?
Did (you) prepare?