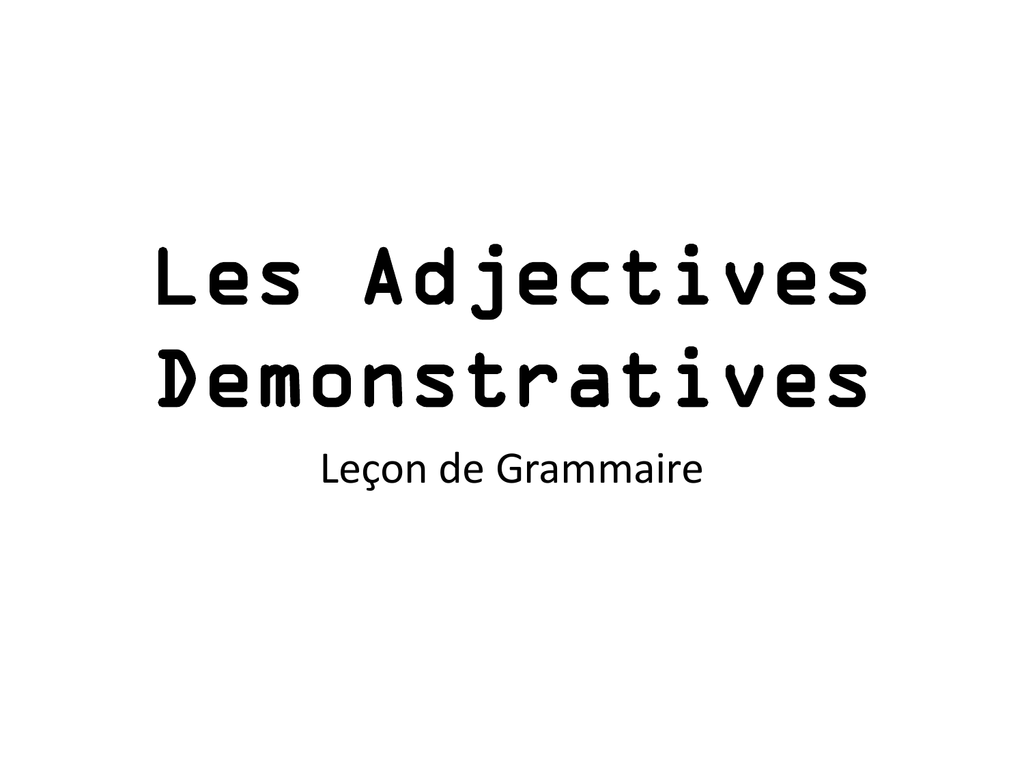 Les Adjectives
Demonstratives
Leçon de Grammaire
En Anglais
A. Demonstrative Adjectives point out
1. People
2. Things
number with the nouns
B. They must agree in _______
they describe.
SINGULAR
PLURAL
This
These
That
Those
Les Examples
• Ecrivez les examples au dessous pour les photos.
This hat
That shirt
These shoes
Those socks
En Français
A. There are more demonstrative adjectives in
French than in English.
B. In French, adjectives not only have to agree
GENDER
with NUMBER but also with ___________
Masculine
Singular
Feminine
Singular
Feminine
Singular
before a
vowel
All Plural
CE
CETTE
CET
CES
(means this
or that)
(means this
or that)
(means this
or that)
(means these
or those)
En Français
cont'd
• All of the singular demonstrative adjectives in
This
That
French can mean ________
or _________.
– CE, CETTE, and CET
• There is only one plural demonstrative
adjective in French. It can mean ________
These or
Those
_________.
– CES
Les Examples
• Comment dit-on…
Ce chapeau (m.s.)
– This hat. _________
Cette cravate
– That tie. _________(f.s.)
Ces chaussettes
– These socks. ____________(p.)
– Those coats. ____________
(p.)
Ces anoraks.
– This scarf. _________(f.s.
before a vowel)
Cet écharpe
m.s. = masculine singular
f.s.= feminine singular
p.= plural
Une Petite Chose…
ci
• ________
means here
là
• ________
means there
Examples:
Tu aimes ces bottes-ci?
Do you like these boots here?
_______________________?
Non, j'aime ces bottes-là!
No, but I like those boots there!
_______________________!
** Add a hyphen (-) plus either of these two words
after your noun to say HERE or THERE.