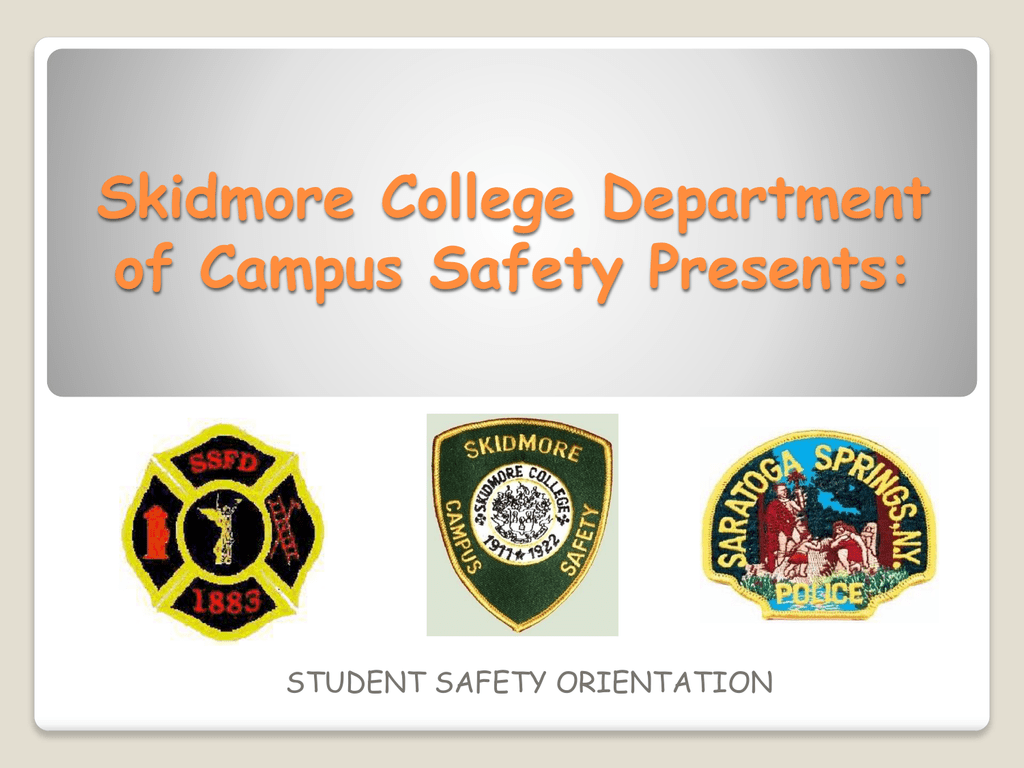 Skidmore College Department
of Campus Safety Presents:
STUDENT SAFETY ORIENTATION
Introductions
Skidmore Campus Safety
Saratoga Springs Police Department
Saratoga Springs Fire Department
Sexual Misconduct Policy with PA/PHE's
CAMPUS SAFETY
Enforce College Rules
 Cooperate with Local Authorities
 Collaboration with Res Life
 Focus on Quality of Life Issues

◦ Personal Responsibilities
◦ Building Cooperative Relations
This is YOUR HOME!!!
– Treat it that way
Services

Defensive Driving
◦ 10/8, 9 – 5:30P – 8:30P






Escorts
Bike Patrol
Battery Jump Start
Operation ID
Bike Registration
First Aid/CPR
◦ 10/10 – 6:00P – 9:00P

Fire Extinguisher





Safety Alerts
Mounted Patrol
Community Policing
Skidmore Urgent
Notification System
R.A.D. (Rape Aggression Defense)
◦ 10/15, 17, 22, 24 – 5:30P – 8:30P
Emergency Contact Info
 Campus Safety Office – 24/7/365
518-580-5566
 Emergency Numbers
 580-5566 – We answer and will know your location
 911 – SSPD answers and we will respond to your location
 Cellular 911 – Saratoga County Sheriff's Department
 "TIPS" Line (8477) – Confidential Reporting Line
 "Snow" Line (7669) – Weather – School Closing Info
Emergency Information

Blue Safety Lights – throughout
campus

Elevators
◦ Emergency phones should work during
power outages
◦ We call to check

AEDs (Automated External
Defibrillators)
◦ At several locations on campus

Campus Safety vehicles, Dining Hall, Case, Sports
Center, Zankel, Palamountain, others
◦ Training Offered by Campus Safety
◦ Call Campus Safety if possible

Evacuation Chairs
◦ Used by trained personnel
◦ DO NOT TAMPER WITH!
◦ Locations:
 Tower, JKB, Palamountain, Library
Skidmore Urgent Notification
System (SUN System)

Multi-layered communication system to alert the community in the event of an emergency
◦ Siren – Mounted on top of the library

When siren sounds – become aware of your surroundings...something is HAPPENING and you need to take
action.

A message will follow

Used for immediate emergencies: tornado, armed subject, serious hazmat spill
◦ e2Campus - Web-based, mass-notification system that sends alerts to community members


emails, voicemails, text messages

emergency info and important notices such as snow removal schedule

Facebook, Twitter, Skidmore Website for updates
Your cell phone info will be automatically entered into the system
http://www.skidmore.edu/campus_safety/
Ability
Desire
Opportunity
If one of the 3 elements is eliminated, a
crime will NOT occur!!
Crime Triangle
You are responsible for eliminating
"OPPORTUNITY!!"
Do



Travel in groups when
possible
Become familiar with
surroundings
Lock your doors &
carry your keys at all
times
◦ Report loss immediately


Use Designated
Drivers
Produce your ID when
requested
Stay in well lighted areas
Lock your vehicles at all
times
 Have a plan & Let others
know it (TELL SOMEONE


WHERE YOU ARE GOING!)
Use positive peer
pressure on others
 Keep a record of
important info – credit
cards, serial numbers,
etc.

Do



Attend parties with
friends you trust
and leave with
them
Protect your drinks
from "date rape"
and other drugs
MAKE A SCENE – if
you feel threatened
or pressured

Be wary of suspicious
people and things and
REPORT THEM!
Don't

Prop Doors

Damage Property
◦ Vandalism, recklessness
◦ Laziness will compromise safety
◦ Severe consequences may
result
 $Thousands every year
◦ Graffiti
◦ This is HOME! Respect it!
Motor Vehicle Policy

Register your vehicle
Fire Lanes/Handicap – we
tow!
Parking

Violations

Snow Removal


◦ Park and walk
◦ Handicap spaces
◦ >3 = "boot"
◦
◦
◦
◦
Check Schedule – print it out
SUN System notification
Two Day procedure
"SNOW" Line 7669
About SSFD
◦ 2 Stations with a minimum of 9 F.F. per day
◦ Provide fire suppression, EMS, hazmat, rescue
◦ Covers 29 sq. miles & approx. 30,000 people
Your Responsibilities

Minimize unnecessary F.D. responses

Be courteous to other students

Accountability during fire alarms/ drills

Stay clear of responding apparatus

What if I can't evacuate the building?
◦
◦
◦
◦
Separate yourself from the hazard (close doors)
Stay near a door or a window
Communicate where you are to the best of your ability
Stay calm
Building Systems & Fire
Equipment

Extinguishers

Sprinkler heads and FDC

Fire Alarms and detectors

Fire doors, emergency lights, exit signs
Northwoods Dual purpose Smoke
and CO2 Detector
Wiecking Hall
Smoke and Heat Detector
Fire Extinguisher
DO NOT TAMPER WITH!!!
Fire Doors
Close Automatically
Do NOT prop!
Wiecking Hall
Fire Pull Station
Fire Safety Tips

Know the location of fire alarms and practice using your fire exit

DO NOT tamper with fire alarms or extinguishers.
 (IT'S A CRIME!)

Keep flammable materials away from all heat sources

DO NOT overload electrical circuits

SMOKING is PROHIBITED!

DO NOT store any highly combustible material in you room

Halogen lamps are prohibited

Candles, incense and open flames are prohibited.
What To Do In The
Event Of A Fire
• THINK… and DON'T PANIC
• Your PRIMARY Responsibility is to GET OUT!
• FEEL THE DOOR FOR HEAT: If the metal knobs or door are hot:
• DO NOT OPEN THE DOOR: Go to a window and call for help
• DO NOT JUMP: our doors and walls are fire rated to survive a lone time
• KEEP LOW TO THE GROUND: There is more fresh air
• If you CAN exit your room: Close the door behind you, pull a fire alarm and go to
the Evacuation Assembly Point.
• DO NOT USE ELEVATORS to exit a building.
Saratoga Springs Police
Department
The Role of Police
• Overview of NYS drug and alcohol laws
• DWI
• Zero Tolerance
• Open Container
• Noise Ordinances
• How to interact with police officers
• Fitting in with "neighbors"
• Reporting crimes
• Interaction between SSPD and Campus Safety
• What happens if you are arrested?
Skidmore College Sexual
Misconduct Policy,
Reporting, Response,
& Resources
Skidmore's Sexual Misconduct
Policy
Effective Consent

Effective consent is informed, freely and actively given and
is based on rational and reasonable judgment.
Potential Violations:
1.
2.
3.
4.
5.
6.
7.
Sexual Penetration
Sexual Touching, Disrobing and/or Exposure
Sexual Misconduct by Incapacitation
Sexual Harassment
Sexual Exploitation
Attempted Act
Retaliation
Reporting Options
Confidential
 Peer-to-Peer Anonymous
 Non-Confidential

Confidential reporting

The incident and your name will not be shared
with anyone:
◦
◦
◦
◦
◦
Health Services
Counseling Center
College Chaplain
Victim Advocates (Jen McDonald & Michelle Murray)
SGA Attorney
Peer-to-peer anonymous

Date and location will be reported for Clery,
but names will not be included:
◦ Peer Advocates
◦ Peer Health Educators
Non-Confidential Reporting

College reporting sources
◦ These individuals treat information with respect and
care, but are required to disclose information in
order to protect campus community safety.
Examples include:
 Title IX Deputy Coordinator
 Campus Safety
 Dean of Student Affairs
 Faculty
 Residential Life staff
 Other campus staff
 Any student in a position of authority, and any staff or
faculty member not identified as a confidential source
When an Incident is Reported to a
College Reporting Source
All reports will be forwarded to the Title IX Deputy
Coordinator for review
 In ALL cases, the College will be respond in a a
prompt, thorough, and procedurally fair manner
 In MOST cases, the review will involve a thorough
fact-finding investigation
 The findings, based on a preponderance of the
evidence, will be used to determine next steps,
which may include an Administrative Conduct
Hearing

The Clery Act
Jeanne Clery was raped and murdered in her
dorm room at Lehigh University in 1986 by
another student.
 Her parents believed that her death may have
been prevented had the college done more to
inform the campus community about other
violent crimes on campus.
 The Clery Act requires schools to disclose
information about crime on and near campus

Campus
Safety
Alerts
Resources on Campus
 Confidential
Cannot disclose information without written permission from the student
(exceptions are very rare and only involve imminent safety concerns)
Health Services, 518.580.5550 (x5550)
Counseling Center, 518.580.5555 (x5555)
Victim Advocates, Jen McDonald (518.580.5684) &
Michelle Murray (518.580.8256)
 Campus
Safety
Available 24/7
518.580.5566 (x5566)
In Basement of Jonsson Tower
 Title
IX Deputy Coordinator: Mariel Martin
Available 9am-5pm
Case 224
518.580.8212 (X8212)
Resources: Off-Campus

Saratoga Hospital Emergency Room
◦ Rape Kit/SANE exam-72 hour window
◦ Emergency treatment post assault

Saratoga Domestic Violence and Rape Crisis
(DVRC)
◦ 24 hour hotline 518.584.8188
◦ Onsite ER counseling and support
◦ Offices at 480 Broadway offer
counseling/support/referral
◦ 518.583.0280
◦ http://www.dvrcsaratoga.org
Questions???