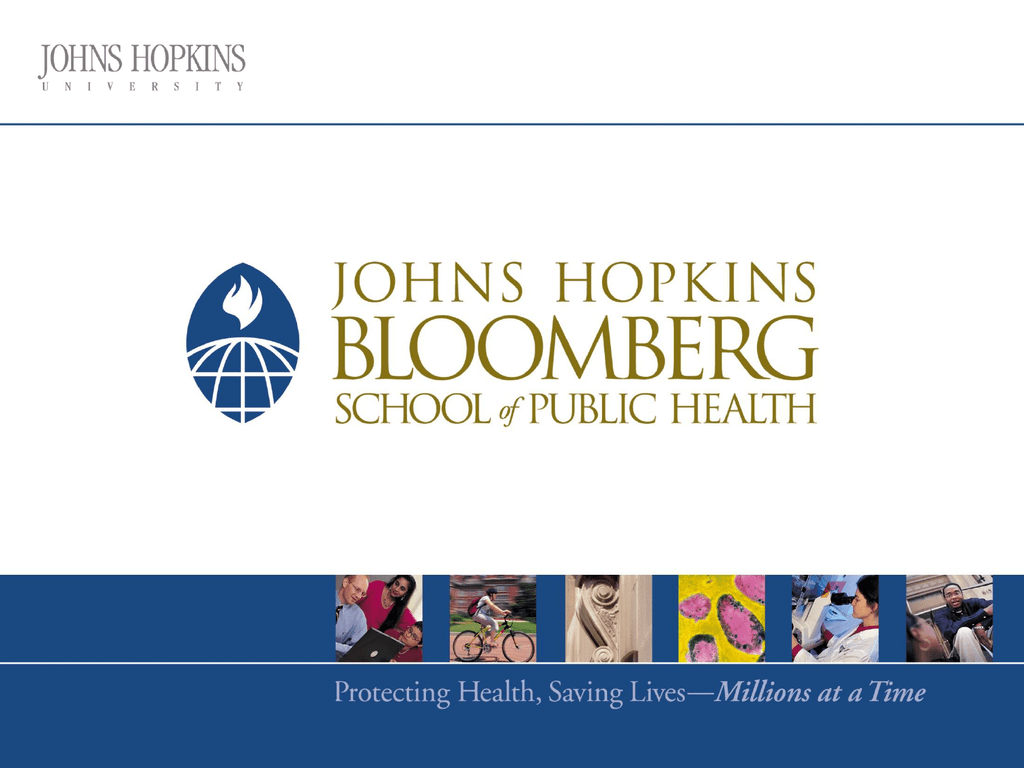 Public Health Practice
Opportunities in Baltimore
Mindi B. Levin, MS, CHES
Founder and Director, SOURCE (Student Outreach Resource Center)
JHSPH Faculty Appointment: Health Policy and Management
Baltimore Community Practicum, Course Director
410-955-3880
[email protected]
www.jhsph.edu/source
Practice Options Through SOURCE
• Baltimore Community
Practicum course
• The Connection
Community Consultants
• Certificate in CommunityBased Public Health
• Academic Courses
• Special Studies
• Federal Work-Study
Baltimore Community Practicum
To provide a planned,
supervised, and evaluated
experience for students to
gain experience in
population health with a
community-based
organization (CBO) or local
health department (LHD).
WHAT is the Baltimore Community
Practicum (BCP) Course?
 A credit-earning course that provides field experience and learning
in the real public health world.
 An internship where students apply classroom knowledge to a CBO's
or LHD's public health issues.
 A partnership
 SOURCE (Student Outreach Resource Center)
 Johns Hopkins Bloomberg School of Public Health
 Various CBOs and LHDs the Baltimore area
BCP Course Requirements
 A public health practice experience
 Minimum of 60 hours effort
 Over 2nd and 3rd academic terms
 Attendance
 Weekly seminars in the course
(Tuesdays, 3:30 pm – 4:20 pm)
 At least ½ day per week on site
(4 – 8 hrs/wk)
 Register for 550.864.01 after accepted
 2-4 credits per term, Pass/Fail
 Actively engage in a practice-based project
 Submit educational plan
 Oral presentation & paper
What is Covered in the Seminar?
 Basic concepts of servicelearning, CBPR, and civic
professionalism
 Practical methods for promoting
partnerships between
communities, public health
agencies, academic institutions,
CBOs and LHDs
 Effective communication skills
 Information about Baltimore's
history, health issues,
leadership, and more!
Participating CBOs
•
•
•
•
•
•
•
•
•
•
•
•
•
•
American Diabetes Association
Baltimore City Health Department
Baltimore Health Care Access
Baltimore Medical System
Baltimore SquashWise
Behavioral Health Leadership Institute
Health Care for All!
House of Ruth, MD
International Rescue Committee
Jewel House
Living Classrooms Foundation
People's Community Health Centers
United Way of Central MD
And many more!
Available Projects
• Developing Healthy Eating and Exercise
Habits for Youth
• Enhancing Baltimore City's Community
Outreach Initiatives for Older Adults
• Bite Bed Bugs Back! Initiative (B4)
• Evaluation of 2-1-1 Program at UWCM
• Improving Access to Health Care
Resources for Resettled Refugees
• Healthy Living: Educating Patients on the
Important Link Between Environment and
Health
• The Eastside/Westside Community
Challenge for Healthy Living
• And many more!
Performance Evaluation
 Community Preceptor's Evaluation
 Participation in the Weekly Seminar
 Written Educational Plan
 Reflective Journals
 Oral Presentation
 Final Paper
Application Process
 View all possible projects online
 Prioritize projects by your interest
 Submit application (Mon, Sept 13th at
5 pm deadline)
 Interviews (weeks of Sept 20th –
Oct 6th)
 Matching occurs in early October
 Register for 2nd term when accepted
Be on the lookout for reminders over the activities-l listserv!
PHASE vs. BCP
PHASE and BCP
Contact Aita Amaize at:
[email protected]
"The Connection"
Community Consultants
Small Teams, Short-Term Projects
• Strategic Consulting
• Fundraising Strategy and Grants
• Performance Measurement
• Communications Consulting
• Secondary Data Analysis and
Mapping
www.jhsph.edu/source
Go to "Students" and then "The Connection"
"The Connection"
Community Consultants










Grants
Community outreach initiatives
Develop policies and procedures
Curriculum design
Program evaluation
Literature review
Develop communication materials
Financial audit
Secondary data analysis/mapping
And more…
"The Connection"
Community Consultants
 Fill out a Consultant Profile Form
 Submit your resume to SOURCE
([email protected])
 Projects will be announced in first
term. 3-4 rounds per year.
 Select your projects of interest
 Diverse Connection teams are
organized
 Group leaders are assigned
 Connect with your CBO
 SOURCE support, Evaluations
Certificate in Community-Based
Public Health
Educational Objective:
To assist students in developing skills
and competencies for careers in both
community-based public health
practice and research, particularly
for applications in underserved urban
settings.
Certificate in Community-Based
Public Health
Core Courses:
410.631: Introduction to Community-based Participatory
Research: Principles and Methods
(2nd term, 3 units)
550.864: Baltimore Community Practicum
(2nd & 3rd terms, 2-4 units per term)
410.630: Implementation and Sustainability of CommunityBased Health Programs
(4th term, 3 units)
Certificate in Community-Based
Public Health
Complete Elective Courses focusing
on these competencies:
Contact:
 Cultural Competency Skills and
Attitudes
 Linking Social and Environmental
Causes of Disease and Community
Health
 Community Dimensions of
Practice Skills and Attitudes
Dr. Janice Bowie, [email protected]
Mindi Levin, [email protected]
Barbara Diehl, [email protected]
Academic Courses
• Program Planning for Health
Behavior Change
• Baltimore Food Systems
• Qualitative Research course
series
• Program Monitoring and
Evaluation
• Health Communications
Customized Experience
• Developed as independent
project under the direction of a
faculty advisor:
– Agreement with CBO
– Agreement with Faculty
– Variable Credits
– "Special Studies"
– How to "Show" Learning
Federal Work-Study Program
• For FWS-qualified students only
• Review all available positions in
the Financial Aid Office (E1002)
• Review FWS positions posted in
SOURCE's Weekly Service
Scoop
Connect with SOURCE
• Subscribe to SOURCE's Weekly Service Scoop!
Email [email protected] and type "subscribe"
• "Like" SOURCE on Facebook
www.facebook.com/JHUSOURCE
• Follow SOURCE on Twitter
http://twitter.com/JHUSOURCE
• View SOURCE's Website
www.jhsph.edu/source
Get involved with the
Local Community!
Questions?