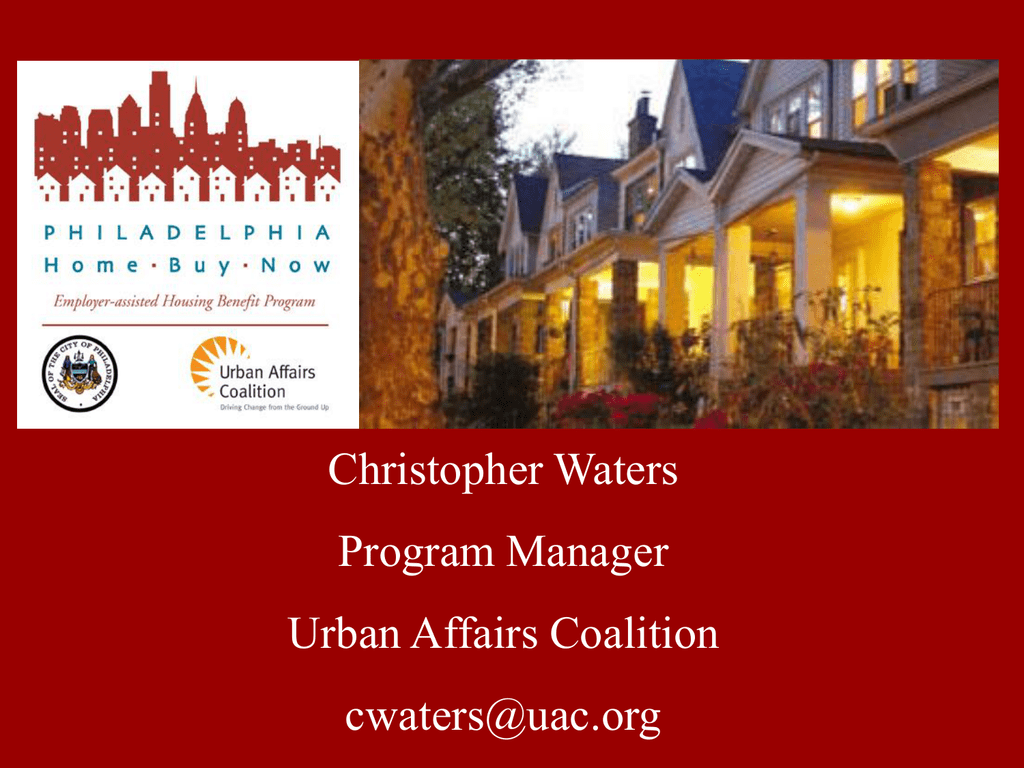 Christopher Waters
Program Manager
Urban Affairs Coalition
[email protected]
Philadelphia Home•Buy•Now
What is the program?
■
■
Philadelphia•Home•Buy Now is a matching grant
from the City of Philadelphia of up to $4,000.
This is an unrestricted, dollar-for-dollar match for
grants or forgivable loans made by the
participating employers to their employees for
home purchases in the City of Philadelphia.
In May of 2011, $935,000 was budgeted for
administration and matching grants which will
leverage approximately $24 million in mortgage
financing.
What does it do?
■
■
Home•Buy•Now is a program designed to assist
Philadelphia employers to recruit, retain, and
reward valuable employees as well as a
community redevelopment tool.
There are no income and/or geographic limits
except those created by the employer. However,
employees that purchase within designated target
areas receive up to $4,000, outside of the target
areas receive up to $2,000.
Housing Benefit Options
■
Financial assistance for purchasing a home
can be allocated towards the following:
–
–
–
–
closing costs
down payment
prepaid interest or "points"
mortgage insurance
Additional Housing Benefit Options

•
•
•
Home ownership workshops
Housing counseling services
Discounted services
Linkages to other program and services
Home•Buy•Now
July 2011-April 2014
Number of Participating Employers
Number of Houses Purchased
23
136
Matching Grants Given
$441,705
Total Funds by Employers
$974,096
Total Home Sales
$29,902,627
Philadelphia Home Buy Now
Participating Employers
•
•
•
•
•
•
•
•
•
•
•
Cancer Treatment Centers of
America
Chick's Café and Wine Bar
Diamond and Associates
Drexel University**
Energy Coordinating Agency
Episcopal Community Services
Gypsy Lane Technologies
Horizon House
Keller Williams Realty – Center
City
Martin Banks
Mid-Atlantic Health Care LLC
•
•
•
•
•
•
•
•
•
•
•
•
NewCourtland Elder Life
Nochumson PC
Re:Vision Architecture
Saint Joseph University
Seer Interactive
Special People In Northeast, Inc.
Temple University**
University of Pennsylvania**
Urban Industry Initiative
Village of the Arts and Humanities
Weavers Way
Welch and Associates
Home•Buy•Now
November 2004-September 2009
Number of Participating Employers
43
Number of Houses Purchased
221
Median Cost of House
$134,000
Median Household Income
$74,000
Total Home Sales
$38,256,469
University of Pennsylvania's
Targeted Area
• EFL
Boundaries
are
Haverford
Avenue,
52nd Street,
Woodland
Avenue and
the
Schuylkill
River
• CCRP
Boundaries
are City
Line Ave,
Cobbs
Creek
Pkwy,
Woodland
Ave & the
Schuylkill
River.
Temple University's
Targeted Area
Properties in
eight zip codes
are eligible:
- $5,000 loans
will be provided
for homes in
19121, 19122,
19132, 19133,
19140
- $4,000 loans
will be provided
for homes in
19123, 19125,
19130
Drexel University's
Targeted Area
$15,000
Forgivable Loan
Boundaries:
31st to 42nd
Streets and
Chestnut Street
to Mantua
Avenue
Snapshot of Employer Assisted
Housing
NewCourtland
• 39 Houses Purchased
through the
YourHome Program
• Has made the housing
benefit part of their
community
development program
• Program is designed to
encourage employees
to purchase a home
and build asset
• Mid-Atlantic
purchased New
Courtland sites and
continued the program
Impact Study of
Philadelphia Home Buy Now
• University of Pennsylvania's Wharton
Social Impact Study Consultant Group
selected the PHBN program in January
2014
• Three main focuses of the study: Benefits to
Employers, Employees and City of
Philadelphia
Snapshot of Employees
• 63% of the PHBN Grantees were multimember households
• 61% were female applicants
• 60% were low-to-moderate income level
households
Benefits to the Participating
Employers
• "Eds and Meds" and social services
organizations received 81% of the PHBN
grants awarded
• Neighborhood Stabilization: 91% of the
home purchased with PHBN grants are
owed by the original grantee
• For targeted areas home purchased through
the PHBN program jumped 163%
Benefits to the City of
Philadelphia
• The taxable values of the homes owned by
Philadelphia Home Buy Now grantees is at
$48 million (February 2014).
• $2.2 million in tax revenue since 2008
($643K annually).
• $2.7 million in transfer tax has been
collected from home sales.
Future of the Philadelphia Home
Buy Now Program
• Expansion of the Discounted Services Portion
• Continuation of involvement by the Participating
Employers
• Secure supplementary funds from other sources to
replace the City of Philadelphia funds once expended
• Continue to research the impact and benefits of the
Philadelphia Home Buy Now program
Employer-Assisted Housing Websites
Philadelphia Home Buy Now Website
http://www.uac.org/philadelphiahomebuynow
Anchor Institution Task Force
http://www.margainc.com/initiatives/aitf/
Questions?