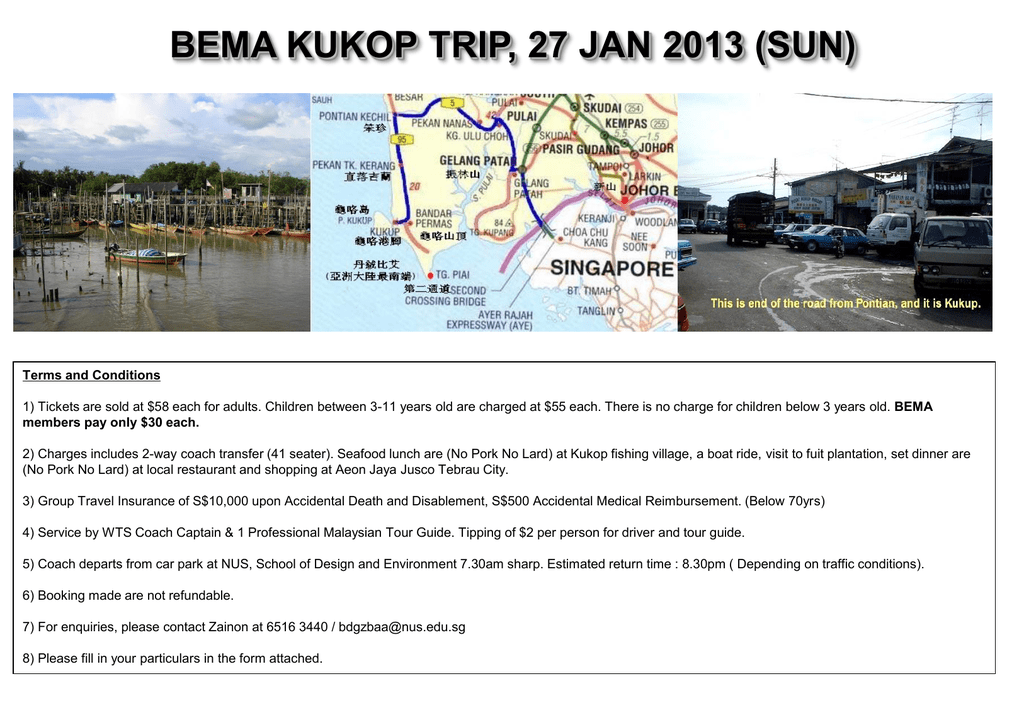 BEMA KUKOP TRIP, 27 JAN 2013 (SUN)
Terms and Conditions
1) Tickets are sold at $58 each for adults. Children between 3-11 years old are charged at $55 each. There is no charge for children below 3 years old. BEMA
members pay only $30 each.
2) Charges includes 2-way coach transfer (41 seater). Seafood lunch are (No Pork No Lard) at Kukop fishing village, a boat ride, visit to fuit plantation, set dinner are
(No Pork No Lard) at local restaurant and shopping at Aeon Jaya Jusco Tebrau City.
3) Group Travel Insurance of S$10,000 upon Accidental Death and Disablement, S$500 Accidental Medical Reimbursement. (Below 70yrs)
4) Service by WTS Coach Captain & 1 Professional Malaysian Tour Guide. Tipping of $2 per person for driver and tour guide.
5) Coach departs from car park at NUS, School of Design and Environment 7.30am sharp. Estimated return time : 8.30pm ( Depending on traffic conditions).
6) Booking made are not refundable.
7) For enquiries, please contact Zainon at 6516 3440 / [email protected]
8) Please fill in your particulars in the form attached.
REGISTRAION
Name
Passport No.
Expiry
Date
Date Of
Birth
Nationality
Gender
Course (Year of
Graduation)
Costs
(BEMA member $30
Non members : Adult
$58, Child $55
TOTAL
Contact person : Name __________________________________ Email ________________________________ Contact number _________________________
Note
1) Bookings are on a first come first served and while stocks last basis (subject to confirmation), An email confirmation will sent only upon receipt of the completed registration form
below and cheque (made payable to BEMA, NUS) before the closing date.
2) Please send your registration form to Building & Estate Management Alumni, c/o Dept of Building, National University of Singapore, School of Design and Environment, 4
Architecture Drive, Singapore 117566 Attn : Zainon Bte Abdul Aziz (Ms)
3) Closing date for registration : 11 Jan 09 (Fri)
1 DAY KUKUP TOUR
0730 hrs
Pick up at NUS and depart for Tuas 2nd Link Check-Point for Customs and Immigration Clearance.
0815hrs
After Custom clearance, proceed for breakfast on own expense.
0930hrs
Proceed to Kukup Fishing Village with houses on stilts at the water's edge.
Upon arrival in Kukup, you will take a boat ride to see how fishes are reared in floating nets.
You can also purchase local products such as handicraft, keropok, belacan & etc.
1200 hrs
Seafood Lunch will be served at High King Seafood Restaurant in Kukup. (No Pork No Lard)
1300 hrs
After lunch, visit to Fruit Plantation inclusive of admission fee.
1430hrs
Proceed to Aeon Jaya Jusco Tebrau City for shopping.
1800hrs
Set Dinner will be served at local restaurant in JB. (No Pork No Lard)
1900hrs
After dinner, continue journey back to Singapore
2030hrs
Estimated arrival in Singapore.
*Itinerary timing is base on estimation and is subjected to change due to unforeseen circumstances.