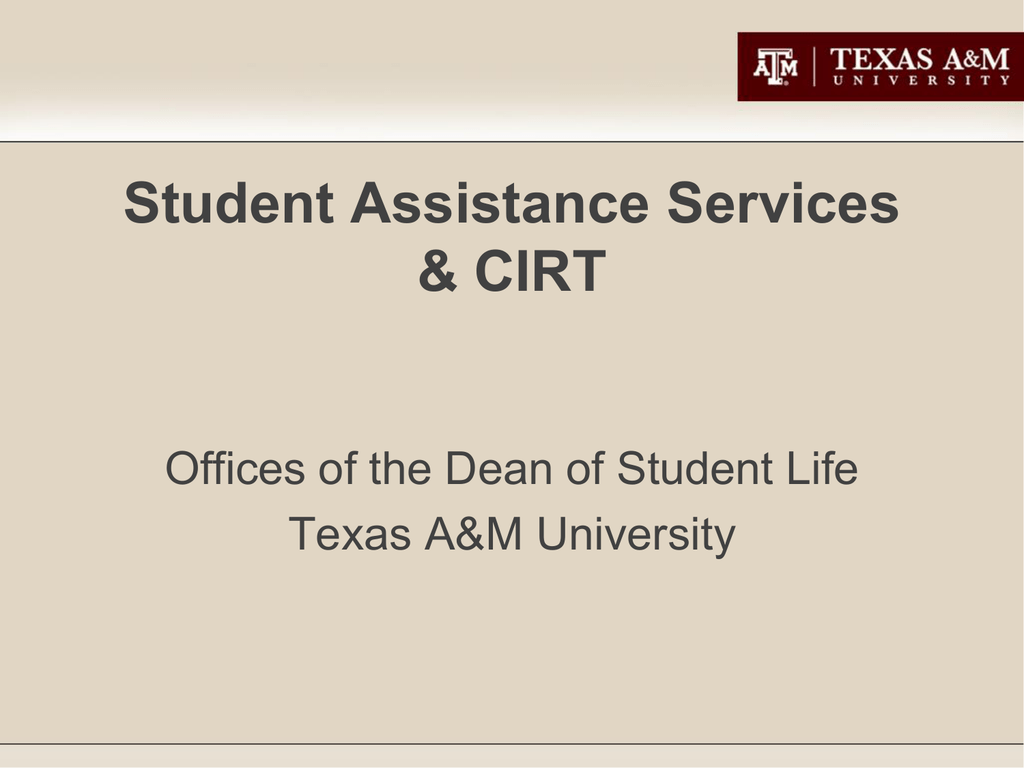 Student Assistance Services
& CIRT
Offices of the Dean of Student Life
Texas A&M University
Student Assistance Services
Staff Members
• Angela Winkler
– Assistant Director
• Risa Bierman
– Assistant Coordinator
• Davanna Minter
– Administrative Assistant
845-3113
Located in Cain Hall C-217
Student Assistance Services
• Academic and personal guidance,
resources, and support
• "Triage"
Student Assistance Services
•
•
•
•
•
•
•
Referrals & connecting people to resources
Student welfare checks
Student absence notifications
Student death/ Silver Taps
Withdrawal support
Transition issues
Consultation about university rules, process,
and grievances
Tell Somebody
• Any member of the University community
may report concerning behavior using an
online report form
• Reports are submitted to the Special
Situations Team – who will distribute
appropriately for follow-up
• Tellsomebody.tamu.edu
Title IX Reporting
• As an A&M Employee – you have a
responsibility to report any discrimination,
sexual assault or sexual violence
• Federal law mandates how quickly action
must be taken once the University is notified
• You are considered "the University" when you
are made aware of any incident
Title IX Coordinator: Mr. Charley Clark
[email protected]
Deputy Coordinators:
Dr. Cynthia Hernandez – Students
845-4728, [email protected]
Dr. Blanca Lupiana – Faculty
845-4274, [email protected]
Ms. Kathy Symank – Staff
862-4027, [email protected]
Critical Incident Response Team
(CIRT)
Critical Incident Response Team
(CIRT)
• Provide university response to assist
and support students during/after a
critical incident
• Assist with immediate concerns
• Also provide assistance and support to
families and members of university
community
CIRT Members
•
•
•
•
•
•
•
•
•
Risa Bierman- Student Assistance Services
Kelly Cox- Student Life Studies
Tracey Forman- Disability Services
Jake Hayes- Student Activities
Katy King- Memorial Student Center
James Nash - Student Recreation Center
Lyndon Pryor – Memorial Student Center
Christine Thoorsell- Residence Life
Angela Winkler- Student Assistance Services
What is a critical incident?
•
•
•
•
•
•
•
•
Student death
•
Suicide ideation or attempt
•
Serious injury or illness
•
Sexual assault, abuse, or
violence
•
Mental health crisis
•
Drug/ Alcohol overdose
Contacting students in case of •
family emergency
•
Airplane/ Automobile/ Train
accidents
Natural disasters
Infectious disease
Domestic/ International
kidnapping
Hate/ Bias incidents
National/ International
emergencies
Campus disturbance/riot
Fire/ Explosion with injuries or
significant damage
How does it work?
•
•
•
•
•
Activated through UPD
On-call member gathers information
Responds to incident
Refers students to appropriate resources
After incident follow-up
Questions?