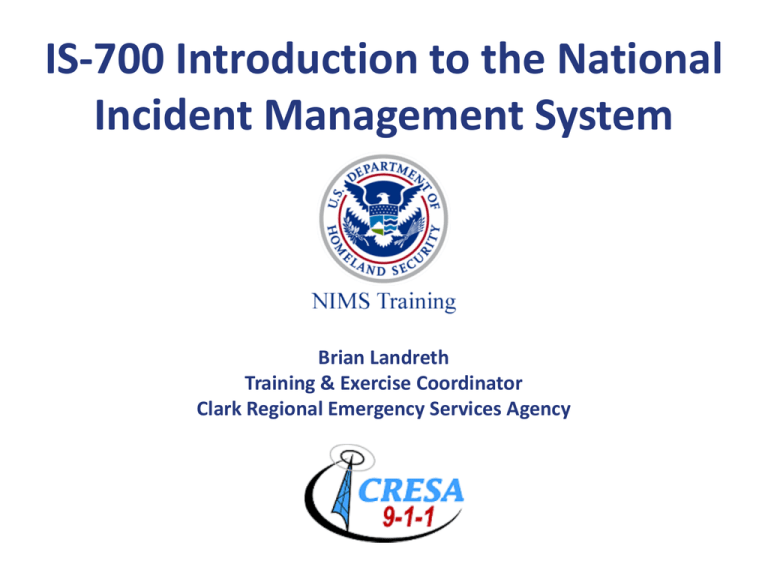 IS-700 Introduction to the National
Incident Management System
Brian Landreth
Training & Exercise Coordinator
Clark Regional Emergency Services Agency
What is
Nocturnal Insect Mating Society?
Non Inherited Money Scams?
Non Interesting Meeting Syndrome?
Not Interested Marital Status?
National Incident Management System
Components of NIMS
• Preparedness
• Command and Management
• Communications and Information Support
• Resource Management
• Ongoing Management and Maintenance
Why NIMS?
Adoption of NIMS is a condition for
Federal preparedness assistance
The National Response Framework (NRF):
 Defines roles
 Adds structure
 Facilitates Federal support
 Creates consistency
Establishes a standard organizational structure
What Is An Incident?
in·ci·dent
n.
: a definite and separate occurrence
: an occurrence or event that interrupts normal procedure or
precipitates a crisis
: Something contingent or related to something else
Managed at the lowest level possible.
Preparing For Incidents
Training & Exercises should:




Prepare staff using all hazards approach
Teach and test plans
Contain corrective actions
Involve partner agencies
ICS 101
Responsible for all incident activities!
Interfaces with the public and media
Incident
Commander
Public Information
Officer
Liaison
Officer
Direct management of activities
Operations
Section Chief
Planning
Section Chief
Safety
Officer
Logistics
Section Chief
Finance/Admin
Section Chief
Responsible for creating Incident Action Plan
Command vs. Coordination
To command or coordinate? That is the question………..
Command – "The act of directing, ordering, or controlling by virtue of explicit
statutory, regulatory, or delegated authority at the field level."
Coordinate – "Bring the different elements of a complex activity into a
harmonious relationship, negotiate with others in order to work together
effectively."
Elected officials or administrators should not direct
on-scene technical operations
Command Structures
Unified Command




Shared objectives
Increased collaboration
Improved Information flow
Better resource prioritization
Area Command
Multiple incidents with multiple incident commanders
Multiagency Coordination System
Dispatch
On-Scene Command
MACS are the "Architecture of
Support"
Public Information
Emergency Operations Center
The Facility
Emergency Operations/Coordination Center
Supports Incident By:
• Policy decisions
• Coordinating agencies
• Process requests
• Communications
support
Mutual Aid
Mutual aid agreements provide a way to quickly
obtain emergency assistance.
Communications & Information
Use plain language and common terminology to enhance
interoperability.
Public Information
Messages can include information about:
• Weather closures
• Crime
• Schedule changes
• Reunification plans
• Illnesses
Speaking With One Voice
Joint Information System:
 Allows executives/senior officials
coordinate and integrate
messages
 Establishes procedures in
advance
 Provides framework for
organizing delivery of public
information
 Is a system not a location
Managing Resources
Incident
Identify
Requirements
Inventory
Order &
Acquire
Reimburse
Recover/
Demobilize
Mobilize
Track &
Report
Resource Requests
I've Got Credentials
"I know I'm a lawyer. What I'm saying is it might be
time to hire a better lawyer."
Competence and Proficiency
NIMS Maintenance
National Integration Center
•
•
•
•
•
Required by HSPD-5
Credential standards
Assessment criteria
Promotes capability
Exercise support
And That Is NIMS In a Nutshell
Questions, comments, follow up
To receive certificate take online exam at:
http://training.fema.gov/EMIWeb/IS/courseOverview.aspx?code=is700.a
Thank You!