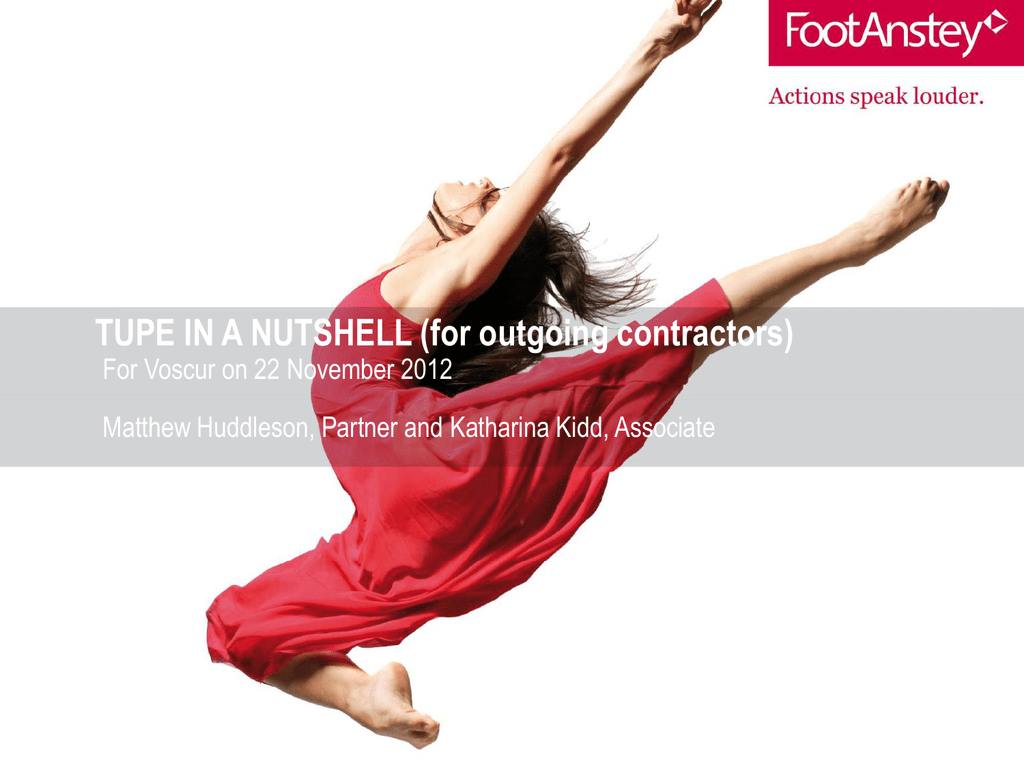 TUPE IN A NUTSHELL (for outgoing contractors)
For Voscur on 22 November 2012
Matthew Huddleson, Partner and Katharina Kidd, Associate
INTRODUCTION
•
The outgoing contractor's perspective
•
What we are going to cover:
• Pre-transfer
• What is TUPE and when does it apply?
• Service Provision Changes
• Who and what transfers?
• The transfer: what is involved and managing the process
•
•
•
•
The duty to inform and consult: on what, to whom and how?
The process of appointing representatives
The role of employee representatives
Employee Liability Information
• Post transfer
• TUPE related dismissals and changes to terms and conditions
WHEN DOES TUPE APPLY
•
"Relevant transfer"
• Business transfer
• Eg: Sale or transfer of business; Incorporation; Joint venture company; Hive up/hive down;
Part of an undertaking or business.
• Service provision change (SPC)
• Eg: Activities awarded to a contractor; Activities transferred to a new contractor on
subsequent re-tendering; or Activities ended with the bringing "in-house" of the service
activities.
• Checklist for SPC
•
•
•
•
Service provision change activities awarded to a contractor
Organised grouping of employees
Principal purpose to carry out services
On behalf of the client
WHEN DOESN'T TUPE APPLY
•
Share sale
•
Transfers of administrative functions between public administrations
•
Services are too fragmented
•
TUPE Does NOT apply to a SPC where:
• Single specific event/ task of short term duration
• Contract for supply of goods for client's use
• No organised grouping of employees or not their principal purpose to carry out the
activities for the client
•
What about where the parties agree that TUPE doesn't apply?
WHAT IS THE EFFECT OF TUPE? (1)
New provider "steps into the shoes" of the Client/ Old Provider
WHAT IS THE EFFECT OF TUPE? (2)
Protects employees' rights
Employees transfer
with the "business"
or "services"
On existing terms of
employment and
with no break in
service (exception
some rights under
occupational
pension schemes)
With inherited
liabilities
Special protection
against dismissal
WHO AND WHAT TRANSFERS?
•
Any person employed by the transferor
and assigned to the organised grouping
of resources
•
Employee
•
•
Not genuine self employed contractor or
agency worker
Assignment at time of transfer
•
•
•
Contract
Time
Cost/Value
WHO DOES NOT TRANSFER
•
The right to object
•
•
•
•
Don't transfer
Old contract terminates on transfer date
No dismissal BUT
• employees can claim that resigning due to substantial change
• If so, deemed to be dismissed
Can the old provider reassign staff so TUPE applies/ doesn't apply depending on
commercial aims?
•
TOP TIP : Check any contractual terms with providers
THE TRANSFER PROCESS: INFORMATION AND CONSULTATION
• Information and Consultation
• Transferor
• Informs and consults its affected employees
• Transferee
• Provides "measures" to Transferor and inform/ consult its affected employees
• Who are:
• The affected employees?
• The appropriate representatives?
• Recognised trade union
• Employees elected for the purpose
• If employees fail to do in reasonable time, inform directly
THE TRANSFER PROCESS – ELECTION OF REPS
•
Decide how many reps needed
•
All employees are eligible to stand
•
Ensure candidate has sufficient term and
mandate
•
Election needs to be:
•
•
•
•
Fair;
Voting in secret;
Accurately counted.
In practice? How long does it take?
RIGHTS AND OBLIGATIONS OF REPS
•
Obligations
• Receive info and pass it on
• Obtain views and make them known to employer
• Act as a point of contact
•
Rights
•
•
•
•
•
Paid time off to perform duties
Training where necessary
Facilities (e.g. office space, meeting rooms and secretarial support)
Not to be victimised (but not favourable treatment)
Representations considered in positive/constructive manner
QUESTION TIME
• Which of the following are "measures"?
• Youth West runs a different pay date and new employees will be paid on the last day of
every month as opposed to the 15th of each month.
• Youth West uses a different system for the administration of service user details and
employees will need training on this.
• It is likely that Youth West will need to make redundancies post transfer but hasn't
decided how many people this will impact.
THE TRANSFER PROCESS – EMPLOYEE LIABILITY INFORMATION
•
Obligation to provide Employee Liability Information
•
•
•
•
•
Identity/age of employee
Particulars of employment
Collective agreements
Disciplinary/ Grievance proceedings in last 2 years
Claims – last 2 years and potential claims
•
Required to provide at least 14 days before the transfer
•
Failure to Provide: Minimum of £500 per employee
•
Check the contract
GLOVES OFF?
LIABILITY
•
All claims relating to the employees who should transfer
• Save those relating to failure to properly inform and consult) will transfer to the new
contractor.
• From the date of the transfer, can effectively treat them as employees of the new
contractor
•
Conversely, liability for those employees who don't (and shouldn't) transfer will
remain with the original employer
•
Definitive answer on whether there is a transfer = only court / tribunal can decide
• So where the picture is not entirely clear, there will be an element of risk taking involved
DISPUTES ARISE OVER…
•
Whether the services have been
fragmented so that TUPE may not apply
•
Which employees are assigned to the
service provision
•
Whether there is a substantive change in
function of duties
•
These are not easy issues to resolve
WHAT DO WE DO?
•
Identify all of the staff affected by the loss of the work, and split into two groups:
• Those who are assigned to the contract, and
• Those who are not.
•
Start consultation with representatives of the groups of affected employees
• There are legal requirements for this process.
•
An all-staff communication explaining the situation would also be helpful.
•
Make contact with the new contractor
• inform them of the situation, and the details of the employees transferring.
• General details will be fine in the first instance, but this will need to be followed quite
quickly by the legally required "employee liability information"
RISK OF CHANGE
POST TRANSFER: TRANSFER RELATED DISMISSALS
•
Transfer related dismissals automatically unfair,
unless dismissal for an ETO reason when it is
potentially fair
•
Even if dismissing for an ETO reason must follow
fair procedures
•
What is an ETO reason?
•
•
"An economic, technical or organisational reason
entailing changes in the workforce"
Restructure as an ETO - reduction in workforce or
substantial change of job functions if no reduction.
CHANGING TERMS AND TUPE
•
If change is not transfer connected normal rules apply:
• Can make change by e.g:
• Agreeing the change
• Dismiss and re-engage on new terms (N.B. Collective consultation?)
•
If change is transfer connected, different rules apply:
• Changes are void unless:
• For an ETO reason; and
• Consent/ Dismissal and re-engage
•
Harmonisation?
• Connected to the transfer but no ETO reason: no change in the workforce - need
change in numbers or functions
THANK YOU
MATTHEW HUDDLESON, PARTNER
Tel: 01392 685338 / email: [email protected]
Twitter: @MattHuddleson (or find me on LinkedIn)
•
The information in this pack is intended as a guide only. Whilst the information it
contains is believed to be correct, it is not a substitute for appropriate legal advice.
Foot Anstey can take no responsibility for actions taken based on information
contained in this pack.