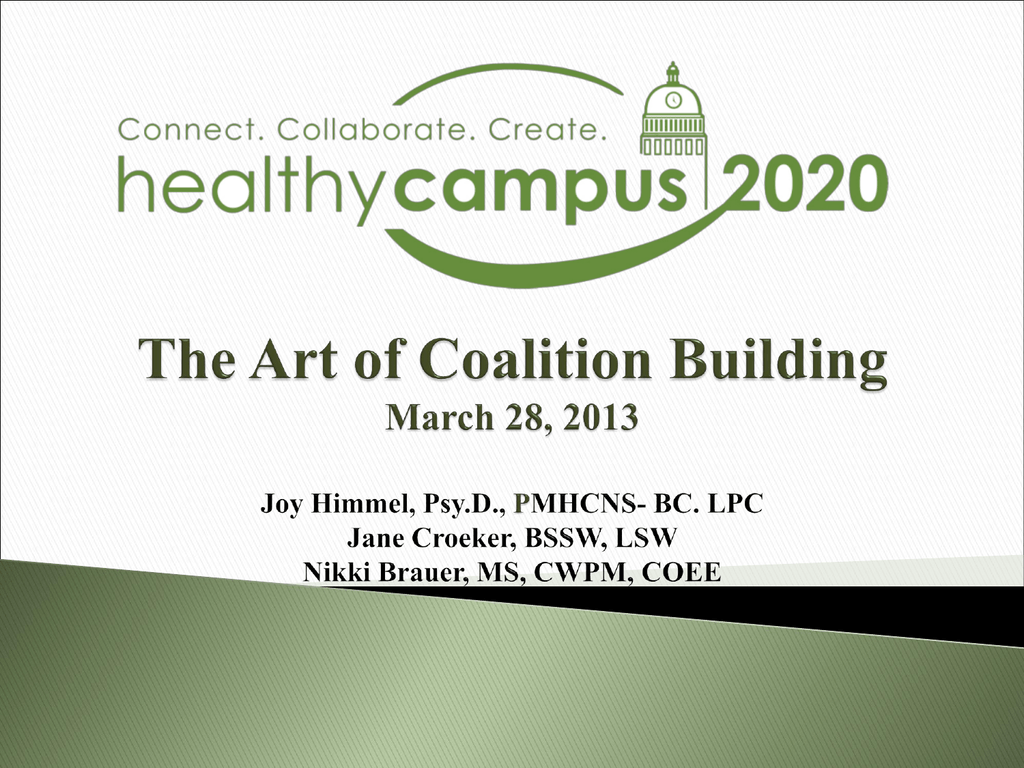 PENN STATE ALTOONA
Healthy Campus 2020
Joy Himmel Psy.D,PMH-CNS, LPC
Director Health & Wellness Center
Health & Wellness
Center





Four year liberal arts
4,000 students
Rural setting
On and off campus
housing
HWC: Integrated
Care model; Primary
Care, Health
Promotion,
Counseling and
Disability Services



Two full-time NP's
Contracted physician
Medical Assistant (s)
Health Services


One contracted
psychiatrist
Five LPC's
◦ Two MH counseling
◦ One MH and ATOD
◦ One Triage/Outreach and
case management
◦ One alcohol and other
drug intervention
program
Counseling &
Psychological Services


Alcohol and Drug Abuse Prevention TeamCommunity Coalition (1997-2009)
Wellness outreach initiatives – Health &
Wellness Center, Residence Life, Student Life
◦ Core Survey
◦ NCHA
• Inconsistent and poorly coordinated
efforts




Difficulty with faculty engagement,
participation
Primary focus on high risk alcohol use
Inconsistency with measurable objectives and
outcomes
Reporting structure to the Director of Student
Affairs






A – Assess (what data is collected?)
D - Diagnosis (what is the problem?)
O - Outcome Identification
P – Plan (how to manage the problem)
I - Implement (putting plan into action)
E - Evaluate (did the plan work?)
How To Start: (top down)
 Vision/Mission:
◦ Address environmental factors that reduce risk
◦ Coordinate campus/community efforts related to
student health, wellness, and safety
◦ Promote positive choices and behaviors
◦ Provide a coordinated continuum of care

Develop a coalition model; Identify key
stakeholders
Health Advisory Board
Steering
Committee
Alcohol and
Other Drug
Prevention
Sexual Health,
Sexual
Assault/Violen
ce Prevention
Mental Health
and Suicide
Prevention


Reporting structure to the Chancellor
Steering Committee: Director Student Affairs,
Director Health & Wellness Center, Associate
Dean of Academic Affairs
◦ Role: Guidance, Liaison, Oversight, Budget approval


Three sub-committee structure composed of
stakeholders from campus/community
Co-chair model- (1) faculty (1) staff



Sub-committee chairs were appointed based
on leadership- representing academics and
student affairs- Fall 2011
Committee members: representation from
faculty, staff, students, community
Initial meetings:
◦ Steering Committee meeting- Spring 2012
◦ Co-chair meeting with Steering Committee- Spring
2012
HAB Composition









Faculty representatives: Variety of departments
Staff representatives: Student life, Res. Life,
Student Conduct
Student representatives: Student groups, Greek,
Athletes
Landlords
Local agencies: Counseling, Sexual Assault, D&A
PLCB: Pennsylvania Liquor Control Board
Police departments: campus and community
Hospital
High Schools







NCHA campus specific and national data
(Spring 2013, 2011, 2009)
Healthy Minds Study (2010)
Healthy People 2020, Healthy Campus 2020
NCDP data
PSU Safe data (first year alcohol module)
PSU Aware data (first year sexual assault)
Counseling Center and Health Center data

Development of an annual strategic plan with
Goals, baseline data/source, Objectives,
Action Steps, Responsible party(s), Evaluation
◦ Annual budget based on targeted need$4,000/sub-committee, plus funds for the NCHA
every other year
◦ Data driven and evidenced-based plans linked to
the budget



Monthly sub-committee meetings
Steering Committee involvement throughout
the year
Annual outcome based reports



Begin planning for 2013-2014, based on new
NCHA data
Stress the importance of measurable
objectives (percentage increase/decrease)
Do additional root cause analysis to
determine other directions for planning and
intervention
Challenges




Active involvement of membership- 15
members per sub-committee (distribution of
tasks)
Faculty engagement
Developing measurable objectives and
actions based on identified needs
Systemic approach/ evaluation
Jane Croeker, LSW
Health and Wellness
Promotion Director
University of North
Dakota

15,250 students
11,953 undergrads
Grad, Law & Medical
Non-Res/Alien 6.6%
Hispanic
2.4%
◦ AI/AN
2.15%
◦ Black/Non His 2.1%
◦ White/Non-His 79.1%
◦
◦
◦
◦
Located in Grand
Forks – 50,000
people





Student Health
Services
Counseling Center
Wellness Center
Work Well
(Employee
Wellness)
H&W Promotion
Team
◦ Healthy UND/Healthy
UND 2020
Building a
Solid
Foundation
Creating a
Blueprint
for the Future
Vision:
Healthier
Students,
Faculty,
and Staff
October of 2000
Launch







Who do we know?
Who might benefit?
Who has an interest?
What perspectives are
needed?
Reach out and invite
Ask for input
Who are we missing?






What H& W
programs/services are
already in place?
What are our
gaps/needs?
What advice/ideas do you
have?
Are you willing to get
involved (provided
options)?
Who else should I talk to?
Presidential Kick Off
Mission:
To work in partnership to
promote healthy lifestyle choices
by enhancing awareness, building
skills, changing social norms, and
creating a healthier environment
Membership:
202 UND students,
administrators, faculty,
and staff









Quilt of Hope
Spirituality Walk
Prairie Garden
Healthy UND Walking
Trails
Wellness Center
Work Well
Healthy Food Options
Wellness Living Learning
Community
Tobacco-free Campus
 Charge:
Create an action plan
to address top health
and wellness issues
that negatively impact
students' academic
performance and
retention.




Students
◦ Student Government,
Greek, Undergrad, Grad,
Diversity,
◦ Peer Educators
Faculty
◦
◦
◦
◦
◦
Nutrition & Dietetics
Physical Education
Nursing
Medicine
Teaching & Learning
Campus Minister
First Lady

Staff
Library Director
Architect
TRIO programs
Student Success Center
Residence
Services/Dining
◦ H&W Unit
◦
◦
◦
◦
◦






AVP for H&W
Fitness
Nutrition
Mental Health
Clinic Nurse
Health Promotion







Academic success
Not the usual
suspects
Group norms
Socio-ecological
framework
Vision
Review data
Develop priorities






Opinion Surveys
Student Focus
Groups
ACHA-NCHA II
CORE AOD Survey
NIRSA Rec Bench
Institutional
Research
◦ Freshman,
Sophomore, Senior,
NSSE

SHS, UCC, & WC





Alcohol and Other
Substance
Use/Abuse
Mental Health
Physical Activity
Nutrition
Healthy
Relationships/
Social Skills






Recruited members
Elected leadership
Completed socioecological
frameworks
Shared best
practices
Prepared
inventories
Reviewed data
Reached
consensus
 Created general
recommendation
s
 Developed goals
 Craft SMART
objectives











Student Data Highlights
Healthy UND/Healthy UND 2020 Annual Meeting
Healthy UND 2020 Call to Action Report
Monthly Priority Focus
Alcohol & Other Drug Committee
Nutrition Subcommittee
Physical Activity Subcommittee
Tobacco Free Campus Task Group
Partnerships/Collaborations
Resources/Support










H-UND/H-UND 2020 Annual Meeting
Alcohol & Other Drug Committee
Nutrition Subcommittee
Physical Activity Subcommittee
Tobacco Free Campus Task Group
Work Well Advisory Committee – Faculty & Staff
Wellness LLC Advisory Committee
Internal and External Collaborations
Resources/Support
Baselines and Targets
Building Blocks
•
•
•
•
•
•
•
•
•
Administrative support
Financial support
Broad membership
Active engagement
Effective communication
Mutual respect
Staff support
Planning
Accomplishments









Find the mutual benefit
Margaret Mead was right
Remember the Principle of Creative Tension
Sustain the focus on academic impact
Cultivate advocates and champions
Never stop recruiting
Look for low hanging fruit
Emphasize policy, cultural, and environmental
change
Be in it for the long haul - Policy takes patience
Nikki Brauer, MS, CWPM, COEE
Director,
Health Promotion and Wellness
Illinois State University
Chair Elect, ACHA Faculty Staff Health
and Wellness Coalition




Faculty and Staff – 3,500
Graduate and Doctoral Students – 2,500
Undergraduate – 19,000
Undergraduate Institution with an Emphasis
on Teaching

The mission of the University Wellness Council is to
provide leadership for the Illinois State University
community by addressing issues of health, safety,
and environmental sustainability that affect faculty,
staff, and students.

Established in 1989 via a Presidential Appointment

Budget - $7,600.00 annually





First Decade: Collaboration was goal
Objectives: Wellness/Fitness, Substance Abuse,
STI's and AIDS
Second Decade: Campus Wide Approach
Goals identified for the Campus, Employees, and
Students
Focused on Funded Projects: 1999 - 2010



2004 – UWC Defines Wellness at Illinois State –
7 Dimensions: Emotional, Environmental, Intellectual,
Physical, Social, Spiritual, and Vocational
2004, 2008 – Educating Illinois Strategic PlanGoal 5: Illinois State University will provide a healthy, safe,
and an environmentally sustainable campus.


2009 –Health Promotion and Wellness Created
2013 – Revised Educating Illinois document
proposes health objectives in three main goals














Campus Dining
Environmental Health and Safety
Facilities Management
Health Promotion and Wellness
Department of Health Sciences
Mennonite College of Nursing
Provost Office
School of Kinesiology and Recreation
Student Counseling Service
Student Health Services
Office of Sustainability
University Housing Services
University Police
Office of the Vice President for Student
Affairs








ACHA NCHA – Biennial
Core Alcohol and Drug Survey – Biennial
Faculty Staff Health Status Survey – Biennial
Healthy Minds
Environmental Scan – spring 2012
NSSE
University Housing Survey of Students
Focus Groups - Faculty, staff, students

Define the Values that identify our ideal community

What's getting us closer to our values?

What's taking us away from our values?

What stakeholders are not represented?

What don't we know?

Based on the above, begin building outcomes, goals,
objectives and strategies

Assessment -Identify measurable objectives related to
Healthy Campus 2020

Advocacy-

Collaboration-

Communication –Support avenues that distribute health
Comprehensive approach to programmatic
activities to reduce redundancies, maximize utilization of
resources among campus units and broader community
Enhance opportunities for faculty, staff,
students to make more positive, healthy, and productive life
choices
information affecting health status of various segments of the
campus community
Sleep
 Stress and Emotional Health
 Fitness and Physical Activity
 Nutrition
 Sustainability



Performing SWOT Analyses of the priority
health areas to be completed by 3-29-13
Rethinking the number of meetings.
Considering creative ways to continue to
gather stakeholder feedback with less face
to face meetings. Recent observation.


Utilizing Healthy Campus framework
to invigorate energy in this coalition
Planning process has allowed
stakeholder involvement to prioritize
which health issues they are most
invested in working toward



We believe need new membership to move
Healthy Campus 2020 forward
Fragile situation: How do we do this without
harming relationships already established?
Identify key people willing to do the work.
Who will actually work on projects? We're in
the process of finding this out.



University Wellness Council is moving
from an advisory group model toward
the ecological model.
The new focus of this coalition has
changed the group dynamics.
Patience is a virtue…..




Faculty Staff Participation in Wellness Activities,
events and Programs (release time policy)
Employee Assistance Program
Nursing Mothers in the Workplace – 2013
(Identifying lactation spaces is the next step)
Smoking and Tobacco – Smoke free Quad January
2013





Engage your governance bodies for
representation
Human Resources – reach out
Wellness Ambassadors (champions) – Find
them, engage them in the process
Inventory Health Related Policies – review
these with a broadened focus that includes
faculty, staff and students.
Assess the needs- does your campus have
data on your faculty and staff?

Joy Himmel, Psy.D. PMH-CNS
◦ [email protected]

Jane Croeker, BSSW, LSW
◦ [email protected]

Nikki Brauer, MS, CWPM, COEE
◦ [email protected]
Questions?