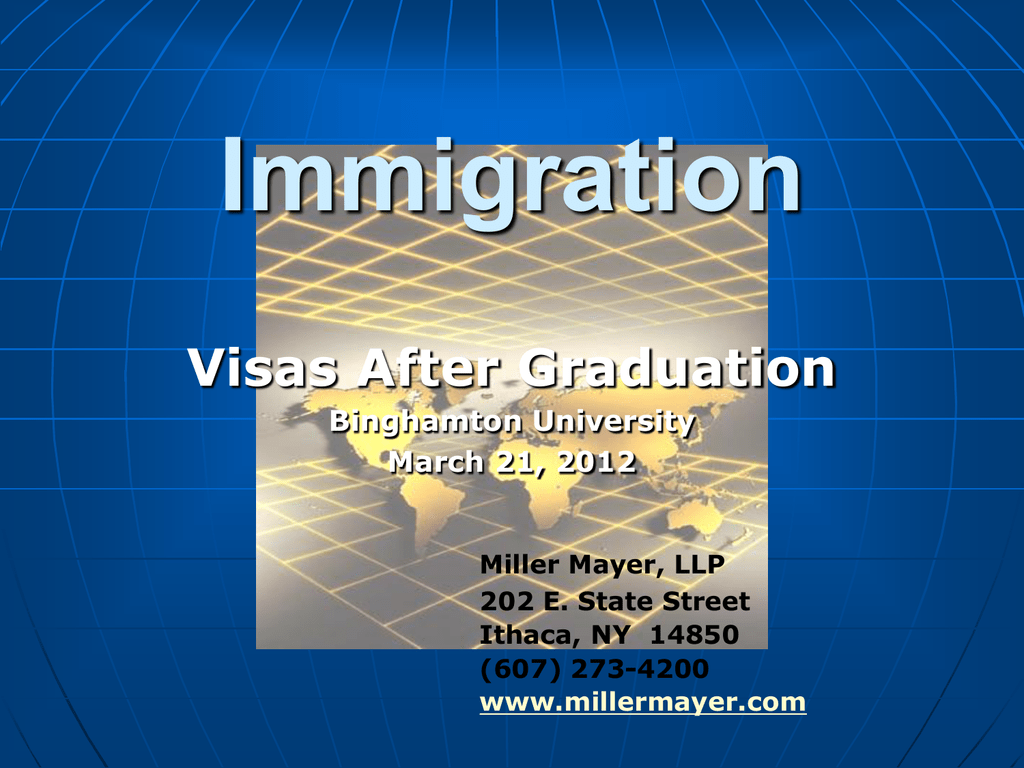 Immigration
Visas After Graduation
Binghamton University
March 21, 2012
Miller Mayer, LLP
202 E. State Street
Ithaca, NY 14850
(607) 273-4200
www.millermayer.com
Overview
 Nonimmigrant visas
 Immigrant visas
Nonimmigrant Visa Categories













A Diplomats
B Visitors
(business/pleasure)
C
Transit
D Crewman
E
Treaty trader/investors
F
Academic students
G International
Organization
H Temporary workers
I
Journalists/Media
J
Exchange visitors
K Fiancés/fiancées of
US citizens
L
Intra-company
transferees
M Vocational students










N
Parents or children of special
immigrants
O Persons of extraordinary
ability
P
Athletes or entertainers
Q International cultural
exchange visitors
R Religious workers
S
Federal witnesses (sneaky
snitches)
T
Trafficking of persons victims
TN NAFTA professionals (Mexico
and Canada)
U Certain crime victims
V Certain spouses/children
waiting for green cards
H-1B Nonimmigrant Visas
 Employer sponsored for up to 6 years in a
"specialty occupation"
 3 Requirements:
• Job must require a Bachelor's degree or
higher in specific field
• Beneficiary must have at least the relevant
Bachelor's degree or equivalent
• Employer must pay a required wage
Procedure

File Labor Condition Application (LCA) -Employer must pay higher of prevailing or
actual wage; no adverse work conditions for
US workers

File H-1B petition (Form I-129)

Overall processing time frame:
• 3-4 months normally
• Premium processing possibility: 2 weeks
Advantages of H-1B:




Duration:
• 6 year maximum
• 1 year stay outside U.S. refreshes 6 yrs
• additional H extensions if green card started by
end of 5th year
Time to work toward green card
No advertising or test of the U.S. labor market
-- but new large employer restrictions
-- and new ITAR attestations
H-1B portability when change employers
Disadvantages of H-1B:





Tied to one employer
Not flexible like F-1 OPT
Paperwork, cost and delay
October 1st start date + cap race
Fees:
$825 - $3,550 filing fee
$ 2,500 approx. legal fee
What is the H-1B "cap"?



65,000 per fiscal year
Of 65,000, 6,800 carved out for Chile
and Singapore
Separate 20,000 for graduates with
U.S. master's degree or higher
Race for H cap visas
 Quota year: October 1 to September 30
 Apply Earliest: April 1 (6 months before)
 Past years' H-1B quota filled:







August 10, 2005 (FY 2006)
May 26, 2006 (FY 2007)
April 3, 2007 (FY 2008)
April 7, 2008 (FY 2009)
December 21, 2009 (FY 2010)
January 26, 2011 (FY 2011)
November 22, 2011 (FY 2012)
 If needed, USCIS conducts "lottery" to select cases to be
considered for H-1B approval
20,000 U.S. Master's
Exemption

Defining receipt of degree
"complete requirements for degree"



Accredited U.S. institutions
All advanced degrees included
Master's cases considered under both
caps
H-1B Cap Exemptions






College/university employees
Related or affiliated nonprofit entities
Nonprofit research organizations
Government research organizations
Prior cap H-1B holders
J-1 shortage area waivered doctors
Moving from Exempt to Cap
Subject Employer




Makes you subject to the cap
Concurrent employment: consider
part-time with each job
Pre-October 1 portability
Changing jobs between April 1 and
October 1
OPT Timeline & Cap Gap Extension
Apply
2/27/12
60-day grace period
Program end
date
5/27/12
7/26/12
Apply for H
4/1/2013
EAD expires
7/23/2013
You choose your
OPT start date
Example: 7/24/12
Apply up to 90 days
before program end date
and no later than 60 days
after.
12 months OPT plus cap
gap extension
10/1/2013
Good News Administrative Efforts
17-month OPT extension for PRIOR STEM
degree
H-4 work authorization for certain spouses
Article: DHS Reforms To Attract And Retain
Highly Skilled Immigrants
P.L. 111-230 –
Large Employers

P.L. 111-230 certification that large
company does not have 50% or
more H-1B employees; if more than
50%, employer pays additional fees
ITAR -- Export Controls
Attestation


Regulations restrict release of certain
"technology" and "technical data" to
certain foreign nationals
Employers of covered foreign
nationals must get a license to
release "technology" or "technical
data"
H-1B Conclusion
H-1B visas are the workhorse of the
temporary worker visa categories, but
are complex and must be done correctly
to avoid immigration or Labor
Department violations. Limited supply
makes careful planning essential.
Fraud Site Visits and
LCAs for New Worksites
Employer Site visits:
 USCIS Office of Fraud Investigation
 DOL LCA audits
Foreign National inspections:
 U.S. consulate DS-160 visa processing
 CBP airport inspection: where do you work?
Carry LCA for additional worksite
 Border patrol interior stop
compliance important, enforcement occurs
Other NIVs








B/WT: bridging as a visitor
E-1/E-2: treaty traders/investors
E-3: only for Australians
F/J: back to school options
J: professional trainees
H-3: Up to two years of on-the-job
training
L-1: move out of U.S. for a year
L-2: derivative spouses with work
authorization
O: Extraordinary ability aliens
(researchers and artists)
Other NIVs continued

E-3: only for Australians
•
•
•
•

2 year renewable, indefinitely
10,500 annual quota
LCA only, consular filing
Spouse and child work permits
L-1: multinational transferee
•
•
•
•
12 months foreign employment
Executive, manager, specialized knowledge
Lower cost, green card, harsh adjudications
Spouse work permits
Other NIVs continued (no quota, no
maximum stay)
E-1/E-2: treaty traders/investors

•
•
•
•
Start/buy a company
50+% foreign owned
Lead, direct, manage
No China, India; few Middle Eastern or African countries
Os and Ps: extraordinary ability or
performer

• Portfolio, c.v., reviews and publications
• 3 of 8 criteria
O-1 Criteria
Eight criteria for classification:
1. Receipt of a nationally or internationally recognized prize for
achievement in field
2. Membership in associations in field that require "outstanding
achievement" of their members
3. Material published about applicant in major trade publications
or other major media
4. Applicant serves as a judge of others in field either individually
or on a panel
5. Original, scientific, scholarly, artistic, athletic, or businessrelated contributions of major significance in field
6. Authorship of scholarly articles in field
7. Performing a critical or leading role for organizations that have
a distinguished reputation
8. Commanding a high salary in field
TNs






Mexican/ Canadian citizens
Unlimited extensions
Residence outside U.S.
Up to 3 years in job offer in listed occupation
Bachelor's degree/license in that field
See chapter 16 of NAFTA and 8 C.F.R. §
216.4
Common TN Occupations






Accountant
Architect
College/university
professor
Computer systems
analyst
Engineer
Graphic designer






Management
consultant
Occupational
therapist
Registered nurse
Scientific
technician
Social worker
Urban planner
TN Procedure for Canadians

Bring to U.S. port of entry:
• Proof of citizenship
• Statement from employer stating the
qualifications of the position
• Evidence of applicant's qualifications for that
position
• Filing fee
Approved applicants can leave and re-enter
the U.S. with their endorsed multiple entry I94 cards

How Can I Become a US Permanent
Resident?

Family-based

Employment-based

Diversity Lottery
Family Relationship Basis






Immediate Relatives –children, spouses, or parents of
US citizens (no limit per year)
Unmarried sons & daughters of US citizens (23,400
visas per year)
Spouses/minor children & unmarried sons and
daughters of US permanent residents (114,200 visas per
year)
Married sons and daughters of US citizens (23,400 visas
per year)
Brothers and sisters of US citizens (65,000 visas per
year)
US citizen son or daughter sponsor must be age 21 or
over
Employment Basis





Priority Workers (EB-1)
40,000 visas per year
Extraordinary ability (self-sponsor)
Outstanding professors & researchers
(tenure-track position)
Business executives & managers (no
labor certification required)
Advanced degree holders (EB-2)
40,000 visas per year
Professionals with advanced degrees
or exceptional ability in sciences, arts
& business (labor certification
required)
National Interest Waiver of labor
certification requirement
Skilled & unskilled workers (EB-3)
40,000 visas per year

Skilled workers in short supply

Professionals with bachelor's degree

Unskilled workers in short supply
(all require labor certification)

Special Immigrants (EB-4)
10,000 visas per year
Religious workers; certain US govt.
employees; Panama Canal
employees; plus certain dependent
juveniles

Investors (EB-5)
10,000 visas per year
Must invest between $500,000 and
$1 million
Must create at least 10 full-time
jobs

Most Common Way to Get an
Employment-Based Green Card
(for EB-2, EB-3)
PERM
(DOL)
I-140
Immigrant
Visa Petition
(USCIS)
Adjustment
of Status
AOS
(USCIS)
Consular
Processing
Overseas
(DOS)
PERM Labor Certification

A certification from the Department of Labor that a
particular position at a particular company is "open"
because no qualified U.S. workers are available

Employer must complete 5 kinds of recruitment,
show ability to pay wage and prepare audit file

Electronic filing with US DOL

Upon certification, must file I-140 within 180 days

Final step: may have to wait for some EB-2, EB-3s
I-140 Green Card Petitions
(without PERM Labor Certification)

Three types of EB-1 priority workers:
1. EB-1-1 Extraordinary ability aliens
2. EB-1-2 Outstanding professors and
researchers
3. EB-1-3 Multinational executives and
managers
 EB-2 (Advanced degrees, Exceptional
ability) with "national interest" waiver
Green Card Processing Backlogs




"Priority date" is "current"
EB-3 category and India and China in
EB-2 category:
It could take five years or longer to get
an immigrant visa, even if you start
today!
Read our bi-monthly newsletters for up
to date news information
Quota Delay: Wait for Priority Date
to File Adjustment of Status (April 2012)
EmploymentBased
All Chargeability
Areas Except Those
Listed
CHINA- mainland
born
INDIA
MEXICO
PHILIPPINES
1st
C
C
C
C
C
2nd
C
01MAY10
01MAY10
C
C
3rd
08APR06
01MAR05
01SEP02
08APR06
08APR06
Other Workers
08APR06
22APR03
01SEP02
08APR06
08APR06
4th
C
C
C
C
C
Certain
Religious
Workers
C
C
C
C
C
5th
C
C
C
C
C
Targeted
Employment
Areas/ Regional
Centers
C
C
C
C
C
5th Pilot
Programs
C
C
C
C
C
EB-5 Immigrant Investors
 Reserved for immigrants who invest in and




manage U.S. companies that benefit U.S.
economy and create or save at least 10
fulltime jobs
$1 million normally required to invest; can
be $500,000 in rural or poor areas
Get conditional residence for two years;
then must prove investment worked to get
condition removed
Law allows up to 10,000 EB-5 green cards
per year
No quota backlogs
Sources of Information on
Immigration Law

Citizenship & Immigration Services
– Statutes & regulations
– Forms
– Procedures and instructions
– Contact information
– Processing times
Sources of Information on
Immigration Law

U.S. Department of State
– Links to embassies & consulates worldwide
– Application procedures and consulate
closings
– Wardens messages and travel advisories
– Public announcements
– Derivative citizenship and renunciation
– Visa Bulletin regarding priority dates
Parting Thoughts




Realistic assessment is important
Planning ahead is key
Get to know employers soon
Think of alternative and creative
employment options
Need help with immigration
matters?

Interested in an immigration consultation?

Sign up for a free monthly immigration
newsletter

Contact:
Miller Mayer, LLP
202 E. State Street, Suite 700
Ithaca, NY 14850
(607) 273-4200
[email protected]
Access this presentation online at:
https://millermayer.box.com/
s/07ebf3a14b7e92bf4873
Questions?