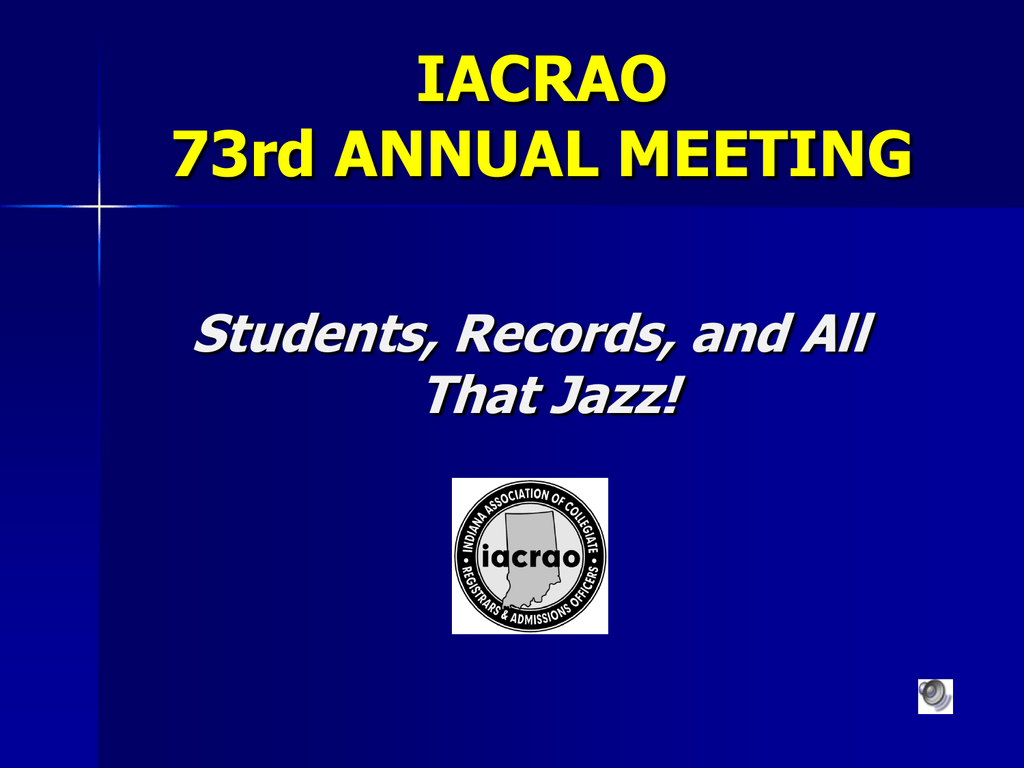 IACRAO
73rd ANNUAL MEETING
Students, Records, and All
That Jazz!
IACRAO
73rd ANNUAL MEETING
VA Certifying
Lisa Neel, University of Notre Dame
Sarah Gibson, Indiana University
Margaret Baechtold, Indiana University
Tuesday, October 23, 8:45am
Session Rules of Etiquette



Please turn off your cell phone/beeper
If you must leave the session early, please do so as
discretely as possible
Please avoid side conversation during the
presentation
Thank you for your cooperation!
Introduction


Basics of Education Benefits certification
for U.S. Department of Veterans Affairs
programs
Rules, Tools, and Resources for Schools
Topics of Discussion




VA Education Benefit Programs
Certification Basics
Suggested Tools
Resources and Links
The "Chapters"



CH 30 Montgomery GI Bill Active Duty
– 36 months AD service, paid $1200
CH 31 Vocational Rehabilitation and
Employment
– Documented VA disability rating, assigned
VA Case Manager
CH 33 Post 9/11 GI Bill
– The BIGGIE – 90 days-36 months AD
time, can be transferred
The "Chapters" Continued



CH 35 Dependents Education Assistance
– Children and Spouses of 100% serviceconnected disabled vets
CH 1606 Montgomery GI Bill Selected
Reserve
– National Guard and Reserve members
never activated
CH 1607 Reserve Education Assistance
Program (REAP)
– National Guard and Reserve members
mobilized for active duty
Benefits



CH 30: Full-time student receives monthly stipend
currently $1564 plus any enlistment "kicker" or buyup; funding goes directly to the student
CH 31: VR&E pays T&F to school, living stipend to
student – handled outside VA Education Services by
VR&E case managers in each state
CH 33: T&F paid directly to school, living stipend
and book stipend paid to student; amount varies by
eligibility tier which is based on length of service
Benefits



CH 35: Full-time student receives a monthly
stipend currently $987
CH 1606: Full-time student receives monthly
stipend of $356 plus any enlistment "kicker"
CH 1607: Receives a prorated portion of CH
30 monthly stipend depending on longest
consecutive days of AD service (max is 80%
of CH 30 rate or $1251.20 plus kicker)
Application to VA



Students apply for benefits through the VA website
VONAPP at http://www.gibill.va.gov/apply-forbenefits/application/
Once application is approved by VA, student is
issued a Certificate of Eligibility (COE) by VA
(except CH 31)
CH 31 students get an authorization from their case
manager
Designation of Certifying
Official


School administration must designate those
employees by name who are allowed to
report enrollment data to VA by using a VA
Form 22-8794 which is available from your
VA Education Liaison Representative
Indiana ELR is Eric Lewis at
[email protected] or 317-916-3684. Only
the ELR can grant access to VA Once, the
web-based certification system used by VA
Certification Process

Student self-identifies as VA benefit eligible

Determine which program they are eligible for

Collect data: SSN, name, address, phone, program
of study, email, schedule

Report enrollment data to VA via VA Once

Track and report changes in enrollment or charges
What Enrollment Data Do
You Need?

Number of Credit Hours

Modality of Training – Res vs. Dist

Start and Stop dates of each course

Remedial/Deficiency courses
What Enrollment Data Do
You Need?




Academic Advising Report or Degree
Audit to confirm courses count for
declared/approved major
Allowable Tuition and Fee charges
Other Restricted Aid to Calculate Instate Net-cost
Yellow Ribbon Eligibility – Private or
out-of-state
VA Once
Other Requirements



Yellow Ribbon Program: agreement
with VA; track contributions; manage
applications first-come-first-served
basis
Share payment data with Business
Office
Reconcile payments from VA
Other Requirements





Report
Report
Report
Report
Report
enrollment changes
failure for non-attendance
students on probation
dismissals
graduation
Tools
– Spreadsheets
 T&F Reported/Estimated Pmts
 Debts
 Yellow Ribbon Participants
– TPC Calculator
– Internal Reports, Drop/Add Tracking
– System to flag veterans and military
for institutional reporting
Resources



State Approving Agency -http://www.in.gov/dva/2331.htm
Education Liaison Representative
[email protected]
GI Bill website www.gibill.va.gov
Resources



SCO Handbook and other documents at
http://www.gibill.va.gov/school-certifyingofficials/
Indiana SCO List Serve – email
[email protected]
Association of Veteran Education Certifying
Officials http://aveco.org
Resources

National Association of Veteran
Program Administrators Open Forum –
http://groups.google.com – set up
account, search for NAVPA Open
Forum and request to join -- or see
www.NAVPA.org
Summary




VA has many complicated programs
Certification requires access to a wide
range of student information
System tools help immensely
Resources
Questions and Answers
???????
Presenter Information





Margaret Baechtold
Sarah Gibson
Indiana University
812-856-1985
[email protected]




Lisa Neel
University of Notre
Dame
574-631-6488
[email protected]
THANK YOU!

Please be sure to complete the session
evaluation form.