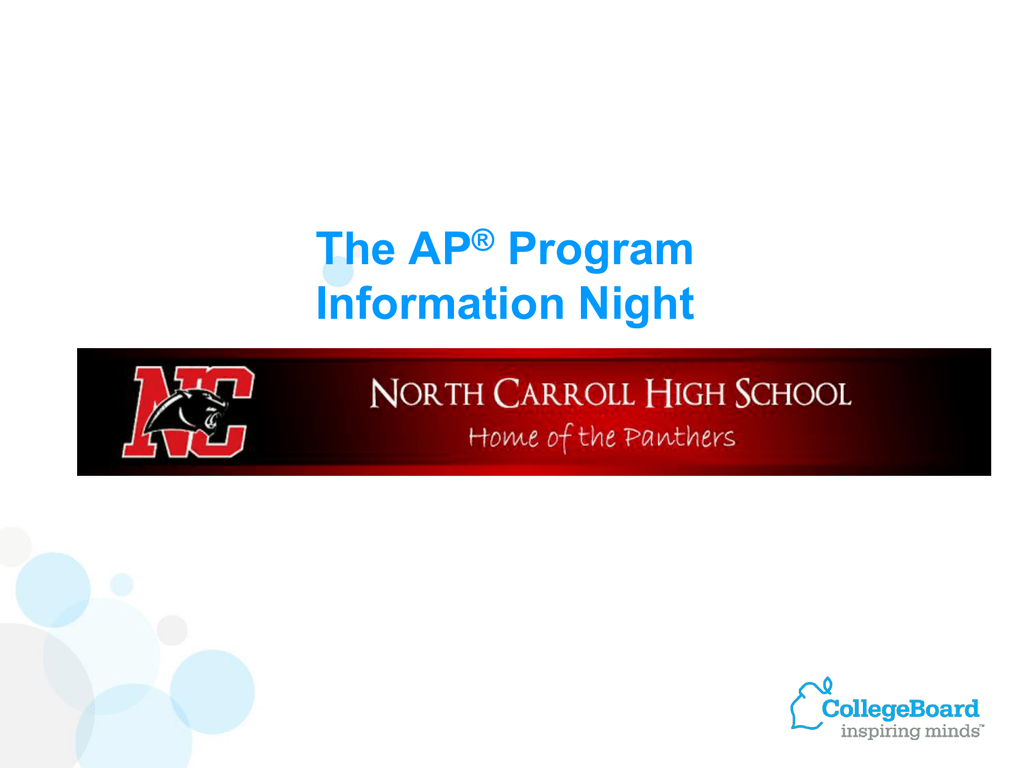 The AP® Program
Information Night
The Advanced Placement Basics
•Courses
are college-level courses
•At
the end of course, students take AP Exams—
that measure how well students have done
•Students
who do well on AP Exams can earn
credit and/or placement into advanced courses in
college.
2
The Benefits of AP Courses
AP courses can be challenging,
but it's work that pays off.
•AP
courses are often the most
interesting and fulfilling courses a
student takes in high school.
•Students
develop confidence, and learn
the study habits and time management
skills essential for success in college.
3
AP and College Admission
•
Colleges rank "Grades in
college prep courses" and
"Strength of curriculum" as the
top two factors in the
admission decision.*
•
85% of selective colleges and
universities report that a
student's AP experience
favorably impacts admission
decisions.**
4
"We look favorably on
students who have
taken AP courses. The
presence of AP courses
is a sign that a student
has chosen to
challenge him/herself."
—Admission Officer
What Are AP Courses Like?
•Demand
more of students than regular or honors
courses.
•Classes
tend to be fast-paced and cover more material
than typical high school classes.
•More
time, inside and outside of the classroom, is required
to complete lessons, assignments and homework.
•AP
teachers expect their students to think critically, analyze
and synthesize facts and data, weigh competing
perspectives, and write clearly and persuasively.
5
Where does North Carroll High Rank?
•
2010-2011 AP
# of Seniors
•
Century
315
•
Liberty
294
•
North Carroll
•
# of Tests
517
CI
E&E
1.64
39.5
447
1.52
39.3
212
268
1.26
27.8
South Carroll
288
331
1.15
•
Westminster
425
435
1.02
29.8
•
Winters Mill
299
271
0.90
26.0
•
Manchester Valley
187
193
1.03
17.3
•
Francis Scott Key
276
152
0.55
16.4
AP Exams
•
AP Exams are administered by
schools worldwide on set dates
each May.
•
Exams usually last around three
hours.
•
Each AP Exam contains:
7
•
Multiple-choice questions
•
Free-response questions (essay,
problem-solving, oral response)
Why Take AP Exams?
•More
than 90% - 3,200 colleges and
universities offer credit or advanced
placement for qualifying AP Exam scores.
•Credit:
Students earn points toward their college
degrees
•Advanced
placement: Students can skip
introductory courses, enter higher-level classes
and graduate earlier
8
AP Helps Students Graduate on Time…
Students who take AP courses and exams are
much more likely than their peers to complete a
college degree on time.
•A
recent study** showed that students taking AP courses and exams
were much more likely to earn a college degree in four years
compared to students who do not take these course in high school.
9
* IPEDS database, 2008
** Linda Hargrove, Donn Godin, and Barbara Dodd, "College Outcomes Comparisons by AP and
Non-AP High School Experiences." The College Board, 2008.
… and Save Money
•
10
Students who take five years or more to graduate
can spend $8,000-$27,000 for each additional
year in college.
•
The typical college cost per year for a four-year public
institution is $8,142 for in-state students and $19,670
for out-of-state students.*
•
Students attending private institutions might expect to
incur $27,389 for each additional year it takes to earn a
bachelor's degree.*
* Costs include tuition, fees, and books and supplies only, and do not include room, board, and
other living expenses. Average Estimated Undergraduate Budgets, 2009-10 (EnrollmentWeighted). The College Board, "Trends in College Pricing," 2009.
AP Boosts Eligibility for Scholarships
31% of colleges and
universities consider a
student's AP experience
when making decisions about
which students will receive
scholarships.*
"Having the AP Exam score can
make the difference when it
comes down to awarding
precious scholarship dollars."
—Edwina Harris Hamby, former
Dean of Admission, Fisk
University
11
* Unpublished institutional research, Crux Research Inc. March 2007
AP Exam Fees
•
AP Exam fee for 2012 is $87 per exam
•
Fee Due By March 30, 2012
•
Students with financial need, can have a fee
waiver if eligible (Please have your child See
Ms. Napier for more information)
12
Grace Kennedy
•
AP college credits allowed Grace to enter college as a
second semester freshman Delaware Valley College.
•
"Taking AP classes in high school taught me to juggle
school, sports, and social life."
•
"It increased my level of performance because more was
expected of me."
•
"I learned the advantages of studying and how to study."
Andrew Kooker
University of California, Berkeley
•
"I, admittedly, only took AP classes for the GPA booster; I have
realized that they contribute much more to my future than I
originally thought.
•
It is very important to be exposed to information before
classes. This could help the transition from a class of 30
people to one of 400 much more streamline.
•
"Getting a research opportunity in a lab on campus would have
been impossible had I not had 'sophomore-standing' on my
college transcript due to the amount of AP credits I brought to
college."
Steven Fix
University of North Carolina, Chapel Hill
•
"The AP exams are just like college midterms, so
you know how the tests will play out."
•
"My AP Calculus exam was almost exactly like my
college final. I don't believe it was a coincidence!"
•
"Study habits and time management are vital to
success in college."
Meghan Wilson
University of South Florida
•
"After AP Lit. I was prepared to go to college and write 8plus page papers– and was shocked at how easy it was."
•
"I didn't struggle half as much as my peers when it came
to writing a well-developed thesis, using proper MLA
format, performing a peer review, and using complex
sentence structures."
•
Follow the teachers' advice! Take the courses in the order
recommended. "My scores would have been higher if I
had taken AP my senior year."
Learn More
•
17
For more information about AP courses and
exams visit www.collegeboard.com/apstudents.