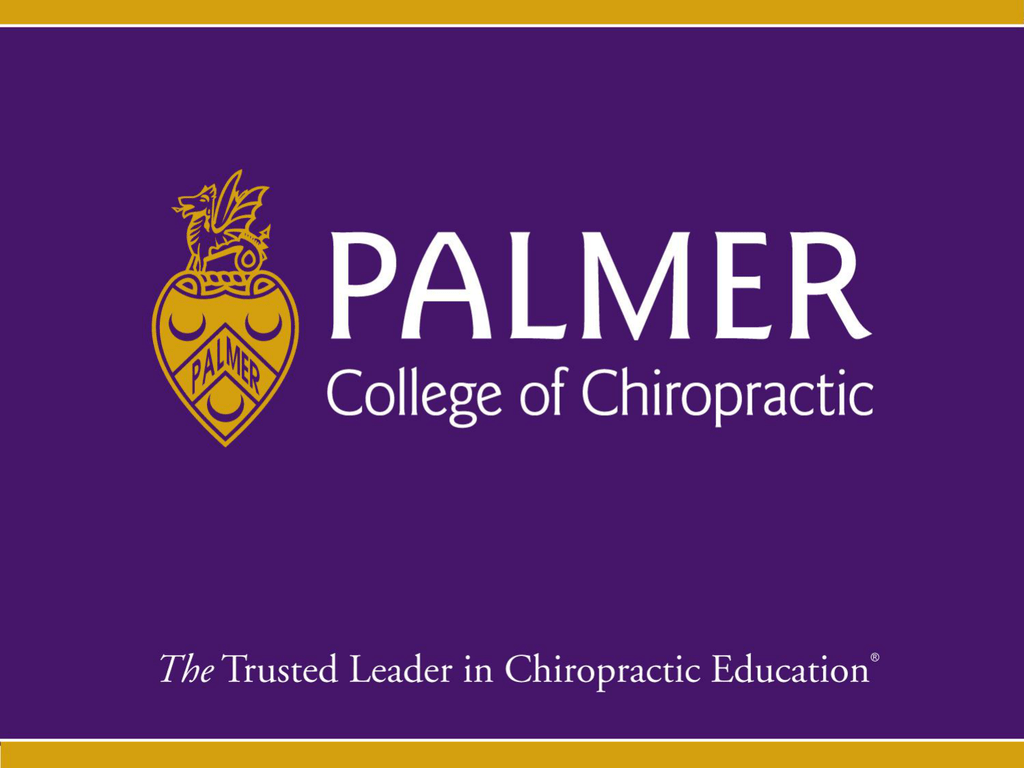 Student Administrative
Services
Located in Bldg. 1 – 1st Floor; Office 1103
Front Desk – Trena DeCandia
Business Office – Jaclyn McKay
Registrar – Jason Brewer
Student Administrative
Services
Registrar's Office is responsible for:







Student Registration & Withdrawals
Curricular Schedule / Student Schedules
Student Records
Grade Processing
Transcripts
Graduation Requirements
Address/Name Changes
Student Administrative
Services
Registrar's Office is responsible for (cont):






Accept payments for Tuition / Fees
Certification for VA Benefits
Certification for National Boards
Certification for students & graduates for
chiropractic licensure
Notary Services
Direct Deposit Forms
Student Administrative
Services
Enrollment Certifications:

Palmer College has authorized the National
Student Clearinghouse to act as its agent for
verification of student enrollment status.

You can obtain an official Enrollment
Verification Certificate at any time via the
Clearinghouse Website at
www.studentclearinghouse.org.

NEW STUDENTS: For the first two weeks
ONLY you may use the Enrollment
Certification form for Enrollment
Certification.
Student Administrative
Services
Transcript Requests:





Official transcripts are available through the
Registrar's office.
Transcript Request Form is available on the
Palmer website.
Form is available in the Registrar's office.
Unofficial transcripts are available through
the student portal.
Plan ahead and allow two weeks for your
request to be processed.
Student Administrative
Services
Direct Deposits:


Forms are available in the Registrars Office
Form takes approximately two weeks to be
processed.
Students who Receive Financial Aid:


Checks will be available to pick up next Friday
Then once a week each Friday.
Orientation Book – Pg. 40

Business Office Tuition & Fees Policy
Student Contact Information
Student Contact Information:

Submitted in advance to update our
database with your information (online
orientation form).
Going forward:
 Changes to address – Palmer Portal
 Name changes, vehicle changes, reporting
updates, etc., visit our office
 Grade posting status – visit our office
Student Administrative
Services
Important Stuff!
Official Palmer Communication!



We will use your Palmer email to
communicate with you.
You are responsible for checking!
Envelope in packet:
Sheet with student email & Palmer
Portal login information.
Student Administrative
Services
Class Schedule / Sections
 Each Academic Quarter is divided and
scheduled in separate sections.
 Student Portal and Email Letter:



At the top, see your section number.
Refer to the Quarter 1 schedule on pg. 36 of
the Orientation Book to see when your
classes meet.
That will be your assigned section your
entire time at Palmer Florida as you
progress through each quarter.
Student Administrative
Services
Palmer Florida Curriculum



13 Quarters of study in an Integrated
Curriculum
Discipline specific courses are combined
into four tracks extending through the first
nine academic quarters
Four tracks include:
 Structure of the Human Body
 Function of the Human Body
 Care for the Patient
 Foundations for Practice
Student Administrative
Services
Class Schedule / Sections

Curricular Schedule:
Palmer Florida Curricular Schedule
Student Administrative
Services
Academic Performance / SRE



Your Academic Standing and Financial Aid
Eligibility are based upon your Academic
Performance.
Failing a course/courses will negatively
affect your Academic Standing and your
Financial Aid Eligibility
Failing a course/courses will cause your
schedule to be modified and may delay your
graduation.
Student Administrative
Services
Academic Performance / SRE

Self Remediation Exam (SRE)
For a grade "F" if you have…
 Earned at least 60% &
 Met attendance requirements


you may take an SRE – See Course syllabus
for procedures.
Pass the SRE and change the "F" to a "C"
Student Administrative
Services
Academic Performance / SRE
Unsuccessful SRE will result in repeating
the entire course.

Limitations:





No more that 3 SRE during career
No more than 1 SRE for a course
Must be in the first enrollment in the course
Must be completed within 1st week of
following term
Your obligation to find out when and where
offered
Student Administrative
Services
Palmer Portal

The Palmer Portal is your key resource,
providing access to the following:
 The Curricular Schedule
 Your Class Schedule
 Unofficial Transcripts / Grades
 Billing Statement / Financials
 Student Self Service


Student Profile Information
Update Your Address
Palmer Catalog

A student resource containing the
Academic Policies, Curriculum and
Course Listings, Academic Progress
information and a wealth of other
information regarding academic life at
palmer.

The Palmer Catalog is found on the
Palmer website at:
http://www.palmer.edu/Catalog/
Student Administrative
Services

Registrar's Office

Located in Building 1 – First Floor:
Office Suite 1103

Welcome to Palmer Florida!