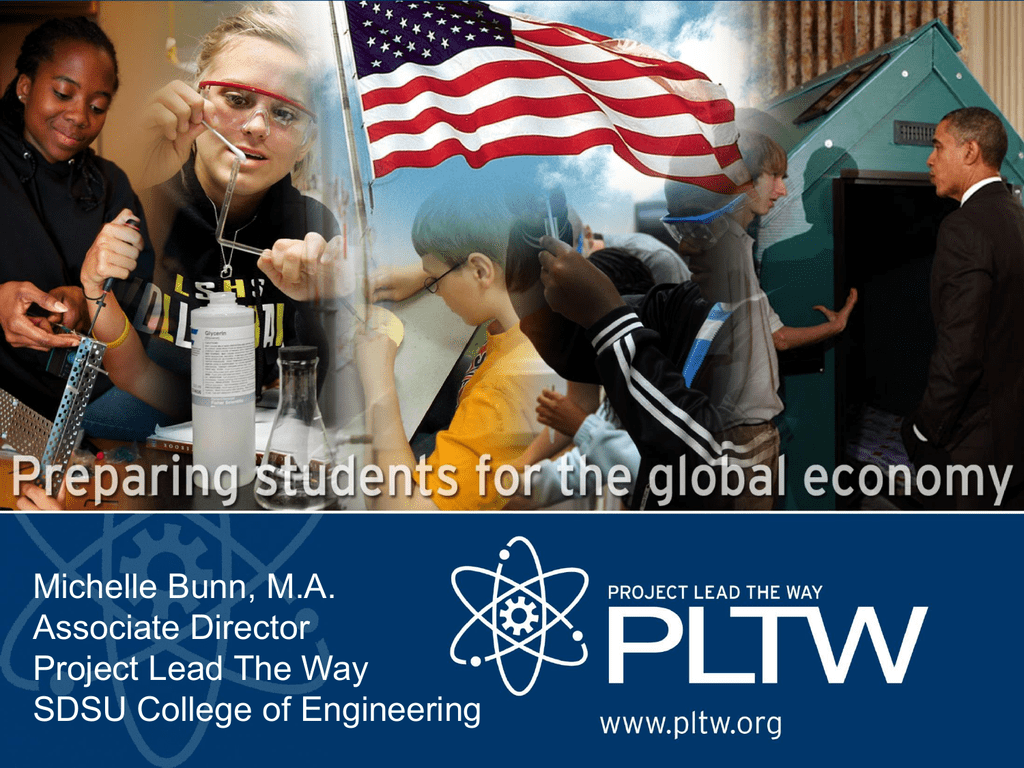 Michelle Bunn, M.A.
Associate Director
Project Lead The Way
SDSU College of Engineering
Competitions
•
•
•
•
•
•
•
•
•
•
•
•
Chevron Design Challenge
Chevron Design Challenge: Winning Strategies
IvenTeam
TEAMS
Spark!Lab Invent It Challenge
VEX Robotics/FIRST Robotics
MESA Days
Walk on Water
Solar Cup
Additional STEM Competitions
HOSA
Additional BMS Competitions & Opportunities
Chevron Design Challenge – PLTW High Schools
• Teams are given the opportunity to:
– Create an original design that meets the design specifications given the
morning of the competition
– Collaborate with their teammates and work together to meet deadlines to
submit sketches, assembly drawings, parts drawings and an exploded view
with Parts List for judging
– Give a short presentation of their design to a panel of professional
engineers and college students
Competition Day Schedule
•
7:30 – 8:00 Registration and Continental Breakfast.
•
8:00 – 8:15 Procedural Briefing and Distribution of the Design Brief.
•
8:15 – 8:45 Initial Brainstorming and Preparation Period.
•
8:45 – ~9:00 The competition director responds to questions.
•
9:00 – 11:00 Brainstorming, Design Sketching, and Initial Inventor Modeling.
•
11:00 – 11:30 Continued Model Entry
•
11:30 – 12:00 Lunch and Coaching.
•
12:00 – 2:00 Continued Model Entry and Presentation Preparation.
•
2:00 – 3:00 Completion of the Design Presentation.
•
3:00 – 3:15 Break Time.
•
3:15 – ~4:30 Design Presentations.
•
4:30 – 4:45 Break while Judges Collect and Tabulate Scores
•
4:45 – 5:00 Presentation of Awards
2011 State Finals held at
Santana HS in San Diego
2012 State Finals held
at Lincoln HS in
San Diego
Scoring
•
•
•
Initial Design Sketches (15 points) –
Neatness:
0-3 points
Clarity:
0-12 points
Parts Drawings (15 points) – THREE of the parts drawings must be clearly dimensioned using correct
dimensioning conventions.
Complete drawing set submitted:
0-4 points
All required and appropriate views shown:
0-4 points
Dimensioning standards followed:
0-7 points
Assembly Drawing (5 points) –
Assembly drawing submitted with all parts correctly constrained
•
Meets Quantitative Design constraints (5 points) –
Meets Quantitative Design Constraints
•
0-5 points
Exploded View and Parts List (15 points) –
All parts shown:
0-5 points
Parts list:
0-5 points
Balloons & Exploded View:
0-5 points
0-5 points
Presentation Scoring
•
•
Design Concept (20 points) –
Originality:
0-5 points
Meets Qualitative Design Constraints:
0-5 points
Manufacturability:
0-5 points
Marketability
0-5 points
Final Presentation (25 points) – Up to six minutes using a PowerPoint
presentation.
Presentation (Speaking) Skills:
0-6 points
Quality of Slides:
0-5 points
Content:
0-7 points
Clarity:
0-4 points
Neat Professional Appearance
0-3 points
Dress Code
• Business Casual
– School uniform
– Blouse and skirt for the girls
– Polo and khakis for the boys
• NO shorts and sandals.
• Students do not need to wear a suit
and tie, but are more than welcome to
if they would like.
Competition Dates
•
•
•
•
REGIONAL COMPETITIONS
April 5: Sacramento (Granite Bay HS)
April 12: San Jose/East Bay (Amador HS)
April 26: Bakersfield (Bakersfield Community
College)
Los Angeles (Redondo HS)
San Diego (La Costa Canyon HS)
• STATE FINALS COMPETITION
• May 24: San Diego (Scripps Ranch High School)
Eligibility
• 3 members per team.
• Limited to students who are currently
enrolled in IED/ID OR who have
completed IED/ID.
• Have not entered the contest before.
Prizes are awarded to
each of the 3 team
members!
Prizes for Regional Competitions include:
• 1st Place Winners — IPad
• 2nd Place Winners — $100 Amazon gift card
• 3rd Place Winners — $75 Amazon gift card
• 4th Place Winners — $50 Amazon gift card
• 5th Place Winners — $25 Amazon gift card
• *1st, 2nd, & 3rd Place Teams are also awarded a
$1,000 Travel Stipend to attend Finals*
Prizes for Finals Competition include:
• 1st Place Winners — Laptop
• 2nd Place Winners — $300 Amazon gift card
• 3rd Place Winners — $200 Amazon gift card
• 4th Place Winners — $100 Amazon gift card
• 5th Place Winners — $50 Amazon gift card
Registration
• Registration is open! Space is limited!
• Please register only ONE team per high
school.
– You can also email me ([email protected]) ONE additional team to be
put on the WAIT LIST. Teams will be randomly selected to fill any open
spots 2 weeks prior to the Regionals.
• Register at: pltwca.net/go/IED2014
• Please go to PLTWCa.org for rules and
additional information.
Chevron Design Challenge: Winning Strategies
1. Meet all Deadlines – You can't win if items are turned in
late.
2. Save Often & Safely on Desktop and USB – Every year,
multiple teams lose all their work.
3. Bring a Team – You don't need 3 quarterbacks; multiple
skills are needed.
4. Practice – Use previous design briefs.
5. Keep it Simple – Don't get hung up on a complex part;
change it and move on!
Chevron Design Challenge: Winning Strategies
5. Design it so it Works – Engineers do not reward you for
crazy creative ideas that won't work.
6. Be Professional and Neat – These can influence the
judges more than the scoring indicates.
7. Work as a Team – Everyone always working in parallel.
8. Presentations are Critical – Practice! Don't read, use
bullets, emphasize your design (not the design brief), use 2
presenters if 1 is weak. Practice before presenting.
9. Animations Must Work – Learn how to embed videos that
will work when moved to a new computer.
Additional STEM-Related Competitions
•
•
Invent Technological Solutions to Real-World Problems
– Gives HS students an opportunity to cultivate their creativity and
experience invention
– InvenTeams include: HS students, teachers, and mentors
– Can receive grants up to $10,000 each to invent technological
solutions to real-world problems
– For more information: http://web.mit.edu/inventeams/about.html
2015 InvenTeam Application Timeline (Grants for the 2014-2015
academic year)
– Initial application deadline: February 28, 2014
– Excite Award recipient notification: March 4, 2014
• EurekaFest 2014: June 19-21, 2014
– Final application deadline: September 5, 2014
– 2015 InvenTeams announced: October 15, 2014
Additional STEM-Related Competitions
•
TEAMS
– 1-day competition
– MS/HS students
– Hands-on STEM enrichment in imagining creative, practical
solutions to a real-world challenge
– This year's theme is "Engineering Tomorrow's Cities"
• Scenarios are based on the National Academy of Engineering's
Grand Challenges
– Teams of 4-8 students work together to answer multiple
choice and essay questions
• Compete for local, state, and national recognition
– Teams can compete anytime during February 10 – March 22.
– PLTW schools receive a 30% registration discount by using code
PLTW2014
– Find out more at: http://teams.tsaweb.org
Additional STEM-Related Competitions
•
Spark!Lab Invent It Challenge
– For K-12th grade students
– Students must follow 7-step invention process
• Including: identifying a problem, conducting research,
sketching, building a prototype, testing, refining, and marketing
their product
– Prizes include:
• a patent application filed by a law firm
• camp scholarships
• book sets
• Additional items
– Deadline for submitting inventions: April 11, 2014
– For more information including challenge details, guidelines, and
scoring information, visit www.epals.com/invent-it
Additional STEM-Related Competitions
•
VEX Robotics Competitions
– Visit www.robotevents.com
• Operated by the Robotics Education and Competition
Foundation (REC)
• Information on competitions across different programs
– VEX IQ
– VEX Robotics Competition (VRC)
– VEX U
– Check out the REC Foundation Online Challenges
• Gives students a chance to show off their work, win prizes, and
get a chance to compete at the VEX Robotics Competition
World Championship
•
Attend one of the VEX Robotics presentations at this conference to
learn more about grant opportunities!
FIRST Robotics
First Lego League
Additional STEM-Related Competitions
• MESA Days
Walk on Water Competition
Solar Cup Challenge
Additional STEM-Related Competitions
•
Two national video game competitions
– Game Changers
– STEM NATIONAL VIDEO GAME COMPETITION
•
Cyber-Security Competition
•
2014 Extreme Redesign: Rise to the 3D Printing Challenge
•
"Siemens We Can Change the World Challenge"
•
Intel Competitions
•
What If? Live Student Design Challenge
Health Occupations Students of America (HOSA)
• Start a HOSA chapter
– www.cal-hosa.org
• Create a Parent Advisory Board
• Invite community partners to help your
students
California HOSA Competitive Events
Health Science Events:
Dental Spelling
Dental Terminology
Knowledge: Human Growth & Development
Knowledge: Medical Law and Ethics
Knowledge: Pathophysiology
Knowledge: Pharmacology
Knowledge: Nutrition
Medical Math
Medical Reading
Medical Spelling
Medical Terminology
Emergency Preparedness Events:
CERT Skills
CPR/First Aid
Teamwork Events:
Biomedical Debate
Career Health Display
Community Awareness
Creative Problem Solving
Forensic Medicine
Health Education
HOSA Bowl
Public Service Announcement
Leadership Events:
Extemporaneous Health Poster
Extemporaneous Speaking
Extemporaneous Writing
Healthy Lifestyle
Job Seeking Skills
Medical Photography
Prepared Speaking
Researched Persuasive Speaking
Health Professions Events:
Clinical Nursing
Dental Science
Medical Assisting
Nursing Assisting
Sports Medicine
Recognition Events:
Barbara James Community Service Award
Cal-HOSA Honor Roll
Health Care Issues Exam
HOSA Happenings: Multimedia Chapter Communication
Event
National HOSA Week
National Recognition Program
National Service Project
Outstanding HOSA Chapter
Click on the PDF and it will show you
what to study, how it will be scored,
guidelines of the test and breakdown
of the test.
Medical Career Night
for the Middle Schools
with Career Speakers and students
demonstrating their skills
Strategies for Success
Success for Skills Tests:
• C.E.R.T. at the fire house
• Clinical Nursing taught by Nurses
• CPR is taught by Firefighters and EMT's
• Sport Medicine trainers teach taping
Success for NON-Skills Tests:
• Study on your own from textbooks
• PDF's have practice questions without answers
• Our officers created practice test for our members
Practice
Watch Videos
Give Students Opportunities for Public Speaking
Other Research Opportunities, Summer Programs and
Competitions:
RSI
SIMR
NIH
Simons
HSHSP
City of Hope
Berkeley Sharp
UCSF arthritis summer internship
SSP Cal Tech
Jackson Lab
Stony Brook
TASP
Intel
Cosmos
Lead America
Are there any additional
competitions you know about?