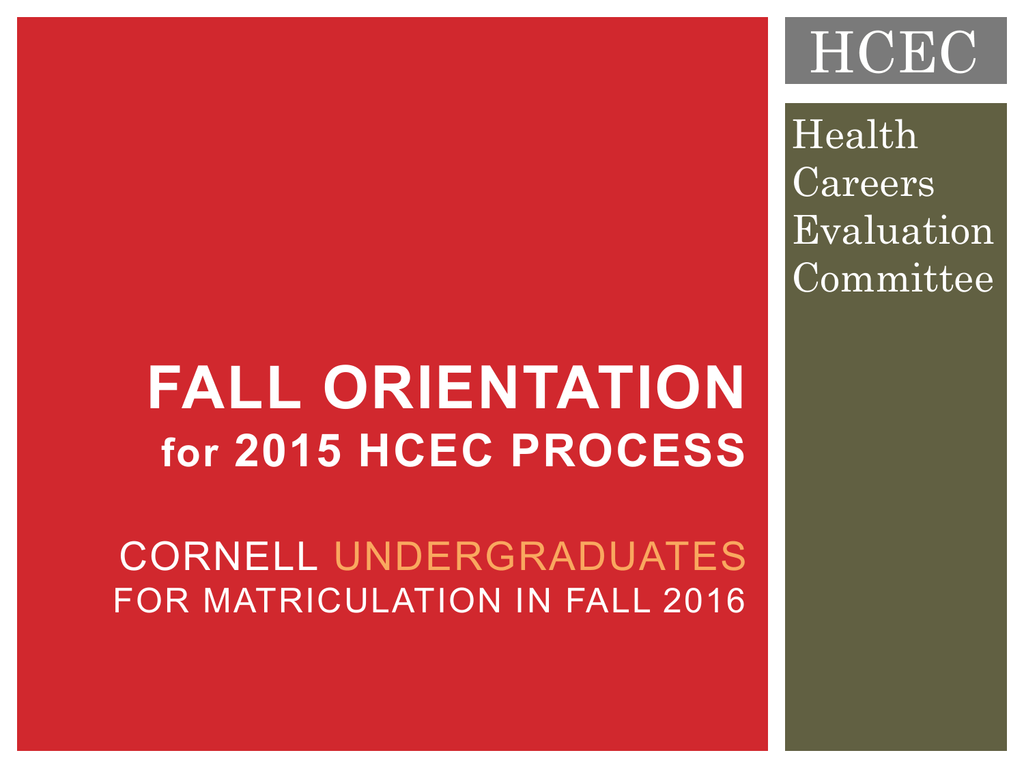 HCEC
Health
Careers
Evaluation
Committee
FALL ORIENTATION
for 2015 HCEC PROCESS
CORNELL UNDERGRADUATES
FOR MATRICULATION IN FALL 2016
This Orientation is for
Juniors and Seniors
applying for medical school
matriculation in fall 2016.
Overview
This presentation includes:
• The HCEC- Who we are and what we do
• What you will need to do and when
• Timeline and Deadlines
Planning to apply to a school of…
The HCEC is here for you.
*Allopathic Medicine, Osteopathic Medicine, Optometry, Dentistry, Podiatry
The medical school
application process requires:
•
•
•
•
•
Preparation
Planning
Investigation
Guidance
Strategy
• Self-assessment
Am I ready?
The highest likelihood of acceptance
into medical school is on the 1st time an
applicant applies.
Applicants should apply when
they are the most ready.
What exactly is
the HCEC?
Health Careers Evaluation Committee
The HCEC staff consists of the:
Committee Chair
HCEC Manager
Records Coordinator
Summer Editors
and...
Health Careers Evaluation Committee
… a group of faculty and
administrative staff volunteers who
serve as interviewers for one or more
undergraduate registrants.
Primary goal of the HCEC:
To prepare a Letter of Evaluation for
Cornell juniors, seniors, and alumni who are
applying to post-graduate, doctoral-level,
degree-granting programs in the human
health professions.
Why have a
Health Careers
Evaluation Committee?
To help medical school admissions offices
more efficiently review the large number of
applications they receive.
In 2014, there were 49,480 applicants
to US medical schools.*
At an average of 14 applications /
applicant, over 690,000 applications
were submitted.
*www.aamc.org
(Does not include DO, DDS, DP, and some Texas
schools.)
The Letter of Evaluation (the HCEC
Letter) is often the most heavily
weighted qualitative element in the
decision to offer a personal interview.
Do I have to use
the HCEC?
No. But…
…admissions officers at most
medical schools prefer students
to use their undergraduate
school's committee if the school
has one.
When schools note that a Cornell
applicant does not have a
committee letter, they may call
us to inquire.
They may ask you for an
explanation.
This can delay the review process.
Over the past three years, for
Cornell undergraduates who used
the HCEC, the acceptance rate is
more than twice the rate for nonusers.
Services for Non-Registrants
 Participation in HCEC is optional.
 You may request a "non-registrant letter"
which we will provide to you explaining
that you simply chose not to use the
HCEC.
Cornell's HCEC
Other undergraduate school evaluation
committees reporting higher acceptance rates
than Cornell's, in many cases, have selective
criteria for providing their service.
Cornell's HCEC, however, will write
a letter for any eligible applicant.
Use of our service is optional.
Eligibility
Cornell students and alumni who have
completed at least 30 letter-graded,
undergraduate credit hours at Cornell are
eligible to register with the HCEC.
What is the
HCEC Letter?
The HCEC Letter Includes:
The Letter of Evaluation (LoE) is a concise,
individualized presentation of a candidate's
attributes.
LoE ≠ LoR
The LoE is NOT a letter of
recommendation.
The HCEC Letter is positive in tone,
providing an overall evaluation of each
individual's unique qualities and attributes.
Evaluation, Not Recommendation
The LoE interprets your undergraduate
experiences in terms of:
Academic record
Service, clinical, and other activities
(including research)
Personal background and experiences
Academic achievement is the BASE!
Blank
B
High achievement in other endeavors
complements but does not trade off or
replace the academic record.
The Impact of GPA on
The Impact
of
GPA
on
Acceptance
Acceptance
HCEC Accepted/Applied 2011-2013/Three Years
Undergraduate MD applicants.
Overall GPA
<2.79
2.8 - 2.99
3.0 - 3.19
3.2 - 3.39
3.4 - 3.59
3.6 - 3.79
3.8 - 4.0
# Accepted/
# Applied
0/10
1/11
7/32
30/94
99/181
183/247
186/212
% Accepted
0%
9%
22%
32%
55%
74%
88%
*This chart does not include students who did not release their information to the Health Careers Program.
Does not include Dental applicants or Osteopathic school or Texas school applicants.
Does not display MCAT score data, which is a significant factor.
Does not include alumni applicants.
For more information
and statistics, contact
Lauren O'Neil, Director,
Health Careers Advising Program
or another Health Careers Advisor.
Lauren O'Neil 255-5296
Appointments: 103 Barnes Hall
The HCEC staff are NOT advisors
But we do advise you to
consult advisors liberally!
Anything shared with an advisor
is private, confidential, and
not shared with the HCEC.
Health Careers
Advising
Health Careers Advisor
Speak with an advisor
about when is
the best time
to apply.
Please direct advising questions to a
Health Careers Advisor:
Cornell Career Services, 103 Barnes Hall
Lauren O'Neil, (607) 255-5296
A&S: Ana Adinolfi, [email protected]
CALS: Cate Thompson, [email protected]
HE:
Paula Jacobs, [email protected]
Verdene Lee, [email protected]
Cha-Sook You, [email protected]
ENG: Beth Howland, [email protected]
http://www.career.cornell.edu/paths/health/advisors.cfm
Please direct advising questions to a
Health Careers Advisor:
Office of Undergraduate Biology:
Bonnie Comella, [email protected]
Wendy Aquadro, [email protected]
Jeff McCaffrey, [email protected]
Colleen Kearns, [email protected]
http://www.career.cornell.edu/paths/health/advisors.cfm
Health Careers Advising
Upcoming Sessions
 HCEC Letters of Recommendation:
Whom to Ask and How
• Tues. Nov. 11
4:45pm, 122 RCK
 Applying to Medical School: Are You
Ready Now?
• Thurs. Nov. 13
4:45pm, 122 RCK
 Increasing Your Chances of
Admission with a Gap Year
• Tues. Dec. 2
5:00pm, 122 RCK
 Writing for 20 Questions and the
HCEC Application
• Wed. Dec. 3
4:45pm, 122 RCK
 How to Select Schools to which to
Apply
• Spring 2015 TBD
Watch for announcements of additional programs.
http://www.career.cornell.edu/career/events/calendar.cfm
CCNET
Be sure to update your CCNet profile
to ensure that you are receiving
announcements of upcoming programs
and other Health Career-related
information and opportunities.
https://cornell-students.experience.com/experience/login
Health Careers Advising
Recorded Sessions
 Interviewing at Health Career Schools
 Interviewing with the HCEC and the Interviewer 's
Perspective
 How to Choose Medical/Dental Schools – Student Panel
 Summer Opportunities for Health Career Students
 Career Paths for Health and Medicine Alumni Panel
http://www.career.cornell.edu/resources/media/ health.cfm
How does the HCEC
evaluation process work?
Health Careers Evaluation Committee
A group of faculty and administrative
staff volunteers serve as interviewers
for one or more
undergraduate
registrants.
HCEC Interview
Conducted by an
HCEC member who
has read your file but
does not know you
personally.
Simulates the
experience of a
medical school
admissions interview.
Your HCEC interviewer then submits a draft
letter or an interview report evaluating your
readiness for training towards a medical
profession, based on your:






academic record
service activities
clinical exposure
research experience
extracurricular activities
responses during the interview
The staff in the HCEC
office then edit and
format the letter.
It then undergoes a final review, to be sure
that it is in the most comprehensive form
and that it represents you accurately.
How does the HCEC
evaluate candidates?
The HCEC interprets your qualities as a
candidate based on the information about
your experiences provided in your:
 Online registration documents:
 Background Information Form
 Personal Statement
 Letters of Recommendation
 HCEC interview, and interactions.
Qualitative, non-academic factors are an
important part of the HCEC evaluation.
The HCEC Letter reflects the extent of your Cornell experience.
Applying
Applying
as a senior
as a junior
fall
freshman
spring
fall
sophomore
spring
junior
fall
spring
fall
senior
spring
graduation
= Experiences Covered in LoE
We evaluate through the fall term. The spring semester and summer
of the year in which you apply are not included in the HCEC Letter.
Through your registration
documents and interview,
explain how your involvement
in activities enhances your
candidacy.
The HCEC Does NOT Evaluate:
Grades or experiences in spring 2015.
Activities planned for the summer or beyond.
The HCEC Does NOT Evaluate:
Performance on standardized
tests.
Activities or coursework that
took place during high
school or on another
campus* (although we may
refer to these in the HCEC
Letter).
*With the exception of offcampus, Cornell-sponsored
programs, such as the Urban
Semester.
Sometimes we will ask a Health Careers
Advisor to reach out to a student to
discuss his or her readiness for medical
school.
If you hear from an advisor, take it
seriously.
*Note:
In rare situations, the HCEC may
estimate that a registrant is not
sufficiently prepared to apply during
the current cycle.
If so, the HCEC will contact the
registrant to discuss this view and
present possible options.
At the applicant's request, the HCEC will
still submit the HCEC Letter.
Alternatively, the applicant may choose
to put their file "on hold" and register in a
subsequent year.
What do medical schools
want the HCEC to address?
Core Competencies
The AAMC has developed a list of 15 Core
Competencies for entering medical school
students. The competencies fall into four
categories:
 Interpersonal
 Intrapersonal
 Thinking and Reasoning
 Science
https://www.aamc.org/initiatives/admissionsinitiative/competencies/
Interpersonal Competencies
Service Orientation
Demonstrates a desire to help others and a
sensitivity to others' needs and feelings;
demonstrates a desire to alleviate others'
distress; recognizes and acts on his/her
responsibilities to society; locally,
nationally, and globally.
Interpersonal Competencies
Social Skills
Demonstrates an awareness of others' needs,
goals, feelings, and the ways that social and
behavioral cues affect people's interactions
and behaviors; adjusts behaviors
appropriately in response to these cues;
treats others with respect.
Interpersonal Competencies
Cultural Competence
Demonstrates knowledge of socio-cultural factors that
affect interactions and behaviors; shows an appreciation
and respect for multiple dimensions of diversity;
recognizes and acts on the obligation to inform one's
own judgment; engages diverse and competing
perspectives as a resource for learning, citizenship, and
work; recognizes and appropriately addresses bias in
themselves and others; interacts effectively with people
from diverse backgrounds.
Interpersonal Competencies
Teamwork
Works collaboratively with others to achieve
shared goals; shares information and
knowledge with others and provides
feedback; puts team goals ahead of
individual goals.
Interpersonal Competencies
Oral Communication
Effectively conveys information to others
using spoken words and sentences; listens
effectively; recognizes potential
communication barriers and adjusts
approach or clarifies information as needed.
Intrapersonal Competencies
Ethical Responsibility
to Self and Others
Behaves in an honest and ethical manner; cultivates
personal and academic integrity; adheres to ethical
principles and follows rules and procedures; resists
peer pressure to engage in unethical behavior and
encourages others to behave in honest and ethical
ways; develops and demonstrates ethical and moral
reasoning.
Intrapersonal Competencies
Reliability and Dependability
Consistently fulfills obligations in a timely
and satisfactory manner; takes responsibility
for personal actions and performance.
Intrapersonal Competencies
Resilience and Adaptability
Demonstrates tolerance of stressful or
changing environments or situations and
adapts effectively to them; is persistent, even
under difficult situations; recovers from
setbacks.
Intrapersonal Competencies
Capacity for Improvement
Sets goals for continuous improvement and
for learning new concepts and skills;
engages in reflective practice for
improvement; solicits and responds
appropriately to feedback.
Thinking and Reasoning Competencies
Critical Thinking
Uses logic and reasoning to identify the
strengths and weaknesses of alternative
solutions, conclusions, or approaches to
problems.
Thinking and Reasoning Competencies
Quantitative Reasoning
Applies quantitative reasoning and
appropriate mathematics to describe or
explain phenomena in the natural world.
Thinking and Reasoning Competencies
Scientific Inquiry
Applies knowledge of the scientific process to
integrate and synthesize information, solve
problems and formulate research questions and
hypotheses; is facile in the language of the
sciences and uses it to participate in the discourse
of science and explain how scientific knowledge
is discovered and validated.
Thinking and Reasoning Competencies
Written Communication
Effectively conveys information to others
using written words and sentences.
Science Competencies
Living Systems
Applies knowledge and skill in the natural
sciences to solve problems related to
molecular and macro systems including
biomolecules, molecules, cells, and organs.
Science Competencies
Human Behavior
Applies knowledge of the self, others, and
social systems to solve problems related to
the psychological, socio-cultural, and
biological factors that influence health and
well-being.
What does the HCEC
need from me?
The HCEC File
 Registration Parts 1-3
(questionnaires, forms, and fees)
 Transcripts
 Letters of Recommendation
 HCEC Checklist (including sending a
PDF of your submitted primary medical school
application)
Accessing the Online File and Checklist
career.cornell.edu/paths/health/medschool/hcec/index.cfm
Accessing your HCEC Checklist
Use your Checklist as an information resource
and a step-by-step guide to assist you with
completion of HCEC requirements.
Use your Checklist as an information resource
and a step-by-step guide to assist you with
completion of HCEC requirements.
Required Readings
Read the Required Readings provided in your
Online File.
Check regularly for new Required Readings.
HCEC Process
Winter 2014-2015
Three-Part Registration:
Part 1
Deadline:
January 16, 2015
Registration Intent Questionnaire (RIQ)
20 Questions (20Q) (answer in narrative form)
This 20Q form is not sent to the HCEC.
The 20Q is a private, personal working document for
self-assessment of readiness to apply. Some responses
can be pasted directly into the HCEC Background
Information Form (BIF).
The 20Q will become very useful when completing
medical school secondary applications.
*not sent
to
The HCEC
Letter
The 20Q*
the HCEC
20 Questions
The 20Q is a questionnaire designed
to provide you with a comprehensive
Letter of Evaluation
self-assessment of:
Personal
Statement
 your preparation,
 your readiness for application, and
www.interfolio.com
 the strength of your background as a
candidate for any health career.
2 – 3 Letters of
Recommendation
The HCE
Background
Information Form
Transcripts
2 – 3 Letters of
Recommendation
To discuss your 20Q, contact a Health Careers Advisor
Interview
(Undergraduates Only)
and other
Application Assembly
Profe
Registration Part 2
Deadline:
January 23, 2015
Background Information Form (BIF)
Personal Statement (PS)
Photograph
(of you, alone, in a professional or
neutral setting, file size under 1 MB,
named Last_First_PHO.jpg)
Submit Online
t
BIF
( Ba c kg roun d In fo rma ti o n F o r m )
Bac k
Inform ground
ation
Fo r m
Deadline:
January 23, 2015
Categorizes your activities,
(e.g. service, clinical, etc.) www
.inter
folio.c
Describes your activities,
om
nscripDemonstrate your time commitment,
ts 2
–dedication
3 Let
and
to the activity,
ters o
Reco
f
mm e
ndati
on your participation in
Explains how
activities allowed you to develop
your core competencies.
Interv
ie w
rg
r ad ua
t es O
nl
PS
(Personal Statement)
Deadline:
January 23, 2015
Personal
Statement
Demonstrates your ability to reflect on
your life with perspective and to
communicate well in a written format.
Background
Illuminates
your distinctive
Information Form
background, experience, motivation,
and preparation for a medical field.
*For information about or help with composing a PS,
contact a Health Careers Advisor
Transcripts
2 – 3 Letters of
Recommendation
www.inte
Registration Part 3
Deadline:
January 28, 2015
 Registration Agreement Form (RAF)
Original signed paper copy required.
 Fee payment
Registration fee is $190. Fee waivers are available to those
qualified by the Financial Aid Office.
Submit in person during Walk-In Event
Registration Agreement Form
(RAF)
Deadline:
January 28, 2015
Requires signed statements:
 Integrity in the application process
 Applicant access to the HCEC packet
 Release consent
 File retention policy
 Approved destinations
 Timeline agreement
 Optional FERPA Waiver
Submit in person during Walk-In Event
Deadline:
January 28, 2015
You must personally deliver your RAF at the:
HCEC Walk-in Event*
January 27 th and 28 th , 2015
5:00 – 7:00pm
103 Barnes Hall
*At this event, please deliver ONLY the RAF
and fee, and no other materials.
RAF Download
Deadline:
January 28, 2015
http://www.career.cornell.edu/paths/health/medschool/hcec/index.cfm
m
www
.int
Deadline:
March 6, 2015
Transcripts
Trans
cripts
You must
2 – 3 arrange for official
Lette
R
s
ecom to rbe
transcripts
mend of sent to HCEC for
ation
all non-Cornell undergraduate
study completed after high school.
IHCEC
will
retrieve
your
n
t
e
r
v
U nde
rgrad iew
uates
Cornell
On transcript.
ly)
and o
Appli
t
cation her
As
m
Study Abroad
Transcripts
Trans
www
.int
Deadline:
March 6, 2015
cripts
2–3
Reco Letters of
mme Center
Check Student
ndati
on
to verify that
your grades and course titles
appear on your Cornell transcript.
If they do not, you must arrange
transcripts to be sent to HCEC.
Ifor
n
t
e
rview
U nde
rgrad
uates
Only)
and o
Appli
t
cation her
As
LoRs
(Letters of Recommendation)
Due date:
March 6, 2015
2 – 3 Letters of
Recommendation
 Required: 2-3 LoRs, including at least
one from a Cornell-affiliated writer.
 Enter names as soon as recommenders
other
agree to write your LoR. Youand
may
terview
Application
Assembly
graduates
Only) a name until (but
change
not after)
we
Services
receive that LoR.
 Work with your recommenders to
ensure letters are received by the
HCEC in a timely manner.
LoRs
(Letters of Recommendation)
Due date:
March 6, 2015
2 – 3 Letters of
Recommendation
*For help selecting and
communicating
with
and other
terview
Application
Assembly
graduates Only)
recommenders,
contact
Services
Health Careers Advising
LoRs
(Letters of Recommendation)
Due date:
March 6, 2015
2 – 3 Letters of
Recommendation
When requesting an LoR, please
use the LoR Guidelines
document
and
other
terview
Application
Assembly
graduates
Only)
found
on the HCEC
website.
Services
NOTE: This procedure will
change after January 9, 2015.
HCEC Process
Spring 2015
HCEC Interview
 The HCEC Interview is for current
juniors and seniors who intend to apply
in the upcoming application cycle for
medical school matriculation in fall
2016.
 Seniors planning to take an additional
gap year should apply as alumni in the
cycle year for which they are applying.
 Juniors who interview and subsequently
delay their application will not be
interviewed again.
HCEC Interview
Find contact information in your
Checklist.
Initiate contact and record scheduled
interview date in your Checklist
(or risk losing your interview spot).
Thank your interviewer!
File Status and Contact Information
Review your Checklist periodically to
make sure that your information is
accurate.
Keep your phone number, postal mail,
and email address up-to-date. We may
need to reach you during the letter
review process.
Medical School Application PDF
 After submitting your application (AMCAS, AADSAS,
AACOMAS, etc.) email the HCEC a PDF of your dated,
submitted application as proof of your submission.
AMCAS REPORT 2016 ENTERING CLASS
06/02/2015 2:30 PM
John Doe
06/02/2015 2:15 PM
HCEC Registration Deadline: August 31, 2015
HCEC Process
Summer 2015
HCEC Letter Release Queue
Only after you complete your checklist
through "Checklist Complete" will your
letter be placed in the HCEC Letter Release
Queue.
HCEC Letter Release Timing
As you wait, check Facebook and your Online
File for updates.
Weekly updates on progress
through the Queue
See your letter release date, posted
immediately after upload
Do not contact the HCEC to ask when your letter
will be released. This only slows down the
process.
Once your letter is ready, the HCEC office releases it
(along with your 2 – 3 LoRs and a Cornell profile sheet)
to Interfolio (and/or AADSAS).
A third party document storage
and delivery service
Delivery of HCEC Letter
You must then go to
Interfolio.com and schedule
delivery of your letter to the
appropriate receiver
(i.e. AMCAS, TMDSAS, etc.).
This does not happen
automatically.
*Not applicable to AADSAS uploads.
Opening an
Interfolio Account
After you pay your
HCEC Registration
Fee, you receive a
complimentary
Interfolio account,
accessible using a
code provided in your
HCEC Checklist.
Your Interfolio account must be HCEC-coded,
or we will be unable to access it and therefore
unable to release your HCEC Letter.
If you open an account without the HCEC code,
call Interfolio to have them manually connect
your account with the HCEC.
You can use this account to upload other
credentials, such as LoRs, and distribute
them to any legitimate destination.
In your Interfolio account, after your HCEC
Letter is released, you must
of your HCEC Letter
Medical School
Application Services and
Admissions Committees
(i.e. AMCAS, ACOMAS,
TMDSAS, etc.)
Deadlines for
Undergraduates
Deadlines
Timeliness is very important!
The HCEC workflow and letter release
timing are based on when a registrant's
file is complete.
Lateness during any step of the HCEC
process could negatively affect the
timing of your HCEC interview match
and/or the timing of your letter release .
If you are late registering:
 You must write to the HCEC Chair for a
waiver to register late (which may be
granted or denied).
 Late registrants are not guaranteed an
interview.
 We cannot guarantee that we will release
your letter at the same time as registrants
who have adhered to our deadlines.
Undergraduate HCEC Deadlines
HCEC Step
Deadline
Registration Part 1
January 16, 2015
Registration Part 2
January 23, 2015
Walk-in Event
January 27 or 28, 2015
5:00 – 7:00 pm
103 Barnes Hall
LoRs and Transcripts
March 6, 2015
Checklist (through the Delivery
Authorization section)
August 31, 2015
PDF of medical school primary
application
October 1, 2015
Medical School Deadlines
Be aware of your medical school
deadlines.
See: www.aamc.org/students/applying/amcas/deadlines/
HCEC Letter release usually
takes many weeks, and may take
up to 12 weeks after your
checklist is complete.
HCEC Registration Timing
MD/PhD Applicants
Due to the competitiveness for
admission to MD/PhD programs,
it is important that MD/PhD
applicants submit all materials to
HCEC, and submit the AMCAS
application, as early as possible.
Putting your file "On Hold"
 Email the HCEC stating your
decision.
 Your registration and supporting
documents will be retained for 5
years (per retention agreement
signed in the RAF).
"Resuming"
You may "Resume" before or after
graduating, provided your letter was not
released (i.e. to Interfolio).
 Complete a new registration (BIF, PS).
 Your LoRs and transcripts remain on file.
 You may replace each old LoR with an updated
letter by the same author.
 If you had three LoRs on file, you may add one by
an additional writer, for a total of four.
 Fee: $0 if paid previously, otherwise $190.
Sometimes HCEC Registrants do not gain
admission on their first application attempt and
wish to reapply in a subsequent cycle using
HCEC services. In these situations, the HCEC
registrant chooses to:
Update or Reactivate
Update
An Update HCEC Letter contains both the
original HCEC Letter and a supplemental new
HCEC Letter. The updated element is an
additional LoE that evaluates how you spent
your time since the last HCEC Letter was
prepared. Only one Update is allowed after
graduation.
The fee for Updating registrants is $75.
Reactivate
A Reactivating registrant's original HCEC Letter is
released again for use in a new application cycle. No
changes are permitted to the HCEC Letter.
Reactivating registrants need only register online
through the HCEC Online File, mail the Registration
Agreement Form and fee, and renew their Interfolio
account. There is not a limit on the number of times a
registrant may Reactivate a letter.
The fee for Reactivating registrants is $50.