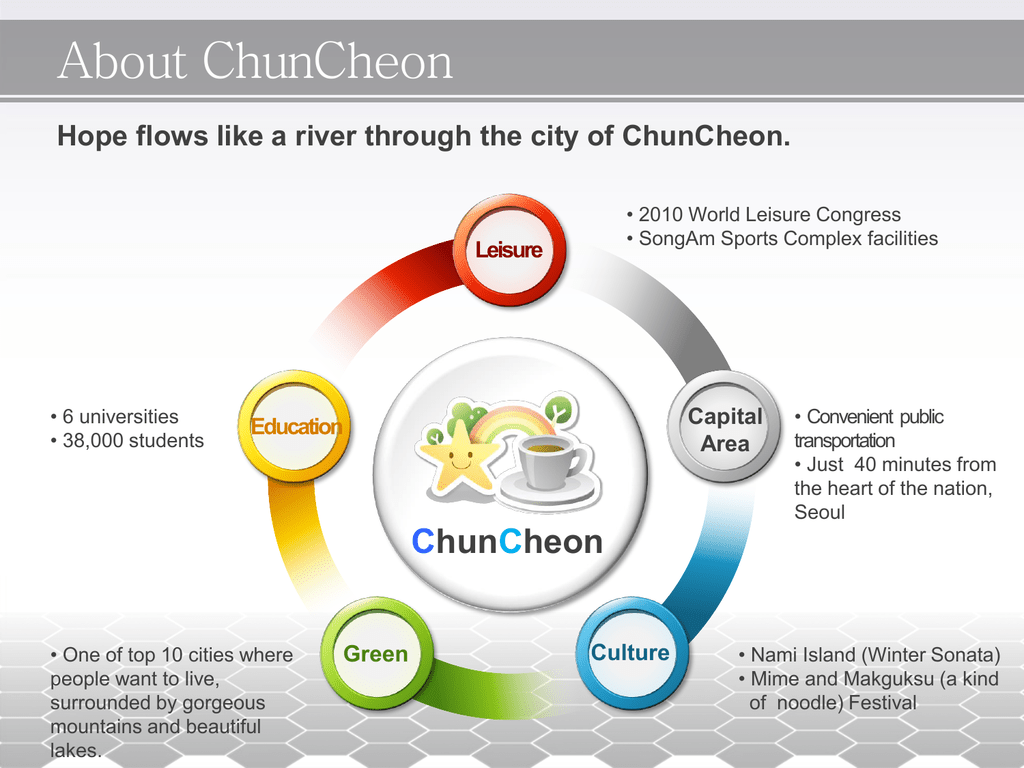 About ChunCheon
Hope flows like a river through the city of ChunCheon.
• 2010 World Leisure Congress
• SongAm Sports Complex facilities
Leisure
• 6 universities
• 38,000 students
Capital
Area
Education
• Convenient public
transportation
• Just 40 minutes from
the heart of the nation,
Seoul
ChunCheon
• One of top 10 cities where
people want to live,
surrounded by gorgeous
mountains and beautiful
lakes.
Green
Culture
• Nami Island (Winter Sonata)
• Mime and Makguksu (a kind
of noodle) Festival
Brief History of KNU
STRATEGIC PLANNING
Merger of two national
universities to attain goals
(win-win strategy)
ESTABLISHED.
Chuncheon Provincial
Agricultural College.
2006
2012
1978
CORE NATIONAL
UNIVERSITY
1947
EXPANSION.
Expanded as a more
comprehensive university.
Starting the new year
with the mindset of
reaching beyond limits!
Location of KNU
Chuncheon campus is just 40 minutes from Seoul by train or
express bus
SEOUL
Located to the west of the central region
of the Korean Peninsula, Seoul, the capi
tal city of the Republic of Korea, has bee
n the center of the country in its long hist
ory from the prehistoric era to the presen
t day.
CHUNCHEON CAMPUS
Bio Technology, Information Technology
SAMCHEOK CAMPUS
Emergency Management
The Nearest
National University
From the Capital of
Korea
Why Kangwon National University (KNU)?
Established in 1947, Kangwon National University features one of the
largest campuses in Korea. More than 130,000 students have
graduated from the university.
One of 10 Core
National Universities
Traditional University
KNU was established in 1947
as a college of agriculture.
The representative university of
Kangwon province
Academic
Excellency
Lower Financial
Burden
Offers lower tuition than many
private universities
Long
History
Reasonable Dreams
Tuition &
Come
Expenses
True
Strength After
Graduation
Top ranked in graduate
employment for three
consecutive years
Specialized Fields (I)
BIO
TECHNOLOGY
INFORMATION
TECHNOLOGY
Scripps Korea Antibody
Institute (SKAI) founded 2009
KNU
Vision 2020
APP Creator Institute
CLICK TO
TEXT
established
by ADD
SMBA,
2010
EMERGENCY
MANAGEMENT
School of Emergency Management
founded in2001,a first among national
universities
KNU 222 Project
World Ranking 200, Domestic Ranking 20
Specialized Fields (II)
ET
Medical
& Bio
Culture Tech
We pursue a strategic plan
called KNU Vision 2020
Agriculture
& Forestry
General Statistics
KNU ranks high in research and educational quality.
Majors
Number of Majors
120
Faculty
Students
Number of Students
23,800
Scholarship
Number of Faculty
Average Scholarship
2,250
$600 USD
Library
KNU Libraries have…
- More than 1.4 million volumes.
- More than 15,000 domestic & foreign
journals, including electronic audio-visual
material.
- Consist of 5 main libraries.
ChunCheon
SamCheok
Dormitory
KNU Dormitories
- accommodate 6,800 people.
- 16 types of rooms
(rooms for 2 or 4 people or families)
- accept all foreign students
without any condition
ChunCheon
Students are
allowed to cook
in the dorms
SamCheok
Number of International Students
2002 : From 12 Countries
2006 : From 13 Countries
630
2009 : From 20 Countries
2012 : From 33 Countries
574
262
84
International Partners
108 Universities in 29 Countries.
Europe
- Lithuania (1 Univ.)
- Czech (2 Univ.)
- Hungary (1 Univ.)
Africa
- Burundi (1 Univ.) - France (1 Univ.)
- Ethiopia (3 Univ.) - Spain (1 Univ.)
- Ireland (1 Univ.)
- Germany (2 Univ.)
North America
Asia
- USA (9 Univ.)
- Malaysia (1 Univ.)
- Canada (1 Univ.)
- Taiwan (2Univ.)
- Russia (5 Univ.)
- Indonesia (6 Univ.)
South America
- Peru (1 Univ.)
- Brazil (1 Univ.)
Asia
-China (32 Univ.)
- Japan (11 Univ.)
- Mongolia (5 Univ.)
- Vietnam (4 Univ.)
- Philippines (4 Univ.)
- Laos (2 Univ.)
- Saudi Arabia (1 Univ.)
- Thailand (1 Univ.)
- Turkey (1 Univ.)
- Cambodia (2 Univ.)
- Kazakhstan (1 Univ.)
Oceania
- Australia (5 Univ.)
Scholarships (Undergraduate Students)
Every year financial assistance is provided to undergraduate
students through scholarships
Excellent
Outstanding
Sincere
TOPIK.
GPA
STUDENT
Freshmen who submit
scores on the Test of
Proficiency in Korean
(TOPIK) with a level 5 or
higher exempt 100% of
the tuition. In case of level
4 exempt approx. 65% of
the tuition fee
※ Only for the first
semester.
(Tuition Exemption)
(GPA above 2.5 with more
than 15 credits)
- Top 1%: entire tuition fee
- Top 5%: Approx. 70% of
the Tuition fee
- Top 10%: Approx. 35% of
the Tuition fee
- Top 30%: Approx. 20% of
the Tuition fee
Students with excellent
grades are awarded
scholarships according to
the rules and regulations
of the department.
Scholarship (Graduate)
Every year financial help is provided to graduate students through
scholarships
BEST-KNU
Bring Excellent Students To
Kangwon National University.
50% Exemption
All students who complete 6
credits in the previous
semester with at least a 3.0
GPA are give 50% off the
school association fee .
ACES
Academic Counterparts Elites
Scholarship
GKS
Global Korea Scholarship
Scholarship details
ACES
The ACES-KNU
program is a
prestigious award
offered to qualified
graduates from KNU's
sister universities who
plan to study for an
advanced degree
(Master/Ph.D. ).
BEST-KNU
The BEST-KNU program is a fullysupported scholarship for the best
qualified international students.
Selected winners of this scholarship
are provided with tuition, dormitory
and living expenses as well as health
insurance. Scholastic ability and
English language proficiency (TOEFL,
IELTS, GRE) are among the important
selection criteria.
GKS
The GKS program is
a fully-supported
scholarship from the
Korean government
for the best qualified
international students.
This scholarship is
provided as tuition
and living expenses
as well as health
insurance.
BEST-KNU Application Process
This program is designed to support well-qualified foreign students striving for
advanced research and academic degrees at Kangwon National University,
Korea.
STEP 1
STEP 2
STEP 3
Look for professors in
your field at
http://www.kangwon.ac.k
r/english
Contact professor via
email with your resume.
Prepare required
documents if your
request is accepted
STEP 6
STEP 5
STEP 4
Prepare for study abroad
Check your result at the
KNU website within a
month.
Send your documents by
courier service and
complete an online
application.
in Korea
Beyond Limit KNU!
You can pursue high-quality education with low tuition fees at KNU.
UP
High Quality
Education
DOWN
Living
Expenses
Aerial Photos(ChunCheon Campus)
Aerial Photos(SamCheok Campus)
Aerial Photos(DoGye Campus)
Admission Schedule (Fall Semester)
KNU will do its best to support international students
http://www.kangwon.ac.kr/english
• 2012.4.01: Notice posted on the
website
2012 April
16
• 2012.4.16: Online application
accepted for 2 weeks
• 2012.5.01: Document screening
and interviews for 2 weeks
• 2012.5.30: Final result s
announced on the website.